Living Without's Gluten Free and More magazine has come out with a special Holidays edition. And you can get one for FREE! I have been granted permission to give away THREE copies of the holiday guide.
I have already received my copy and read it front to back on the same day it came. I know I'll be perusing it over and over the next few months.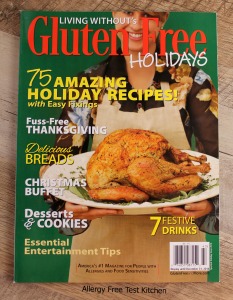 This Holidays guide is chuck full of 75 recipes and many are more than gluten free. Many come with egg free options and are milk free too!
Maybe you are not gluten free…..you'd still like a copy maybe for yourself or for a friend.
These sell out every year, so get yours here for free! I am giving away THREE copies. Use the Rafflecopter below to enter. (It may take a few second to load). Some options allow you to enter every day!