I attended the Gluten and Allergen Free Wellness Event in St. Louis on Saturday. It was fun! There were speakers to listen to if you wished, and there were quite a few vendors there. Some I had heard of, but many I have not. We ate lots of samples…enough that we could skip lunch that day.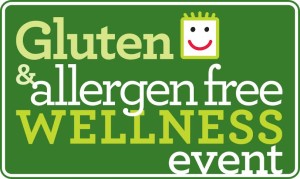 Some of the standby companies were Enjoy Life and Udi's.
Just a few of the new products I found out about are the following:
Freedom Foods. They recently came to The United States from Australia. All their products (cereals) are free from: gluten, nuts, wheat, dairy, eggs, fructose, soy, yeast and GMO's. I had a little pal with me and their Australian accents were met with shock…who knew there was a different way to say 'bananas?' All the samples I tried were good and my little pal liked them too!  According to the reps, they are selling for $2.99 in the grocery stores.  I have not seen them yet, and I can't personally confirm that price, but that is a good price for gluten free cereal!
Gluten Free For Men. They make BBQ sauce that is free of gluten and no high fructose corn syrup. This excites me since it is nearly impossible to find a sauce without that in it, and making your own is not always feasible. I tasted it at the vendor fair and it does have some zing to it! (By the way, they say they sell to just as many women as men despite the name).
My Coconut Kitchen. So, this was fascinating to me. This company makes flavored coconut spreads (at least 9 different flavors). Everyone I tasted was delicious. This company is local to the St. Louis area, but you can buy online.
There were other vendors local to the St. Louis area…a soup company, a company that delivers paleo meals, a GF restaurant, and much more.
There were also several health and wellness vendors selling supplements or other health related items.
There are still FIVE Gluten and Allergen Free Wellness Events being held throughout the U.S. You can find out what cities by clicking here.
P.S.  I don't have any pictures because once I got there I found out my battery was dead.