Rhubarb! You either love it or hate! At least that's what I'm guessing. I'm of the love it group!
Did you know it is actually a vegetable? I think people do not realize that because it is used in desserts, jams and sauces—typically applications for fruit.
Now it's hard to come by where I live and beggars can't be choosers, so I had to settle for the green variety even though the red is so much prettier. They taste the same though.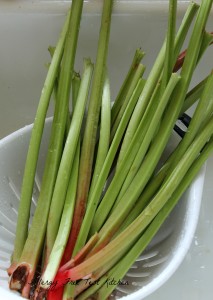 Often found in crisps and pies, I love rhubarb as a sauce…like applesauce. Unfortunately, rhubarb needs a lot of sugar to be palatable. So what to do when you do not eat refined sugars? Adapt!
I tinkered around and made this rhubarb sauce absolutely wonderful. It almost has a caramel like taste because of my use of apple juice and coconut sugar. I seriously ate half the batch in one sitting.
If you are lucky enough to get your hands on some rhubarb without paying a fortune, here are some pictures to show you just how I made my rhubarb sauce.
Wash the rhubarb and then cut it into one inch pieces. You'll need 4 cups for this recipe.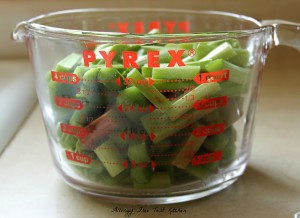 Place apple juice, coconut sugar and stevia in pan on stove.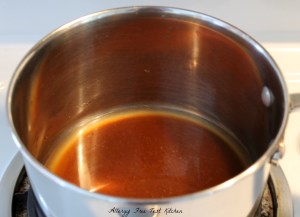 Place rhubarb into pan. Bring to boil.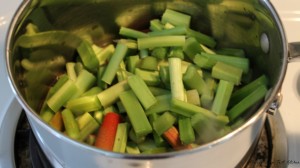 Cover with lid, stirring once in a while, for about 10 minutes.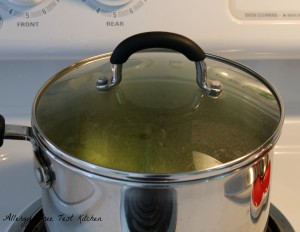 Then remove lid and cook uncovered.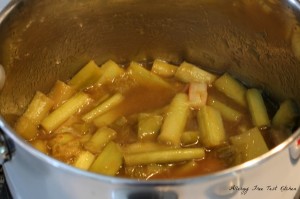 Cook until it is about this consistency.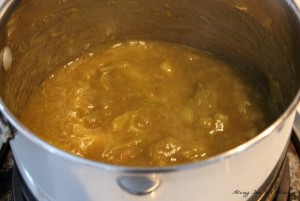 Then enjoy the sauce either warm or cold. Plain or on top of ice cream or a bundt cake.
Also shared at Gluten Free and DIY Tuesday. Allergy Free Wednesday. Real Food Wednesday. Mostly Homemade Mondays. Fat Tuesday.

Rhubarb Sauce – Refined Sugar Free
Ingredients:
4 cups washed and cut rhubarb

1/2 cup apple juice

1/3 cup coconut sugar

1/4 tsp. liquid stevia
Directions:
Place apple juice and sweeteners in pan on stove.  Bring to boil.

Add rhubarb.  Reduce heat and cover for 10 minutes.  Stir occasionally.

Remove heat and cook uncovered until sauce is desired consistency.