Chocolate or strawberries? Strawberries or chocolate? Which do you love better? Can't choose? Well you don't have too with today's dessert!
Hello Chocolate Strawberry Tart!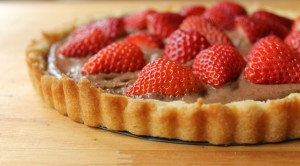 This recipe is literally for anyone! It's easily adaptable to any food needs. I made a gluten free tart (from The Allergen Free Baker's Handbook), but you can make any tart crust you can eat.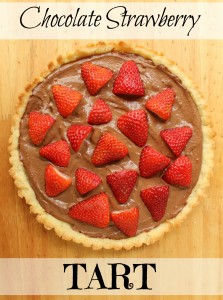 If you can eat store bought chocolate nut spread, go ahead and use that. Otherwise, do what I did and make your own milk free nut spread (making your own is healthier). I made this one. If you can't eat nuts, try making this nut free chocolate spread.
Then there is yogurt…I used coconut milk yogurt, but you can use whatever you can tolerate. Just make sure you buy plain unsweetened though!
Strawberries! Simply clean and cut in half!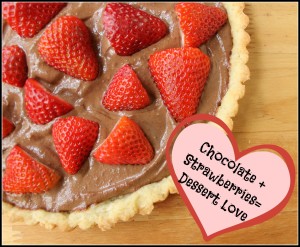 This dessert is pretty to look at, and delicious to eat! If you do make it allergy free, NO ONE WILL KNOW! I promise. The blend of chocolate and strawberries on a tart crust can't be beat!
Also shared at Wonderfully Creative Wednesdays. Allergy Free Wednesday. Mostly Homemade Mondays. Gluten Free Wednesdays.

Chocolate Strawberry Tart
Ingredients:
One 9 1/2 inch tart crust, baked and cooled, (gluten free or wheat)

1/2 cup chocolate nut spread

1/4 cup unsweetened plain coconut milk yogurt (or regular unsweetened)

strawberries, cleaned and cut in half
Directions:
Mix 1/2 cup chocolate nut spread with 1/4 cup unsweetened plain yogurt.

Spread evenly onto baked and cooled tart crust.

Top with halved strawberries.

Keep refrigerated.