Gluten free tortillas are expensive. And they are crumbly. And making them myself seemed elusive to me. Everything I found online was too crumbly, too labor intensive or too sticky. What I needed was something fast and easy, something that actually worked. I quit trying for awhile.
After some time and really wanting tacos, I tried again. I had some success, but wasn't quite satisfied. Then I thought, "Hey, why not use psyllium husks to make them stretchy and bendy?" It worked, quite well, but I still wasn't quite happy with my flour choices. Then I thought, "Aha, use Cybele's bread flour mix!" (See post and recipe here).
So, after 3 years of off and on trying (more off than on), I came up with a gluten free tortilla that is fast, is easy, is not crumbly, and bends without cracking. Do they look perfect? No, I'm a real person, a busy mom; I don't have time to make perfectly round tortillas!
So, psyllium husks are what you need to make these tortillas bendy and stretchy. You can find them in a health food store, or your grocery store pharmacy. This is the container I buy and I keep it in the freezer.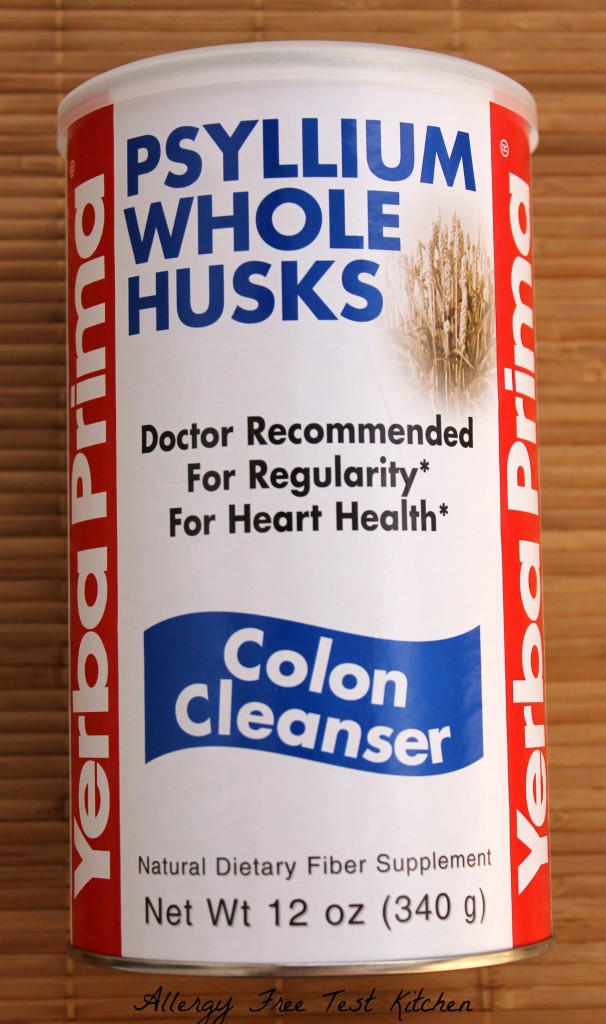 This is what they look like. I'm adding this because before I learned bought psyllium husks I thought they would look like corn husks (silly me), but they are really just a flaky/powdery thing. They make gluten free items stretchy and bendy and act like a binder in place of gluten.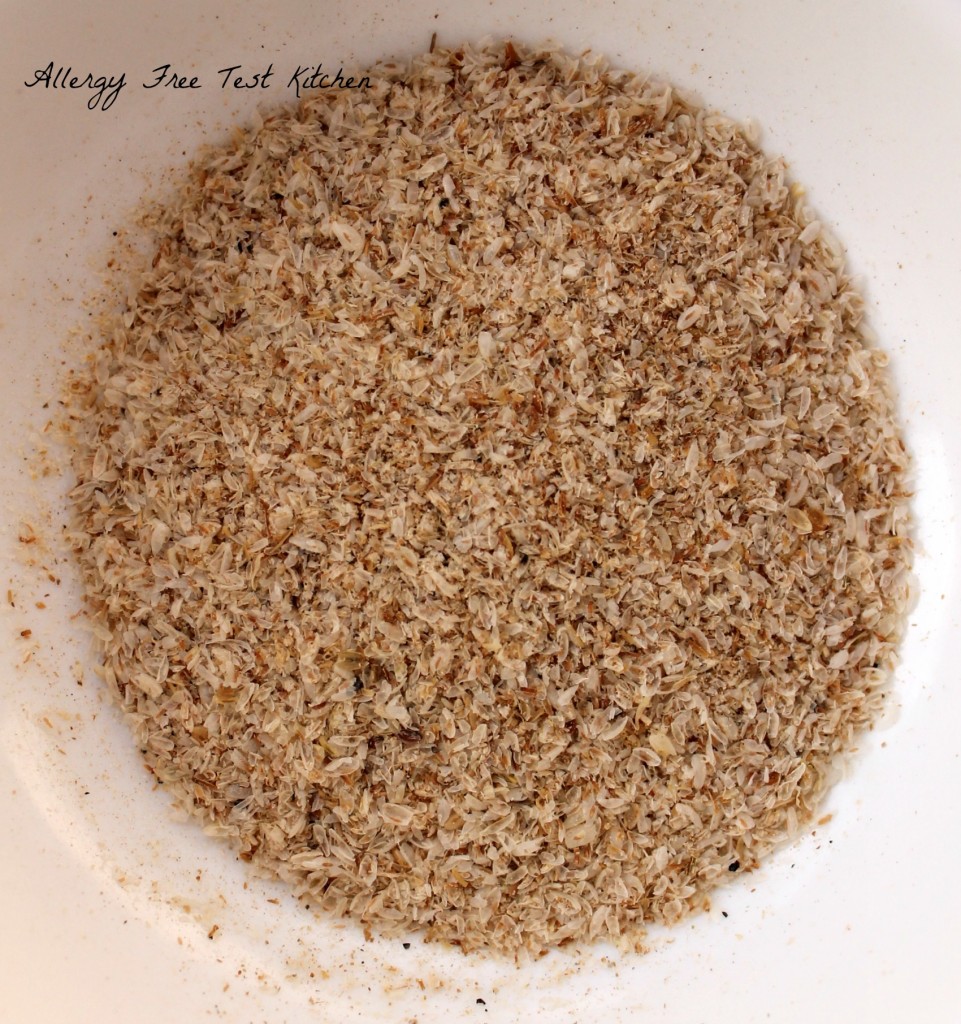 When you first start mixing your ingredients it will seem too wet.  But in just a few more stirs, the dough will come together and look like this.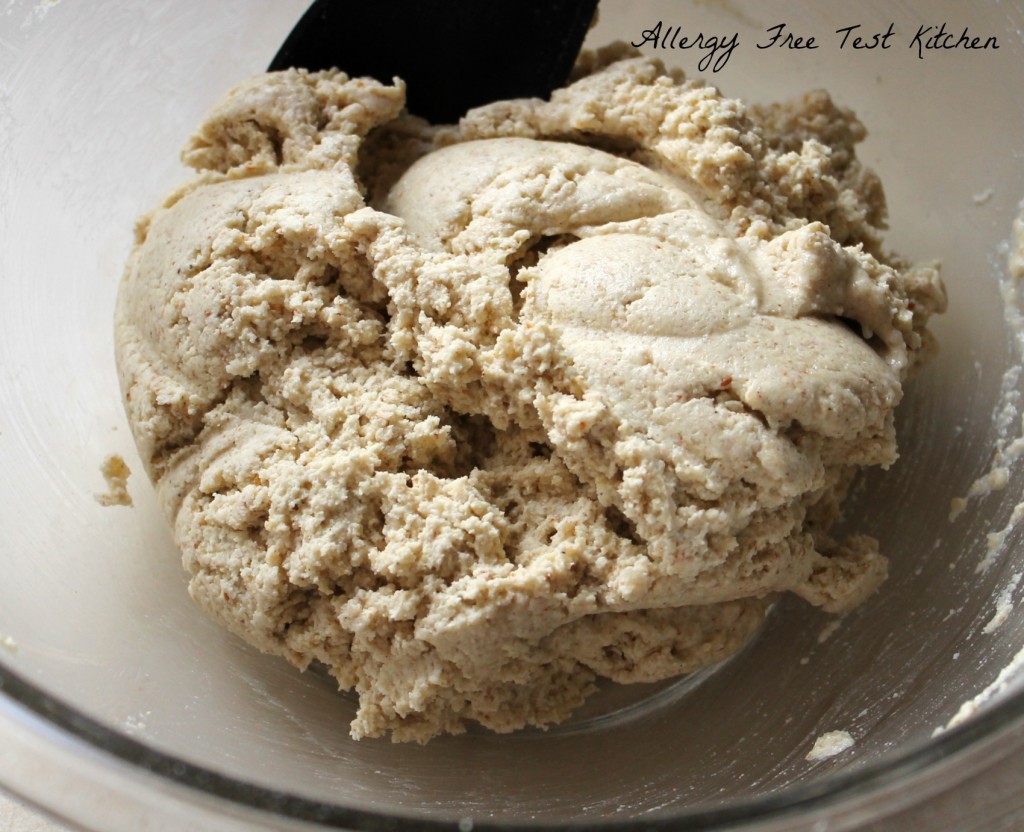 When you are ready to roll out a tortilla, sprinkle flour on your rolling pin and mat like this.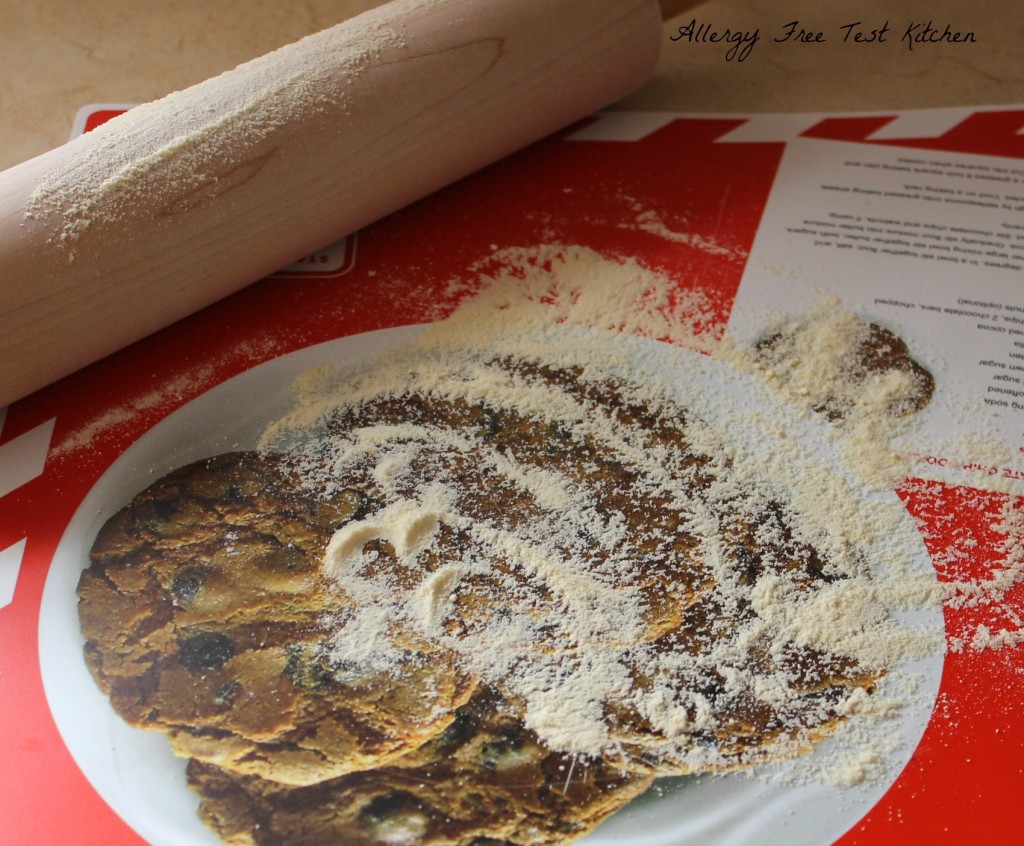 Grab a hunk of dough and make it into a ball like this.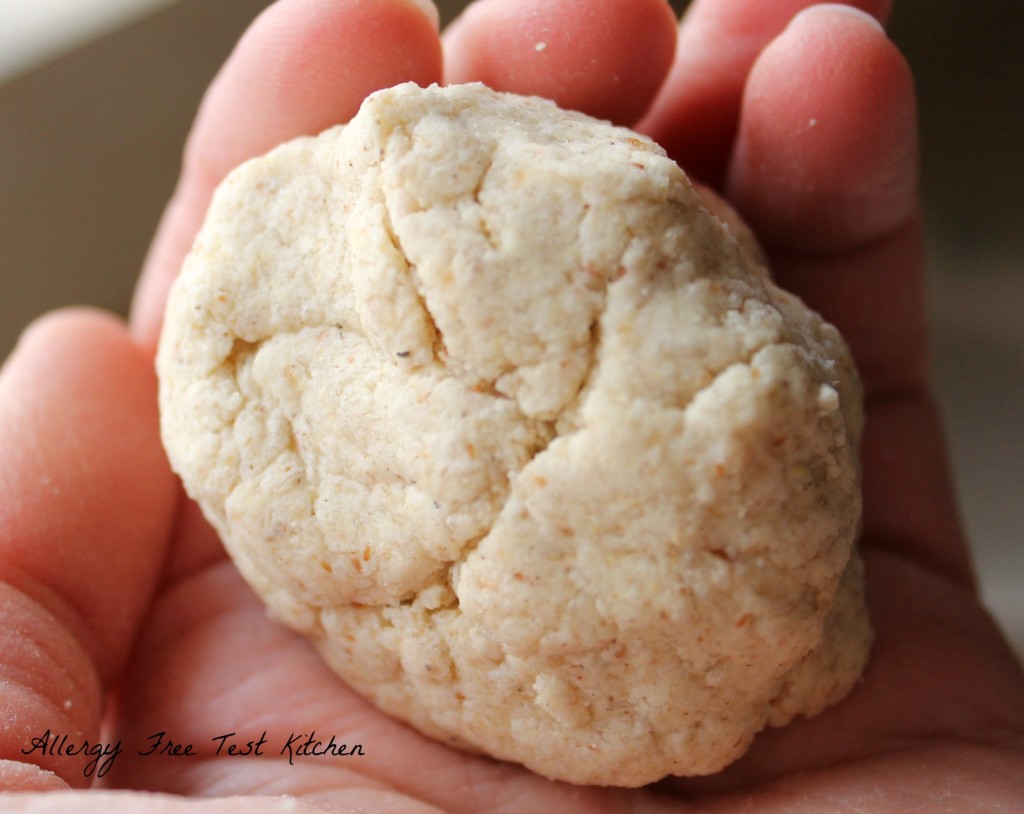 Make the dough into a disk then roll it quite thin like this.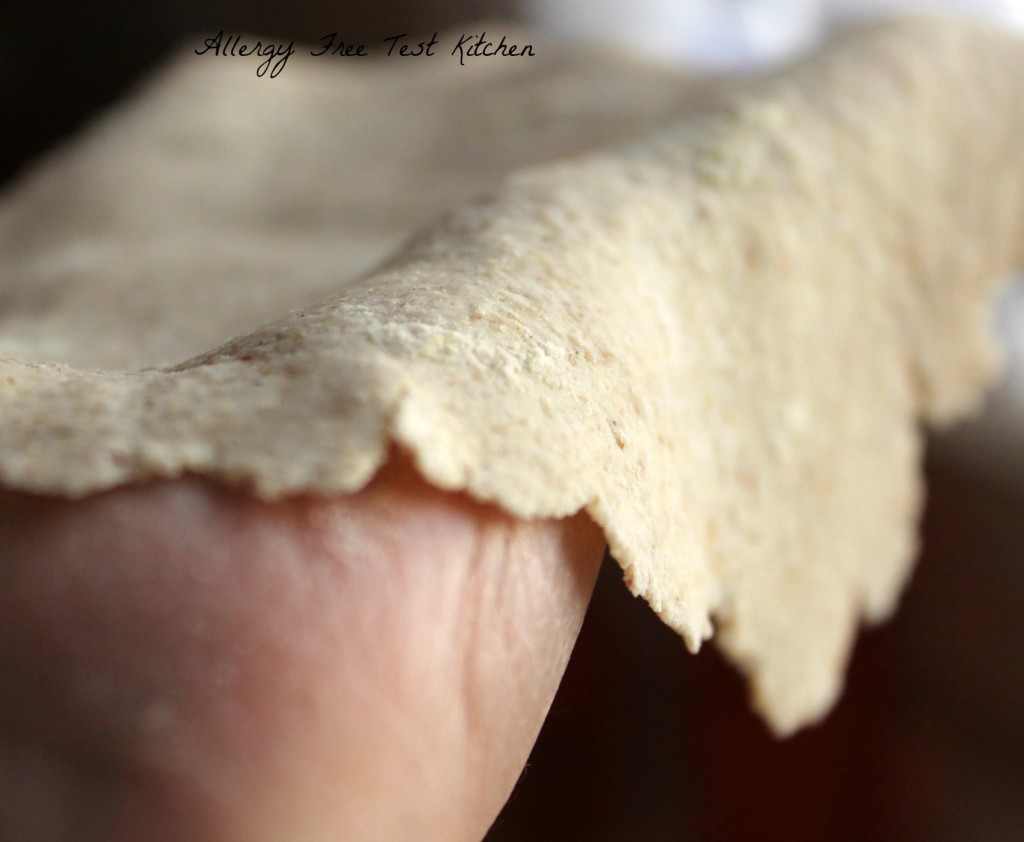 Place tortilla on a griddle.  Flip when they start to puff up.  This will only take a minute or so.  Cook other side for 1-2 minutes.  These will not brown.  If you keep them on the griddle trying to brown them, they will get too dry and still not brown.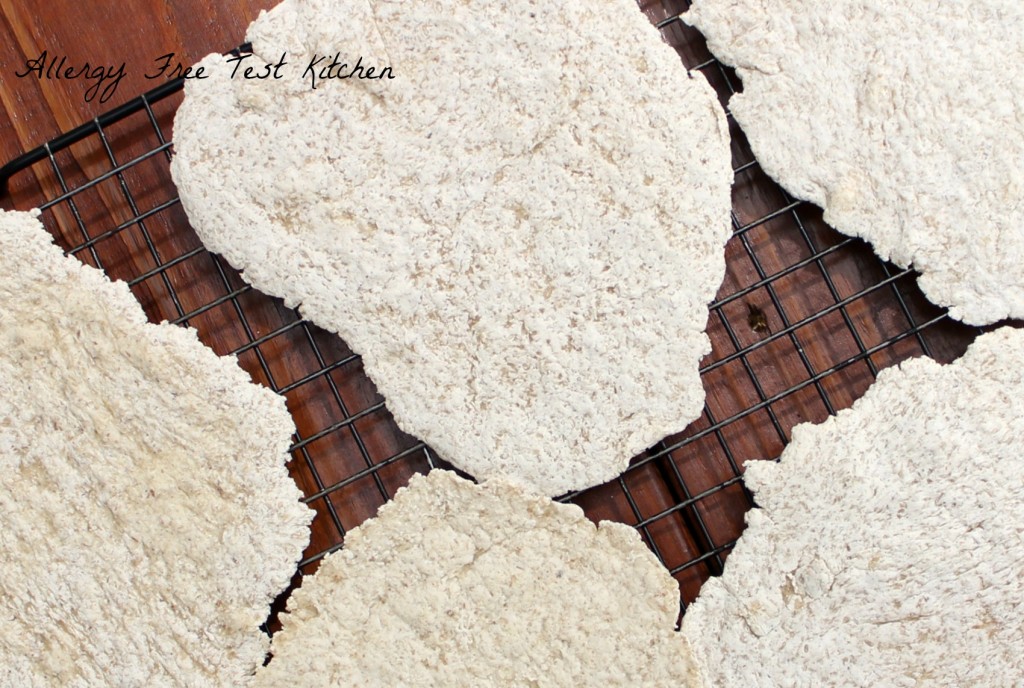 These tortillas have a very neutral taste.  They are great for tacos, for wraps (sandwiches), and in casseroles that call for tortillas.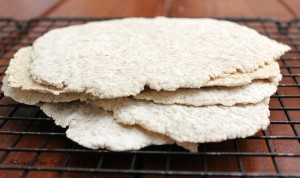 Remember to use the Gluten Free Bread Flour Mix profiled earlier.  See here.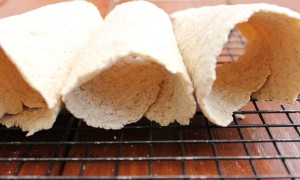 Feel free to use the share buttons below to pin it to Pinterest or share on Facebook.  I always enjoy comments too!
Also shared at Fat Tuesday. Gluten Free Wednesday.

Gluten Free Tortillas
Ingredients:
1 cup of Cybele Pascal's Gluten Free Bread Flour Mix (see http://allergyfreetestkitchen.com/recipes/gluten-free-br…or-credit-line/)

2 T. psyllium husks

1 tsp. coconut sugar (or brown sugar)

1/2 tsp. baking powder

1/2 tsp. salt

1/2 cup warm tap water
Directions:
Whisk the first 5 ingredients in a bowl.

Slowly add the warm water.

Stir until dough becomes a ball.

Grab a hunk of dough, pat into disk, and roll out really thin.

Cook on griddle until puffs up about 1-2 minutes.

Flip and cook another 1-2 minutes.

These will not brown.  Do not overcook.