Today's recipe is one of my all-time favorites!  And one of my best! It is something I created for a recipe contest.  I didn't win, which was a real bummer, but I'm thinking the lack of eggs, soy, wheat and milk in the recipe made the judges go, "huh?"  without even trying it.  What a shame because this is the BEST CUPCAKE EVER!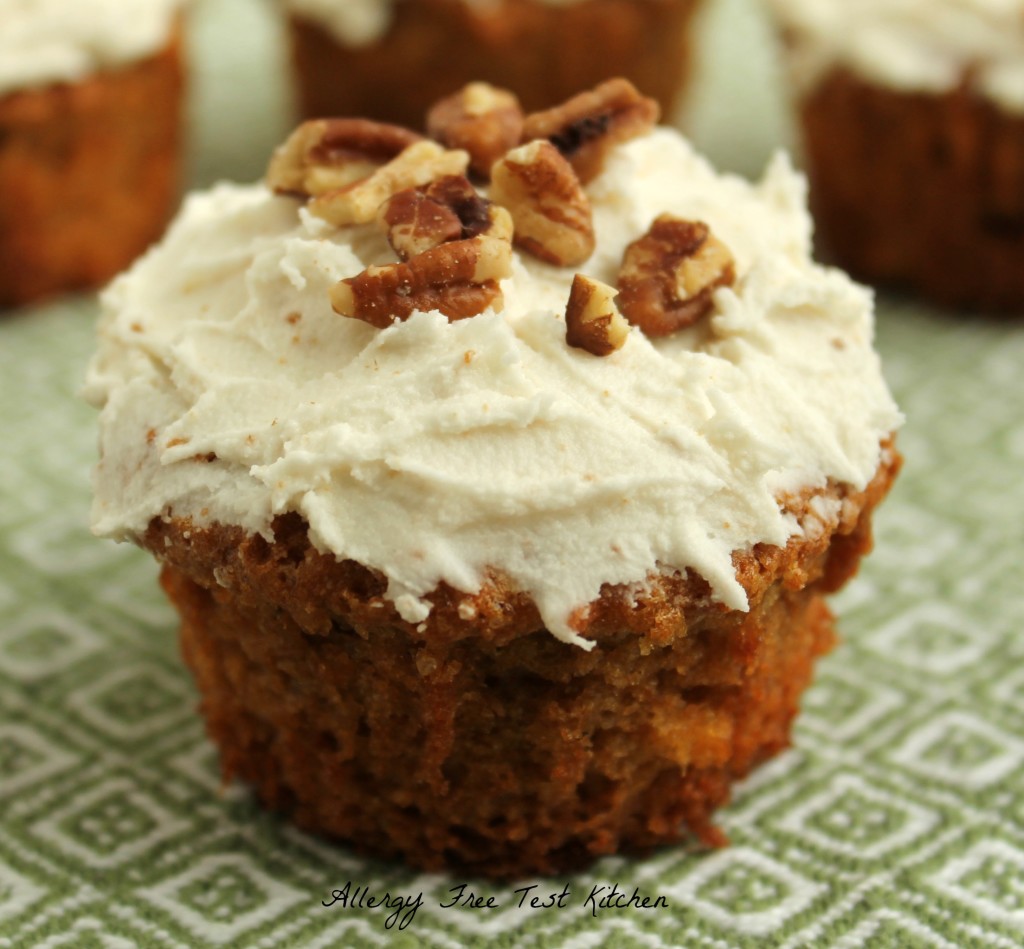 Then Angel from The Wellness Angel asked me to be a part of a Fall Inspired Food Blog Series.  I thought this would be the perfect time to showcase these beauties.  I didn't realize at the time, that the recipe should be completely vegan, so this one isn't—its chuck full of sugar.  But for any new vegan readers….do not dismay, I have a lot of vegan recipes as I have a penchant for maple syrup and coconut sugar.
This cupcake is so many things.  I was once told that a food writer should never use too many adjectives.  But I can't help it with this one…there is just too many good things to say about it.  It is moist, sweet, decadent, and unbelievable.  No one, and I mean absolutely NO ONE, would ever realize that this is gluten free, milk free, egg free, peanut free, and soy free.  It can be tree nut free too; the pecans in the recipe are optional.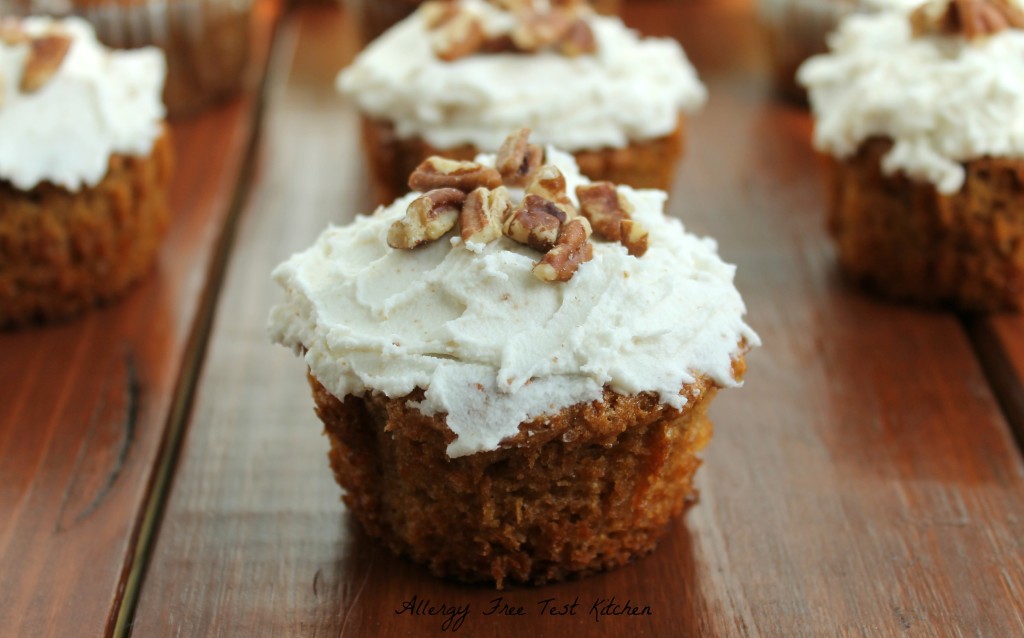 Now to the sweet potato part; super yum!  But wait, if you hate sweet potatoes you will STILL LOVE these cakey morsels of goodness.  This cupcake is so divine, you would never even taste sweet potato.  And do not forget about the frosting.  This creamy topping is infused with my favs….maple syrup and coconut sugar.  This is one unforgettable frosting!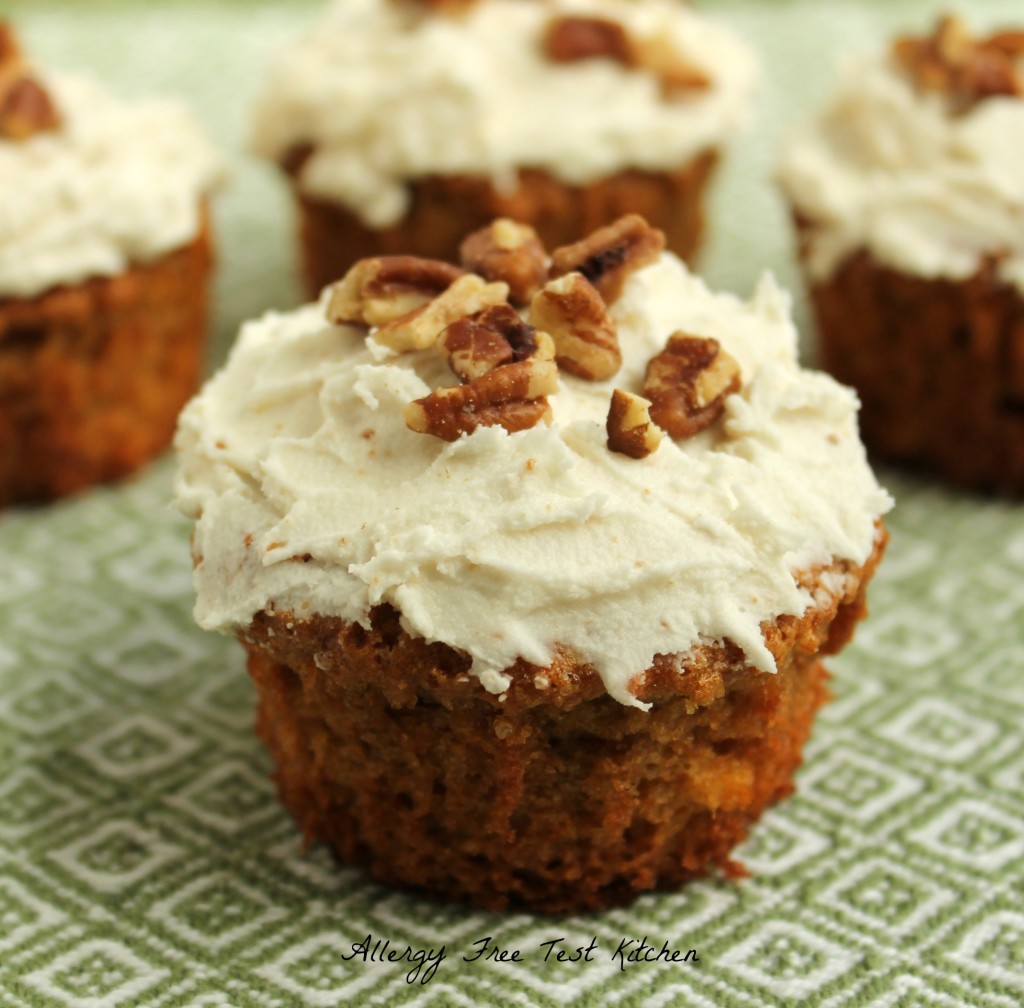 For you to make this recipe work and taste as awesome as they can be, you must follow the recipe as written.  Make sure to use the flour I use, as I have measured it out by grams.  So do not use the scoop the level method.  Spoon your flour into the measuring cup and then level off and you should come to the appropriate weight in grams. I made this recipe every Saturday for 5 weeks straight tweaking and adjusting the recipe to make it just perfect! 
So if you love this recipe please share on Facebook or Pin it to Pinterest.  And I would love to hear your comments in the comment section below.  Comments are often what make my day!
Also shared at Allergy Free Wednesday . Totally Tasty Tuesday. Wonderfully Creative Wednesday.

Sensational Sweet Potato Cupcakes With Maple Infused "Buttercream" Frosting
Ingredients:
1 1/4 cup Bob's Red Mill Gluten Free All Purpose Flour

1 cup sugar

3 tsp. baking powder

1/2 tsp. baking soda

1/2 tsp. xanthan gum

1/2 tsp. salt

1/2 tsp. cinnamon

1/4 tsp. nutmeg

1/8 tsp. ginger

1 cup cooked, mashed sweet potato

1/2 cup canola oil

1/2 cup unsweetened applesauce
Frosting
1/2 cup + 3 T. dairy and soy free shortening (like Spectrum) or Crisco if you can have soy

1 1/2 cups powdered sugar

1/2 T. coconut sugar

1 1/2 T. 100% pure maple syrup

1/4 cup chopped pecans (optional)
Directions:
Preheat oven to 325 degrees with rack in middle of oven.

In a large bowl, whisk together the four, sugar, baking powder, baking soda, xanthan gum, salt, cinnamon, nutmeg, and ginger.

Using a stand mixer, mix the mashed sweet potato and oil together for about 1 minute.  Add applesauce and mix until there are no sweet potato lumps.

Add the dry ingredients in two batches.  Mix with beaters for 2-3 minutes.  Remove from stand mixer and mix by hand until well mixed.

Line 14 cupcake tins with paper liners.  Divide batter evenly among tins.

Bake for 25-28 minutes, until inserted toothpick comes out clean.

After removing cupcakes from oven, let sit in pans for 5 minutes before removing to cooling rack.
Once the cupcakes are cool, use a hand mixer to make frosting.
In a bowl, combine the shortening and powdered sugar.  Mix until crumbly mixture forms.

Add coconut sugar and maple syrup and mix until well combined.

Frost cupcakes and sprinkle chopped pecans (if using) on top of each cupcake.