Have I got a treat for you today!  A chocolate cake that is moist, decadent and allergy friendly.  Not only that, but it is easy to put together.  This is a must have recipe for any situation needing a cake; a birthday, anniversary, Sunday company, you name it.  No one will guess you are serving them an allergy free dessert!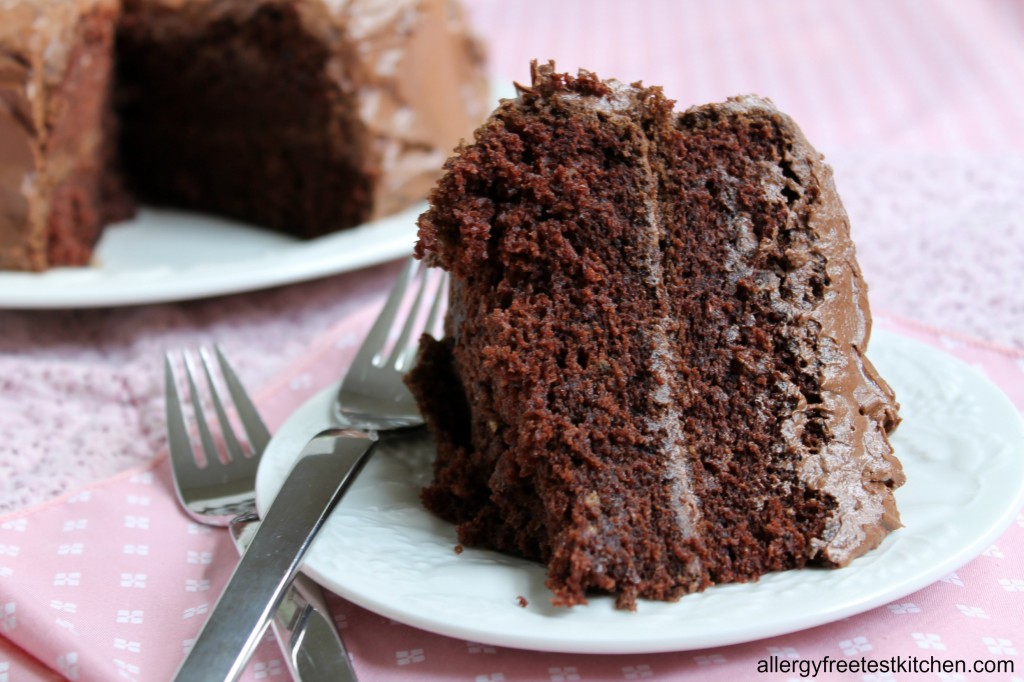 This can also be made into cupcakes.  They freeze well and defrost just as well.  I recently made this recipe as cupcakes for company of four adults total.  We ate up 10-12 cupcakes in just one evening.  They are that addicting…that good!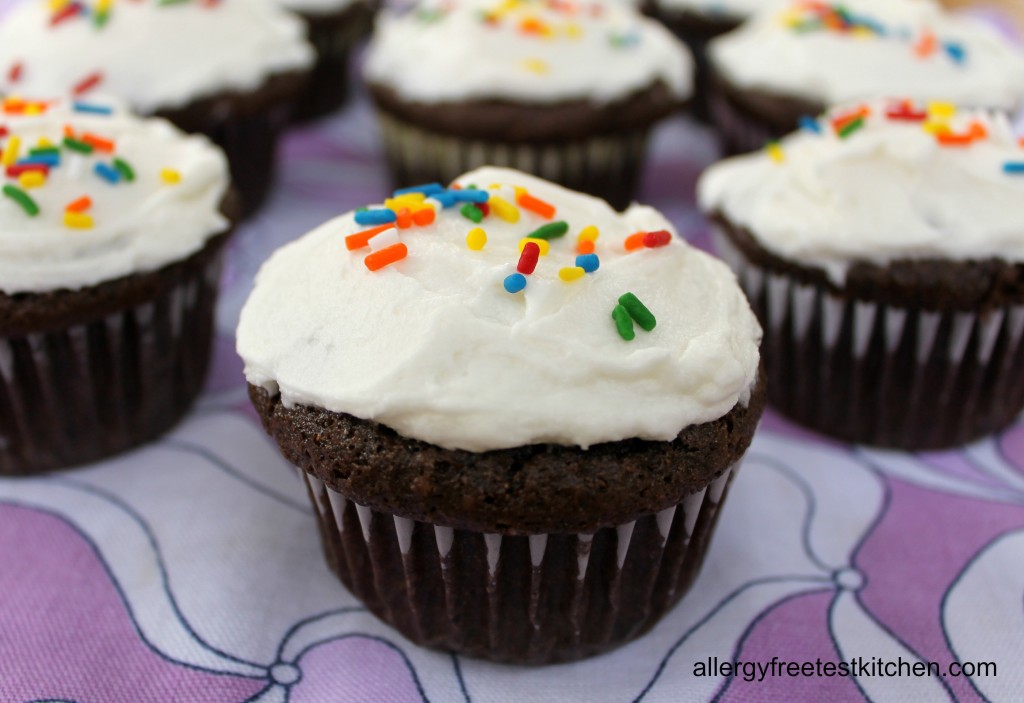 Now, here is kind of the weird part.  I found this recipe in an allergy friendly cookbook with no author!  Why would anyone create such a good dessert and not take credit for it?  Well, I made it yummy and extra good by switching up a few ingredients and also making it soy free.  It calls for chocolate soymilk.  I have made it that way in the past, but my new and yummier way is to use chocolate coconut milk.  It is the extra special ingredient that you really don't want to skip or trade out.
The chocolate and vanilla frosting featured in these pictures came from this cookbook.
So, don't despair if you just learned of food allergies.  You can have your cake and eat it too! Oh, and if you like this, be sure to like my Facebook page and add to interest lists so that you can hear about more recipes like this.  There is also Twitter and Pinterest!
Also shared at Allergy Free Wednesdays, Make Your Own Monday, Gluten Free Monday, and Allergy Friendly Friday.

Best Ever Allergy Free Chocolate Cake
Ingredients:
3 cups Bob's Red Mill All Purpose Gluten Free Flour

2 cups sugar

6 T. unsweetened cocoa powder

2 tsp. baking soda

2 tsp. xanthan gum

1 tsp. salt

2 cups chocolate coconut milk

1/2 cup + 2 T. canola oil

2 T. apple cider vinegar

1 tsp. vanilla
Directions:
Preheat oven to 350 degrees. Spray two 9 inch round pans with cooking spray or line 24 cupcake spots with liners.

In a large bowl, whisk the dry ingredients well.

In a smaller bowl, combine the wet ingredients.

Pour the wet ingredients into the dry ingredients and stir until smooth, making sure all dry ingredients are mixed in from the bottom of the bowl.

Place in preheated oven immediately.

Bake 25-30 minutes or until toothpick inserted in center comes out clean.

Cool in pans for 5 minutes before removing to cooling rack. If cupcakes, remove immediately.

Cool completely before frosting with the frosting of your choice.