Are you looking for a gluten free pizza crust mix?  One without yeast?  There are a lot of gluten free pizza crust recipes out there, but they require yeast.  That is a problem for anyone on the anti-candida diet, or an intolerance to yeast.  But, yeast also requires time.  And sometimes there just is not time for that…especially on a pizza night.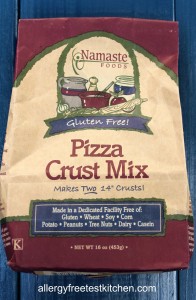 Well, look no further.  Namaste Foods has a pizza crust mix that is not only gluten free and yeast free, but also free of soy, corn, potato, peanuts, tree nuts, and milk.  And according to their package their whole facility is free of these potential allergens as well.  While the pizza crust is free of egg, the package does not mention that or if the facility is or not.  But even though this mix is free of these allergens, does not make it free of taste.  No, this pizza crust has zip.  The mix comes flavored with garlic, Italian seasoning and onion.
The 16 oz. package claims to make two 14 inch crusts, but I find that it can make two and then have some mix leftover.  I always use it up with another package.  So it seems to stretch far.  Something I consider a good deal.  The price is a good deal too at around six dollars a package.  That works out to about three dollars a pizza…much cheaper than a store bought gluten free pizza.
An unusual thing about this pizza crust is that when you make it, it is like cake batter which requires a pizza pan with edges.  And since it is this consistency, you cannot use a pizza pan with holes in the bottom. Here is what the dough looks like before baking.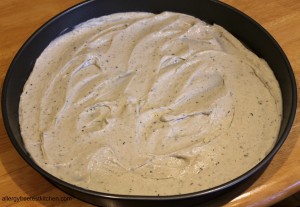 When making this pizza, follow the directions precisely.  The first time I made this pizza, I thought the directions were a little odd and didn't follow them exactly.  That was a mistake.  When it says to use the lowest rack in the oven, I use the second to the bottom.  But other than that I follow the directions to the tee.
One should bake the pizza crust 20 minutes before adding the toppings.  After 20 minutes the crust looks like this.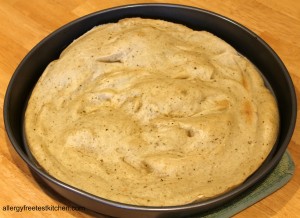 Then add your toppings, but go easy on the sauce.  Too much sauce makes the crust soggy.
Now this pizza crust is on the thin side, which I do not mind at all.  But if you like really thick and hard to bite off crust, you won't like this crust.
I think this Namaste Pizza Crust Mix is not only a good deal, but full of good taste and easy to put together as well.  You can have a homemade pizza on the table in 30-35 minutes.
Also shared at Gluten Free Monday and Gluten Free Fridays.