So, I'm pretty fussy about my gluten free flours.  And you should be too!  Don't settle on your flours.  They can make or break your recipe!
So, I'm here to inform you that you can save your money and NOT BUY the Pillsbury Gluten Free Multi-Purpose Gluten Free Flour Blend.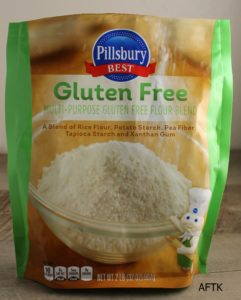 This blend simply does not work.  I couldn't get it to work with several different types of recipes.  Recipes that are tried and true turned into flops!
The blend is made of rice flour (package doesn't say what kind of rice flour), potato starch, pea fiber (I've not seen that one before), tapioca starch and xanthan gum. I have never like blends that have gum already added.  I still don't like it.  It simply does not work!
I don't have much to add. This simply is a bad blend.  Sorry, dough boy.