I am excited to share this recipe with you today as I don't post new recipes as much as I used to. This is an old recipe that is coming out of retirement and getting a gluten free, dairy free makeover. (Originally, it came from some magazine…I have it cut out and taped to an index card).
Years ago, I made this frequently and in my house it actually goes by a different name. It's named after a kid who as an older baby/toddler would eat this like there was no tomorrow. Seriously, it was hilarious seeing a 13 month old eating a giant burrito with lightning speed.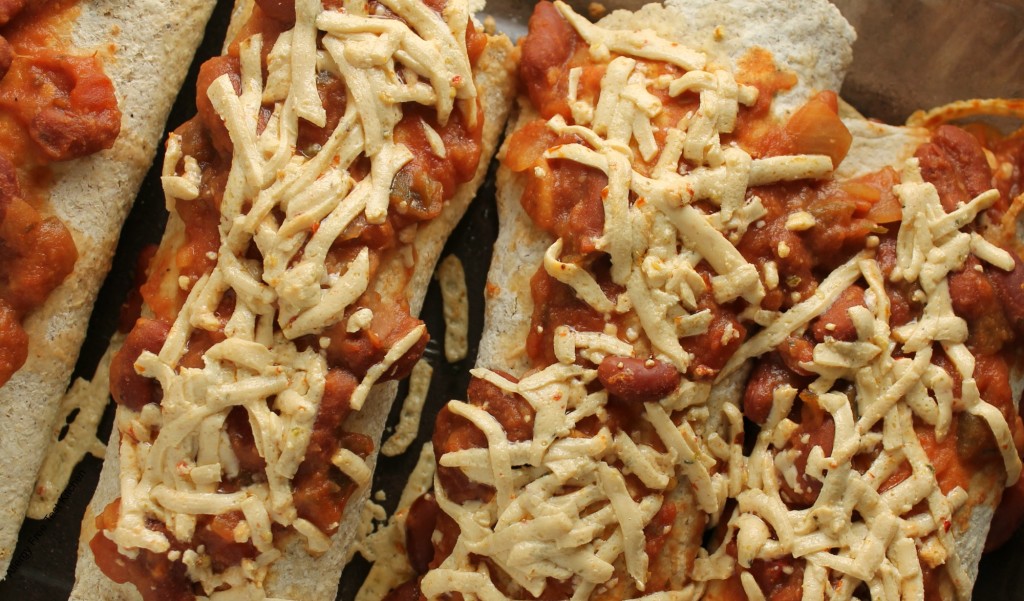 I've been in a food rut making the same things over and over again so one day when meal planning I thought, "Wow, those burritos would be so easy to make gluten free and dairy free." I have no idea why I haven't tried it sooner!
We enjoyed a blast from the past and now I will add it to the regular rotation again.
You can purchase gluten free wraps if that is your thing. But for me, it was so easy and not at all time consuming to make my own wraps ahead of time. I used this recipe, doubled it, and just rolled them out really big to be the size of a large store bought wrap. (I had two extra wraps.  They freeze well).
Of course, if you are not gluten free, any large wheat wrap would work too! And milk based cheese would work as well if you consume dairy.
Whether you are a vegan or simply trying more meatless meals, this is a great weeknight meal since it comes together so fast!
Do you have a fast weeknight meal recipe?
Also shared at Allergy Free Wednesday.

Spinach and Bean Burritos
Ingredients:
4 large tortilla wraps (make homemade GF ones if necessary)

1 10 oz. box frozen spinach, thawed and drained

1 can light red kidney beans, drained, rinsed, soaked and drained again

1 1/2 cups mild salsa

1/2 cup refried beans

dairy free sour cream (soy free if you can find it)

Daiya Pepperjack Style Shreds
Directions:
Make your GF wraps if necessary.

Preheat oven to 475 degrees.

Spray a glass 9×13 pan with cooking spray.

In a bowl combine kidney beans, salsa and refried beans.

Lay a wrap on a plate.

Spoon some sour cream down the middle.

Put 1/4 of the spinach on the wrap.

Place a good amount of bean mixture on spinach.

Sprinkle with a little of the Daiya Pepperjack Shreds.

Roll up and place seam side down in pan.

Repeat steps 5-10 3 more times, for a total of 4 wraps.  Make sure to save some bean mixture for topping the burritos.

Pour remaining bean mixture over burritos and sprinkle with Daiya Pepperjack Shreds.

Bake for 10 minutes.