I have some exciting news to share!
But first, let me tell you about Mylan and Disney. Well, everyone knows about Disney! Mickey Mouse, theme parks, you know. Mylan is a pharmaceutical company; creators of the Epi-Pen. Mylan and Disney have formed an alliance to make Disney parks and cruise ships just a little more allergy friendly.
For those with life threatening food allergies, taking any sort of trip is scary and carrying an Epi-Pen Auto Injector to treat potential anaphylaxis is a must! With this alliance in place, starting at the end of 2014, there are now Epi-Pen locations with nurses standing by scattered about Disney parks and cruise ships.
If you want to read about this alliance, click here.
In celebration of this alliance, Disney has created an allergy awareness website. It is called My Allergy Kingdom. This website has all sorts of helpful resources and recipes.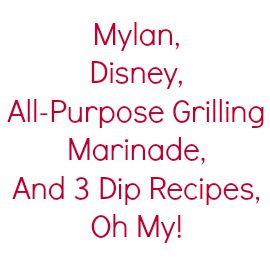 And that is where I come in with my exciting news! I was asked by Disney to create some recipes for their website launch. (Disclosure: I was compensated for the recipes).
So if you want to get these recipes (and see the photos) I created exclusively for Disney's My Allergy Kingdom, you are going to have to head over there. It's really simple; I'll give you the links.
All the recipes are free of the top 8 allergens! As usual, make sure to check the ingredients in the grocery stores to double check for your allergens, as food companies often change ingredients without notice.
If you want an all-purpose grilling marinade that works for chicken, beef or pork, you can find that recipe by clicking here.
Interested in dipping your raw vegetables or chips in a new dip?
Try the Creamy Veggie Dip by clicking here.
The Southwestern Dip can be found here.
The Chive and Bacon Dip can be found here.
Make sure to check out these recipes, My Allergy Kingdom, and share the good news with your Facebook friends and Twitter followers!
Also shared at Allergy Free Wednesday.