If you are a fan of food blogs, I'm sure you heard mention of high-speed or high-powered blenders such as Vitamix, Ninja, or Blendtec by now.
I've finally joined the ranks and I am not looking back! Never will I go back to a standard blender again! My high-speed/powered blender can obliterate anything! In mere seconds.
Take this blueberry smoothie for instance. (Yes, the picture isn't great….I had to take a picture of leftovers and before it got gobbled up).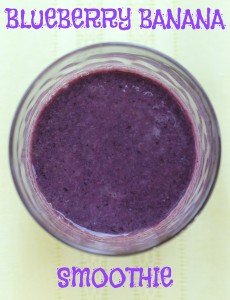 In a regular blender, blueberries do not get completely pureed and you are left with chunks of blueberry stuck in your teeth. Not to mention it's not much fun to fun to drink a smoothie that isn't smooth!
Another great thing about high-speed/powered blenders is you can use fruit straight from the freezer without thawing. There are no worries about the blender slowing down, or making noises indicating it cannot keep up.
Plus adding frozen fruits makes for a super chilly, refreshing drink.
We made this Blueberry Banana Smoothie after an afternoon at the pool for a quick summer supper of sandwiches and well, smoothies!
This smoothie recipe makes a large batch and can be enjoyed for breakfast, lunch or snacks too!

Blueberry Banana Smoothie
Ingredients:
2 1/2 cups blueberries (frozen is fine)

1 banana

2 1/2 cups unsweetened vanilla almond or coconut milk

2 tsp. raw carob powder (optional)
Directions:
Place all in blender and puree until smooth.