If you have read my blog, or my submissions for My Life With Food Allergies, you know that I really love cookbooks.
Today I have the pleasure of reviewing The Gluten Free Cheat Sheet by April Peveteaux. I was given the book (for free), but the opinions are all my own (non-affiliate link).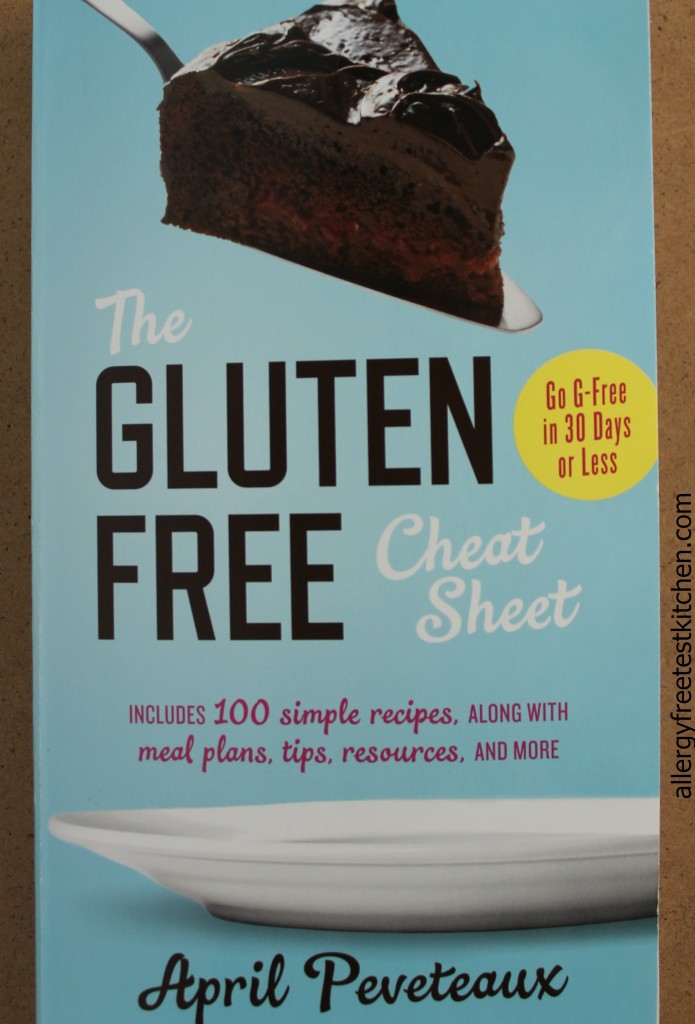 April Peveteaux writes with sass and humor. This book is part "how to go gluten free" and part cookbook. It is a must-read for the newly "going gluten free" person; anyone who needs to go gluten free whether due to Celiac, intolerance, wheat allergy, or auto-immune diseases will benefit from this book.
The author provides a quick overview of what exactly is gluten and how to avoid it. She also discusses the mental health issues that come with going gluten free as well as busting some myths. In addition, she lays out a complete 30 day meal plan to follow during the first 30 days of being gluten free.
And then…the recipes. The "second part" of the book is chuck full of gluten free recipes. It's important to note that these recipes are strictly gluten free; the recipes do contain milk, eggs and other allergens. If you are milk free, I believe you could easily swap out the milk ingredients for the typical non-dairy alternatives. Categories of the recipes are as follows: breakfast, appetizers and snacks, main courses, sides, desserts and lastly cocktails and beverages. While I have not had the opportunity to make any of these recipes yet, I can tell that the ingredients listed are not too lengthy and contain "normal" ingredients. The method is clearly laid out in number fashion and also not too lengthy…a method I use myself and find most easy to follow.
The book ends with a helpful resource section which includes a state by state guide.
Going gluten free doesn't have to be daunting when you have a well laid out plan like in this book, The Gluten Free Cheat Sheet.