I had a great restaurant experience not too long ago. We went to Sweet Tomatoes. For those unfamiliar, this restaurant has a large salad bar, soup bar, baked potato bar, bread bar, fruit bar and dessert bar.
Even better, they have gluten free and vegan (milk and egg free) dishes and they are clearly labeled. Could I eat EVERYTHING? No, but I ate plenty. I didn't even have to skimp and just have one or two things.
The salad bar had 3 pre-made gluten free and vegan salads. And of course, I could have built my own if I wished. One of the pre-made salads was a broccoli salad. It was so good, I set out to create one myself.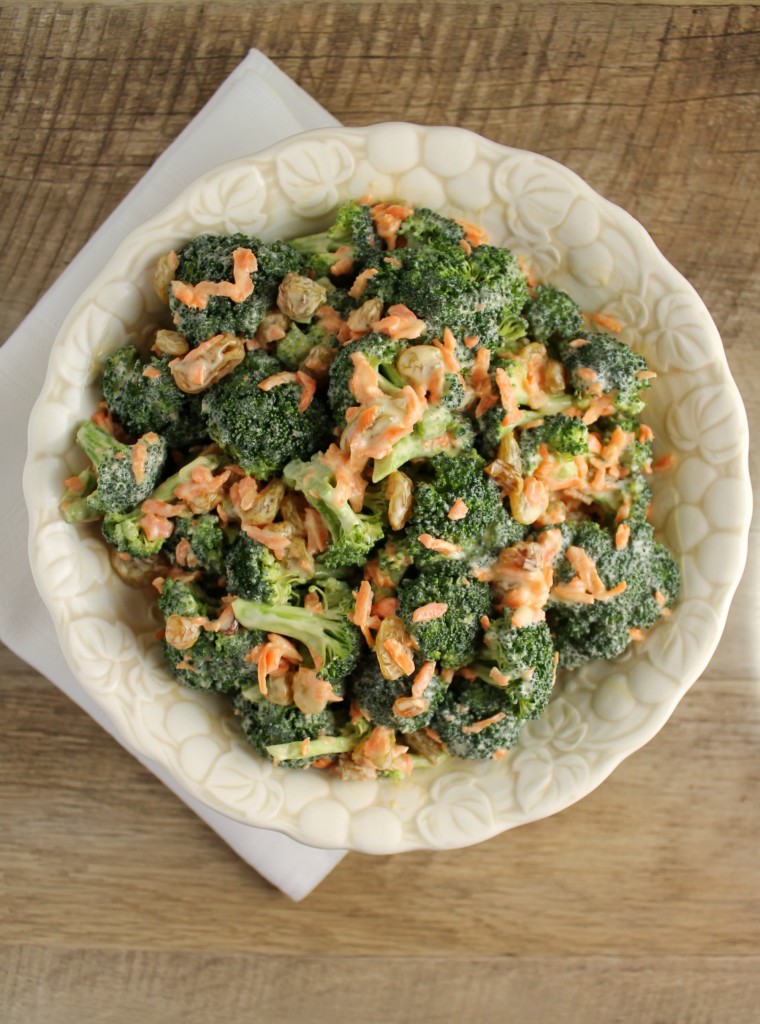 What I did was comb my existing cookbooks and combined two recipes into one and switched out the nasty ingredients for the healthier ones. And what I got was a raw broccoli salad that even kids eat!
As for the rest of my Sweet Tomatoes meal…I had chili, baked potato, fruit and jello. They even had dairy free margarine! One bummer about the trip was that the website advertised a gluten free chia muffin that I was eager to try….it wasn't at my location. Maybe next time!
Have you ever had a good broccoli salad? What restaurants can you safely eat at?
Also shared at Allergy Free Wednesday. Gluten Free Wednesday. Gluten Free Fridays.

Raw Broccoli Salad
Ingredients:
1 lb. fresh broccoli

1/2 cup shredded carrots

1/3 cup golden raisins

1/2 cup Mindful Mayo Original–this is soy, egg and milk free (or regular mayo)

2 T. apple cider vinegar

1 T. xylitol (or sugar)
Directions:
Wash raw broccoli and cut into bit sized pieces.

Place broccoli in salad bowl along with carrots and raisins.

In a small food processor, combine Mindful Mayo, vinegar and xylitol.

Pour over vegetables and refrigerate for several hours before serving.