100,000!
That's a number worth celebrating!
200.
That's pretty big too!
Say what? What does this have to do with finger gelatin?
Nothing really.
Not Irish and not Catholic, not prone to drinking and partying…I'm still celebrating St. Patty's Day……with some green food.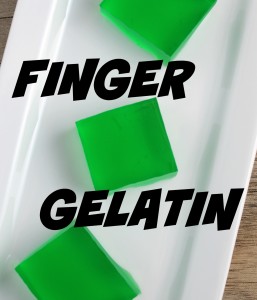 After all, St. Patrick (born A.D. 373) was one of the most prolific evangelists of all time with planting over 200 churches and baptizing 100,000 people. Prior to those achievements, he was kidnapped by pirates at age 16 and taken as a slave to Ireland. He later escaped only to return to his captors at age 30 to preach to great numbers of people even though the Druids sought to kill him. (Information from the book Then Sings My Soul by Robert J. Morgan).
So, he's a great guy worth honoring even if it is with green finger gelatin.
Now about finger gelatin (often referred to as finger jello), it's a fun treat for kids and grown-ups alike! And it packs well in school lunches, whereas regular gelatin does not.
I make mine to fit in a 9 ¼ by 7 ½ inch glass pan. If you want to make enough for a 9 x13 pan, just increase each number in the recipe by 1.
Also shared at Allergy Free Wednesday.

Finger Gelatin (a/k/a Finger Jello)
Ingredients:
2 small boxes of your choice of flavored gelatin (e.g. lime, cherry, orange etc)

3 envelopes of unflavored gelatin

3 cups boiling water
Directions:
Combine flavored and unflavored gelatin in large bowl.

Add boiling water and stir until completely dissolved.

Pour into 9 by 7 pan (increase every number in ingredient list by 1 for a 9×13 pan).

Refrigerate until firm.

Cut into squares or other fun shapes.

Keep stored in refrigerator.