Every once in a while you just need to have fried food.
I am generally a very healthy eater so frying chicken tenders a few times a year is quite the indulgence for me. And since it is so rare, I figure it's not so bad.
Actually, I think indulging like this is a good thing. Maintaining a healthy diet free of so many categories of food can sometimes be overwhelming. So treating oneself gives oomph to plug on.
I have made these fried chicken tenders probably every 4 months for a couple years now. I thought it was time to share with you all. I have adapted the recipe from my authorless cookbook with the generic title Allergy Free Cookbook.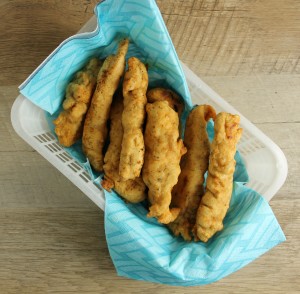 Here is the neat thing about these chicken tenders. No egg: You don't need egg to bind the flour mixture to the chicken tenders! Another neat thing: no gluten and no grain! Yes, I do use garbanzo & fava bean flour, but before you say "forget that!" (I know bean flours are not a fave of some), hear this out! You cannot tell! I promise. Using the spices and the deep frying in oil masks any bean flavor if there is any.
For a long time we ate these without a dipping sauce. I recently whipped up a honey mustard dipping sauce after a trip to Ruby Tuesday and found out it was quite the hit. That recipe will be forthcoming.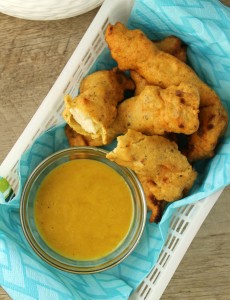 Here are a few tips for you regarding frying these tenders: do not overcrowd the pan. Also, have two tongs…one for the raw chicken and batter and one for using in the oil and taking the cooked tenders out of the oil. Another thing…this is not a quick meal. It generally takes me about 40 minutes to fry up the tenders and the first batch takes the longest. It helps if you have a vegetable or something baking in the oven. Your cooktop will be hot and you can place your cookie sheet of cooked tenders on that and they will stay warm while you cook the other tenders.
Please share via Facebook, Twitter or Pinterest. And I'd love to hear any comments you may have!
Also shared at: Allergy Free Wednesday Gluten Free Wednesday

Gluten Free Grain Free Fried Chicken Tenders
Ingredients:
1 1/2 cups garbanzo & fava bean flour (this is one flour in one bag)

1 1/2 tsp. Italian seasoning

1 tsp. salt

1/2 tsp. black pepper

3/4 cup to 1 cup water

1 1/2 pounds chicken tenders

canola oil for frying
Directions:
Combine the first 4 ingredients.

Add water starting with 3/4 cup and stir with a spoon (no whisk) until you get a thick, yet smooth batter.  Add additional water if needed.

Cut any large chicken tenders in half lengthwise.  (The skinnier they are the better they cook).

Pour oil into a large pot with deep sides (I use a four quart dutch oven pan).  Pour oil to about 1 1/2 – 2 inches deep.

Heat oil on medium high heat.

Dip 4 chicken tenders in batter with a tongs and coat all sides.  Place in oil.  Cook until one side browns, then using a different tongs turn them over and cook until the other side is brown.  Do not crowd the pan.  I find that 4 is the perfect number.

Line a cookie sheet with paper towels.  Lay fried tenders (with your second tongs) on cookie sheet.

Repeat step 6 until all tenders are cooked.  This takes me about 40 minutes.