What do you want most for dinner on a cold night after a long day?
I don't know about you, but I want comfort food.
And I want it to be easy.
And delicious.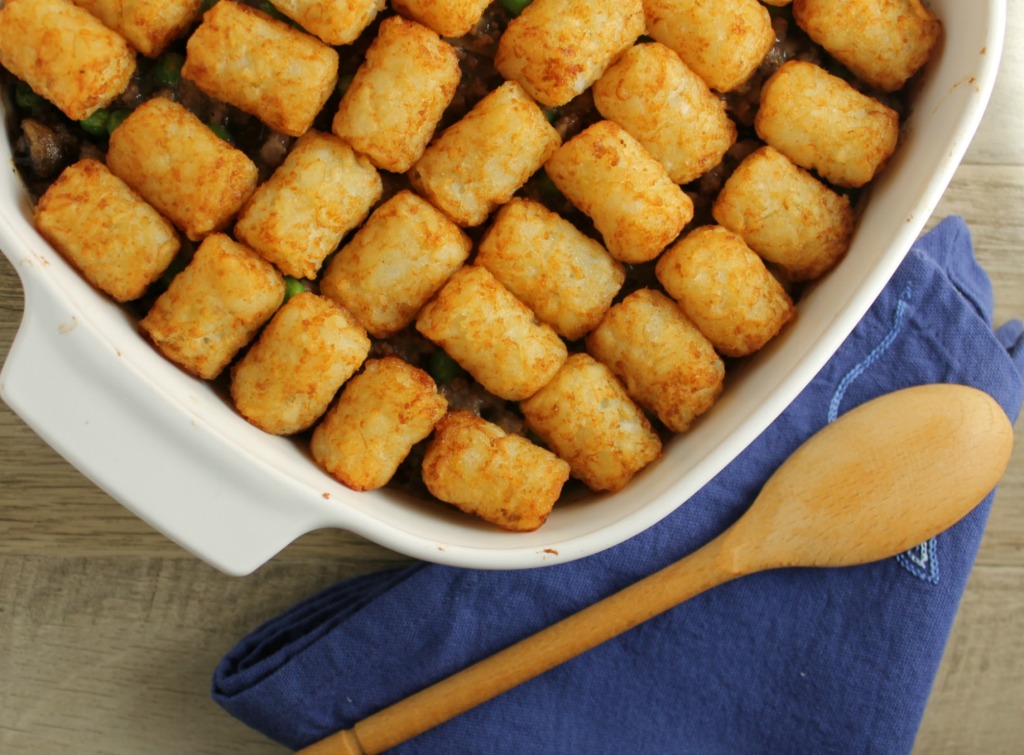 So every now and then, I pull out an old index card with a handwritten recipe on it.
Something from days gone by.
That something…..the old tater tot casserole.
Who doesn't love tater tots!?!?!?!?
Thankfully, you can find allergy free tater tots. I have found brand name and store brand tater tots to either have milk, gluten or corn in them. But, surprisingly, not at Aldi! That's where I buy them. Edited to add: The ingredient list in the Aldi tater tots has changed and they now contain corn.  What a bummer, but a good reminder to always read labels.
To make this casserole, follow this tutorial for making your own cream of mushroom soup. It's fast, easy and waaaayyyyy better than store bought.
But I digress….who doesn't love a one dish meal? Well, actually I do know someone who doesn't like casseroles…but that someone is a kid…they don't know what they are missing!
Don't like ground beef?  Want some other comfort food?  Why not try this Chicken Pot Pie?

Tater Tot Casserole
Ingredients:
1 lb. ground beef

1 1/4 cups frozen peas

1 "can" of cream of mushroom soup (see link in article)

tater tots
Directions:
Make your "can" of cream of mushroom soup.

Preheat oven to 375 degrees.

Brown meat and drain off fat.

Mix meat, peas and cream of mushroom soup and pour into a 2 qt. casserole dish.

Top with tater tots.

Bake uncovered for 35 minutes or until bubbly.