What if I told you that you could make ice cream not only without milk, but without dairy free milk too? And what if I told you it would be rich and creamy? Even better, what if you could make an ice cream pie?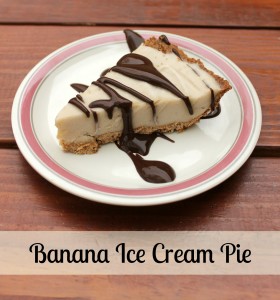 Well, it just so happens that today I have just that…an ice cream pie made without milk and dairy free milk! With the pie filling having no added sugar it is super healthy too! What more could you want?
Anyone could make this it is so easy! And there are many people without food restrictions that would simply love the ease and healthfulness of this pie too!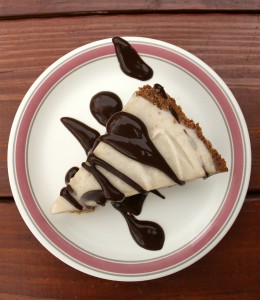 For the longest time I tried to create a specific pie crust recipe just for this pie. I had some that were okay, but never exactly what I wanted. Then I realized that many of you probably already have your favorite gluten free or regular pie crust recipe and do not necessarily want to have a new one in your arsenal. So I simply figured out a way to make YOUR pie crust taste like a Biscoff cookie!
So we have an allergy free, vegan, gluten free, healthy ice cream pie that is easy to make and delicious to eat!
Of course, to keep it refined sugar free and allergy free you must be careful what type of chocolate syrup for topping you use. I have been buying this chocolate syrup by Walden Farms. It is sugar free and corn free (hard to find a corn free chocolate syrup out there)!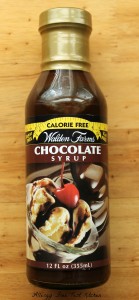 So without much further ado….let's get to the recipe. And don't forget to like this, pin it or share it so everyone can enjoy a delectable dessert!
Also shared at Gluten Free & DIY Tuesday. Fat Tuesday. Naturally Sweet August. Gluten Free Wednesdays. Allergy Free Wednesday.

Banana Ice Cream Pie With Biscoff Cookie Flavored Pie Crust
Ingredients:
For pie crust to be Biscoff Cookie flavored add:
1 tsp. cinnamon

1/4 tsp. allspice

1/8 tsp. ginger
For pie filling:
4 small bananas, peeled, broken into chunks and frozen for at least 24 hours.
Directions:
Make your pie crust, bake it and let it cool.

Remove your bananas from the freezer and let sit on the counter for 10 minutes.

Place bananas into high powered food processor and pulse until they break up into very small pieces.

Run food processor until bananas ball up into one "big ball" (similar to when you make cashew butter).

Let the processor rest.

Resume processing your bananas until a nice creamy and smooth mixture develops.

Pour into prepared pie crust and smooth out top.

Freeze until solid.

When ready to serve, let pie sit on counter for 10 minutes prior to cutting.

Cut into pieces and top with your favorite chocolate syrup.