This post first originally appeared on My Life With Food Allergies where I am a contributor.
Whether for breakfast, brunch or a snack, an easy and delicious muffin recipe is a must have for any kitchen. When it comes to a gluten free or allergy free diet, making your own homemade muffins is necessary.
The great thing about muffins, no matter what kind, is that they freeze very well. Baking up a batch of muffins and freezing them will save you time on busy mornings when you have to get out the door quickly or if you need an easy after school treat.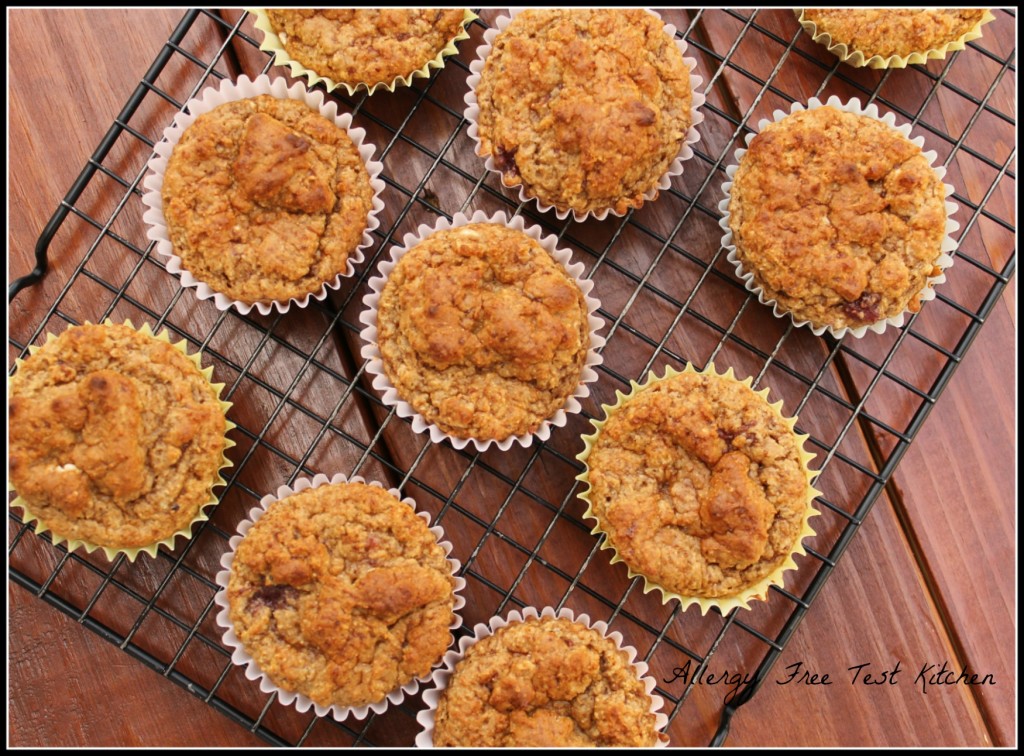 The muffins I bring you today are kind of a "basic" muffin. They are easy (seriously easy and fast) to put together and taste delicious. While they call for strawberry jam, they do not have an overt strawberry taste. These have a moist texture. They are kind of like potato chips…you cannot eat just one!
For my blog, Allergy Free Test Kitchen, I do not put up any recipe that has not been thoroughly tested. The same goes for here. I have made these muffins several times. The recipe works as written right down to the type of flour. Since I'm a big fan of Bob's Red Mill All Purpose Gluten Free Blend, I chose to use that flour blend since it is widely available and affordable. I have tried these muffins with other gluten free blends and the recipe does not work out as well, so I encourage you to use Bob's for best results. (I do take time to measure my flours by weight and then convert to volume).
This recipe is a remake of one of my oldies…the kind chuck full of gluten, milk, eggs and white sugar. Now it's healthier and better!
Also shared at Allergy Free Wednesday. Gluten Free Wednesday.

Gluten Free and Allergy Friendly Strawberry Jam Muffins
Ingredients:
1 cup Bob's Red Mill All Purpose Gluten Free Flour Blend
(use a spoon to fill measuring cup, then level off)

1/3 cup coconut sugar

2 tsp. baking powder

¾ tsp. xanthan gum

½ tsp. baking soda

3 tsp. Ener-G Egg Replacer mixed with 4 T. warm water
(equivalent to 2 eggs)
½ cup plain coconut milk yogurt (or plain cow's milk yogurt
if tolerated)

¼ cup + 2 T. reduced sugar strawberry jam
Directions:
Preheat oven to 400 degrees F.


In large bowl combine flour, sugar, baking powder, xanthan gum, and baking soda.  Whisk well.

In a small bowl combine the egg replacer with water and whisk until frothy.

Add yogurt and jam together in a bowl.

Take egg replacer and yogurt and jam mixture and pour into dry ingredients.  Stir until combined.

Place batter into 12 muffin tins lined with paper baking cups.

Bake for 10-12 minutes.