Remember Hamburger Helper?  You know, where you simply add beef and a packet of flavoring and you have a "meal?"  I cannot believe I used to make and eat those!  My food allergies had forced me into eating REAL FOOD and for that I am very grateful!  Now I would never turn back to boxed dinners even if I could.
Now I agree that this isn't the most interesting blog post entry.  It's not dessert or chocolate or pretty looking.  But we all still have to eat meals.  We can't simply exist on the "fun" stuff.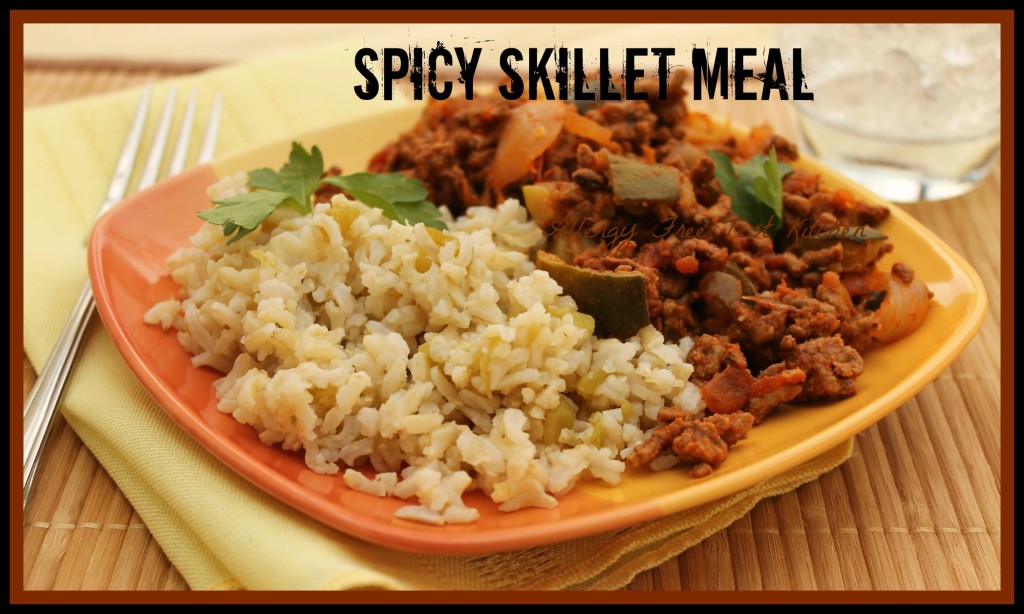 Now it may not look pretty, but it is good and satisfying.  It is spicy though.  So if spicy is not your thing at all, this may not interest you.  But you can tone down the spiciness by leaving the green chilies out of the rice.
So bring back the stove top skillet meal without all the fake flavorings and additives.
Also shared at Gluten Free Friday. Whole Food Fridays. Allergy Free Wednesday. Real Food Wednesday.

Spicy Skillet Meal
Ingredients:
1 cup uncooked brown rice

1 pound ground beef

1 medium zucchini, cut into bite sized pieces

1 large onion, diced

1 1/2 cups mild salsa

1/4 tsp. salt

1/4 tsp. pepper

1 can green chilies (optional)
Directions:
Start cooking brown rice according to package directions.

Brown ground beef and drain off fat.

Add zucchini, onion, and salsa.

Bring to boil, then turn to low, cover with a lid, and simmer until vegetables are tender.

When rice is done cooking, add green chilies if using and stir to combine.

Serve meat and vegetable mixture over rice.