The following post first appeared at Living Without Magazine's blog entitled My Life With Food Allergies where I am a contributor.
I don't know about you, but after several years of eating allergy free I really do not miss much of the store bought items.  I know Oreos are a big one for many people, but there are fairly good gluten free options.  But one thing I have missed is the Archway Soft Molasses Cookie (or any molasses flavored food for that matter). Those cookies were so soft and chewy and just the right amount of molasses and ginger flavoring. Oh, how I loved those.  I think molasses flavor is a love it or hate it kind of thing.  I adore molasses and it speaks comfort to me, while I know others who loathe it.  Too bad for them!  They are missing out.
So what is better than a soft molasses cookie?  A Molasses Cookie Cake!  This cake is all about fall and winter.  It is a warming flavor for that cold rainy or snowy day that says "cuddle up with a book, hot drink and a piece of cake."   While it leans towards more molasses than ginger tasting, it is reminiscent of Christmas, winter holidays, and well decorated gingerbread houses.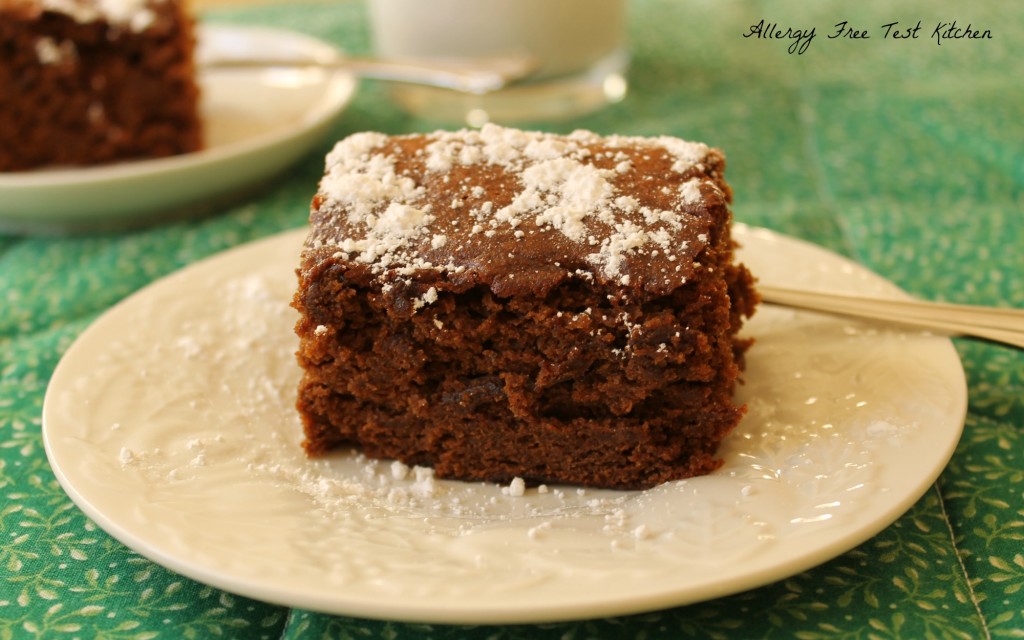 Anyone who reads my blog regularly knows how I love Bob's Red Mill All Purpose Gluten Free Flour Blend.  While I do not use it exclusively, it is my favorite for many reasons.  One, it is available to everyone, if not by store, then by Amazon.  Two, it is affordable.  Three, it weighs very similar to wheat flour.  Fourth, I do not have to make a blend myself and that saves time.  And fifth, I have always had good results with it.
What does that have to do with this easy to make cake?  Well, Bob's Red Mill All Purpose Gluten Free Flour Blend works wonderfully in this recipe.  I know that to some people, Bob's is not a favorite.  They say it tastes beany.  I have never had that problem with it because I know the secret to using it!  Or two secrets actually, and I will share them with you.  First, it works well with foods flavored with cinnamon, pumpkin, and chocolate, to name a few and of course, molasses!  The second secret comes when measuring the flour.  It is key to spoon the flour into the measuring cup and then level off.  Baking allergy free is part science and part art.  To achieve great results, one should make the recipe as written.
Molasses Cookie Cake is holds up well on the counter for several days.  It also freezes wonderfully.  It requires no frosting saving you time (as in you do not have to make frosting) and it saves calories as well. (Who doesn't want to save calories?) This cake is on the dense side, but I like that.  It will fill you up and satisfy that sweet tooth.  Molasses Cookie Cake eaten plain is really good.  With a dusting of powdered sugar it is great.
Also shared at Allergy Free Wednesday.

Molasses Cookie Cake
Ingredients:
2 1/3 cups + 1 T. (or 300 grams) Bob's Red Mill  All Purpose Gluten Free Flour Blend

1 1/2 tsp. cinnamon

1 tsp. dried ginger

1 tsp. baking soda

2 tsp. baking powder

1 tsp. xanthan gum

1/4 tsp. salt

1/2 cup palm oil shortening (or regular shortening)

1/3 cup white sugar

3/4 cup molasses

3/4 cup +1 T. hot water

Powdered Sugar for dusting (optional)
Directions:
Preheat oven to 325 degrees F.  Spray an 8×8 pan with cooking spray.

In a large bowl combine the first seven ingredients.  Whisk well until any lumps are broken up.

Using a stand mixer, combine shortening, sugar, molasses and hot water.  Mix until well combined.

Slowly add the flour mixture to the wet mixture and mix on medium speed, using a spatula to scrap down the sides of the bowl.  Mix until combined.

Pour batter into prepared pan.

Bake for 40-50 minutes, until inserted toothpick comes out clean.

Cool completely before cutting and serving.

Serve with a dusting of powdered sugar if desired.