We love this simple entrée.  Chicken thighs spiced just so and roasted to perfection; it is pure comfort food.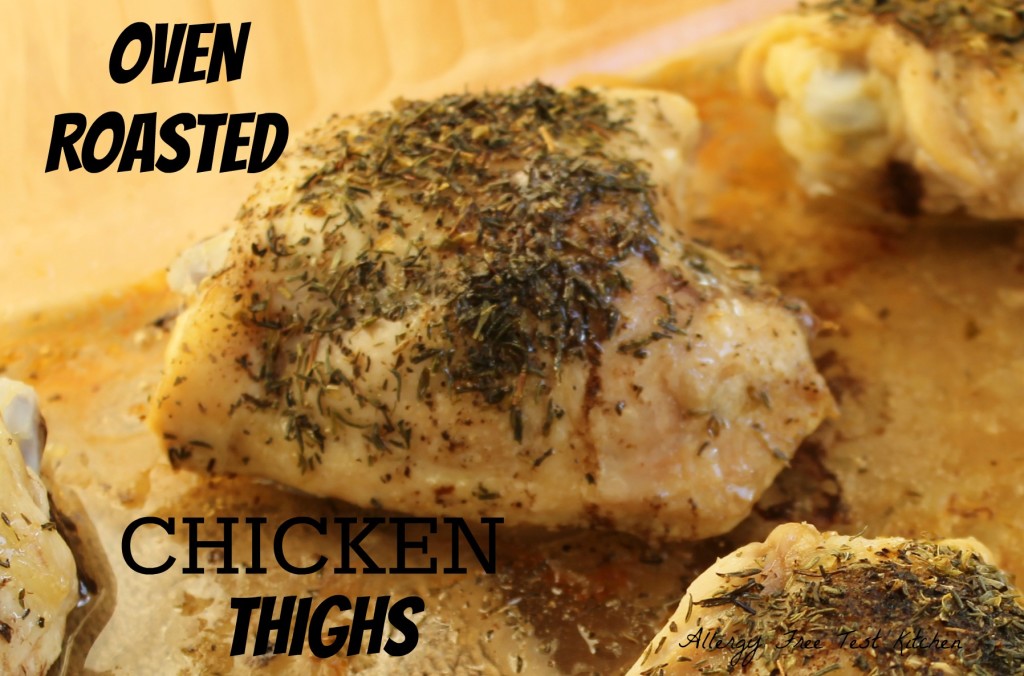 I find that using fresh, never frozen chicken thighs works best simply because they roast so much faster.  Even after defrosting 24 hours, it always seems to take longer to reach internal temp of 180 F. when I use previously frozen thighs.
These chicken thighs are never dry, always juicy.  Fast enough for a weeknight meal and elegant enough for company, you will love this way to prepare chicken.
Also shared at Simple Meals Friday, Thank Your Body Thursday, Simple Lives Thursday.

Oven Roasted Chicken Thighs
Ingredients:
6 chicken thighs, skin removed

2 T. olive oil

1/2 tsp. oregano

1/2 tsp. thyme

1/4 tsp. salt

1/4 tsp. black pepper
Directions:
Preheat oven to 375 F.

Place chicken thighs in glass 9 x 13 pan.

Pour olive oil over the thighs.

Using your hands, turn the thighs over to coat all sides of chicken thighs.  Turn so meaty side is up.

Sprinkle the spices evenly over thighs.

Roast in oven for 30-45 minutes, until internal temperature is 180 F.