I have a thing for dates lately.  They are super sweet so they really satisfy the sweet tooth. Sometimes they even seem a bit like caramel.  Medjool dates seem to be the king of dates.  And I've had some (scrumptious), but oh my, they are super expensive.  So I don't buy them.  However, I found dates at Sam's Club that are affordable and super yummy.  They are moist and delicious; not like Medjool dates, but they are better and bigger than dates I've seen in regular stores.
I will eat them plain out of the bag and so will my Kindergartner.  However, they are a good ingredient to have on hand to make homemade "larabars."  And I'm seeing more and more recipes on the food blogosphere that are using dates.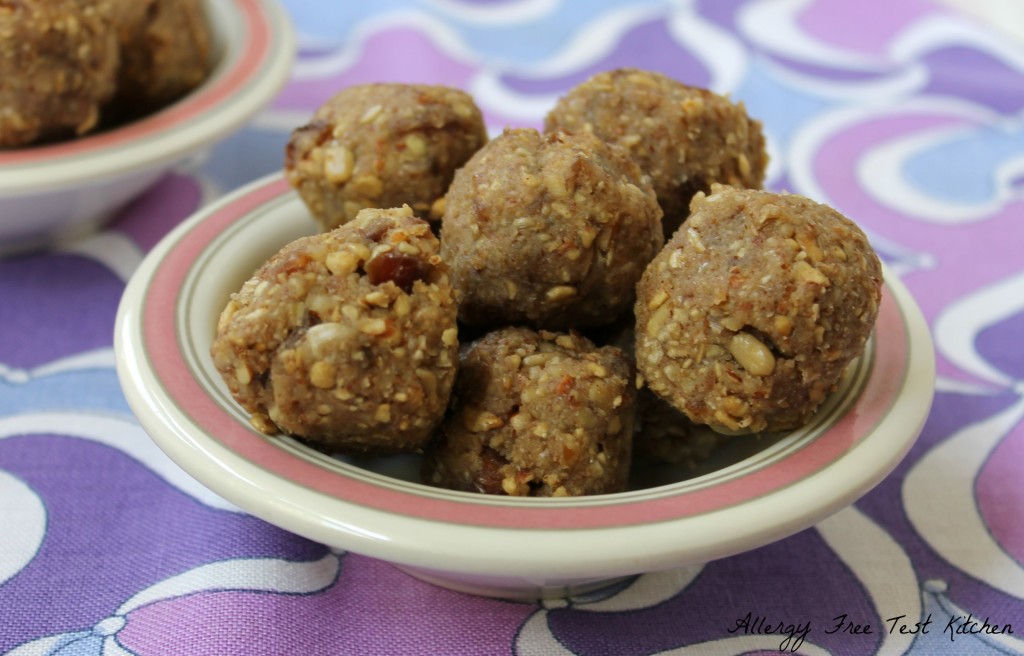 I recently made these lemony date and nut balls.  I adapted the recipe from the Whole Foods blog.  I think you could easily use any tree nut you are allowed and still have them turn out.   With just a hint of lemon, the date and nut flavors shine through.
Do you like dates?  What is your favorite use for them?  Will you try this recipe?
Also shared at Make Your Own Monday . Slightly Indulgent Tuesday . Gluten Free Friday
Wellness Weekend . Healthy Vegan Friday .

Lemony Date And Nut Balls
Ingredients:
1 cup chopped pitted dates

1 cup pecans, walnuts, or allowable nut

1 cup sunflower seeds

1/4 cup lemon juice
Directions:
Place all ingredients in food processor.

Mix until well blended.

Using wet hands, roll the mixture into 22 one inch balls.

Place on parchment lined cookie sheet and refrigerate for several hours.

Move balls to covered container and store in refrigerator.