In my house, this salad goes by the name "Ugly, but Good Salad,"  "Purple Monster Salad" or the basic, "Red/Purple Cabbage Salad."
It was a few years ago that I decided to bring more variety to the table in way of vegetables.  Cabbage wasn't on my radar at all.  But then I came upon a salad recipe that for some reason I decided to try.  And surprisingly, it's really good.  And gets eaten by all!  I've been making this for over a year and it's still a favorite!  The key to making it is timing.  You have to make it early and let it sit in the fridge for at least 4 hours before eating.
A little tangy, a lot sweet, not at all bitter or "vegetable" tasting, this salad will add fun colors to your meal and what kid doesn't like to eat purple food?  And let's admit it…purple helps the 'big' people too!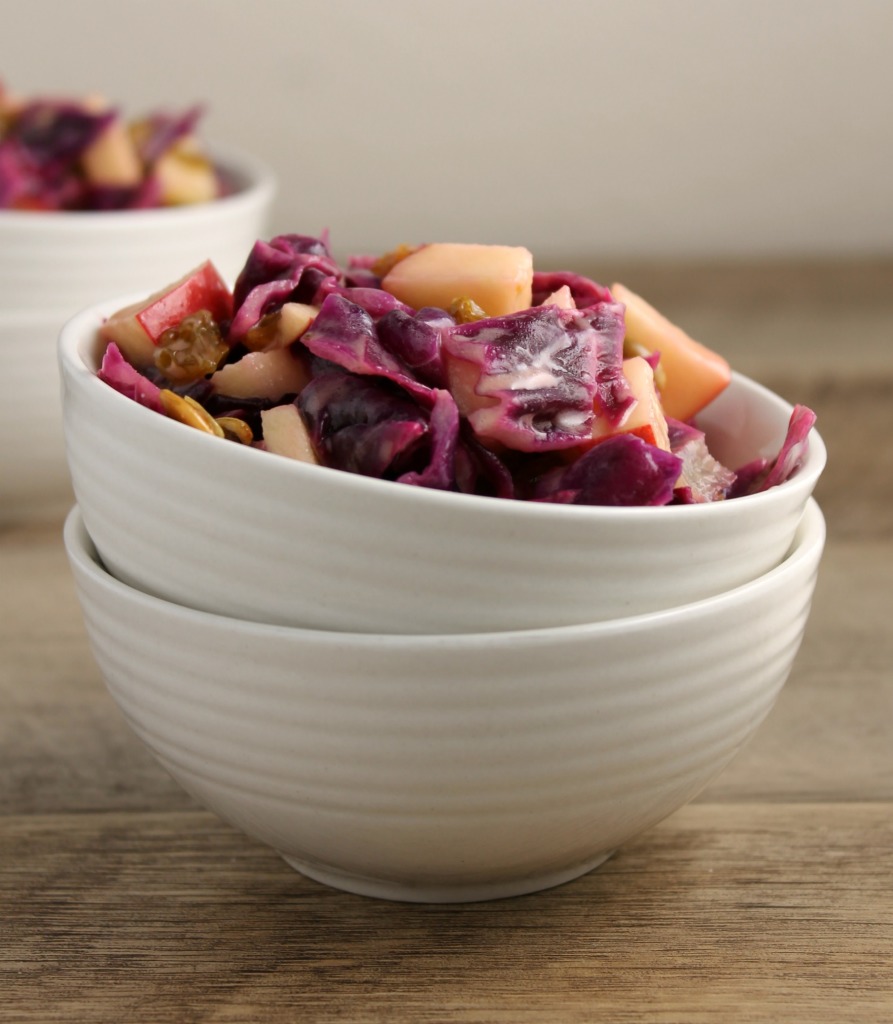 If you are not yet sold on the sweet, tangy, colorful salad, maybe some health facts about cabbage will convince you to try it!  (I need this great reminder too, as I do not make the salad as often as I should). I found twelve health benefits/characteristics of cabbage worth knowing about.
1. Cabbage is high in vitamin C; higher than oranges.  This antioxidant is super important for fighting off free radicals that can contribute to premature aging, cancer, and a whole host of health problems.
2. Rich in fiber, cabbage is great for keeping the digestive system working properly.
3. Cabbage is high in sulfur…great for fighting infections and preventing ulcers.
4. Cabbage has three anti-cancer compounds, big scientific words, but they essentially inhibit abnormal cell growth.
5. Anti-inflammatory in nature, cabbage is great for everyone, but particularly for people with joint and skin problems, allergies, asthma and more.
6. Cabbage is high in beta-carotene which is good for the eyes and reduction of prostate cancer.
7. Vitamin K, which is good for brain health and function, is found in cabbage.
8. The minerals calcium, magnesium, and potassium are all found in cabbage…great for bone health.  The potassium is great for keep blood pressure in check.
9. Being rich in iodine, cabbage keeps the brain, nervous and endocrine system working at top notch.
10. Cabbage, a great detoxifier, purifies the blood and gets rids of uric acid and free radicals.
11. Cabbage is good for weight loss and the reduction of severity of Alzheimer's.
12. While all cabbage is good for you, red (or purple) is even better.  The coloring means it contains more protective phytonutrients than green cabbage.
This salad also boasts raisins (preferably golden), sunflower seeds and apples with a yummy dressing made with coconut sugar, vinegar and olive oil (healthy fat).  The recipe is below and I adapted it from here.
So, tell me…do you eat cabbage?  What should this salad really be named?
Also shared at Wellness Weekend . Allergy Free Wednesday .

Red/Purple Cabbage Salad
Ingredients:
Half of red cabbage

1/2 cup chopped sweet apple

1/4 cup golden raisins

1/4 cup sunflower seeds

1/4 cup apple cider vinegar

1/4 cup olive oil

3 T. Earth Balance Mindful Mayo Original (or mayo)

3 T. coconut sugar (or brown sugar)

1/4 tsp. salt
Directions:
Slice and dice red cabbage.  Place in large bowl.

Add chopped apple, raisins and sunflower seeds.

In a small food processor, combine the vinegar, oil, Mindful Mayo, sugar and salt.  Blend until well mixed.

Pour dressing over salad and refrigerate for at least 4 hours before serving.