Bacon, peas and golden raisins!  What do they have in common?  This salad!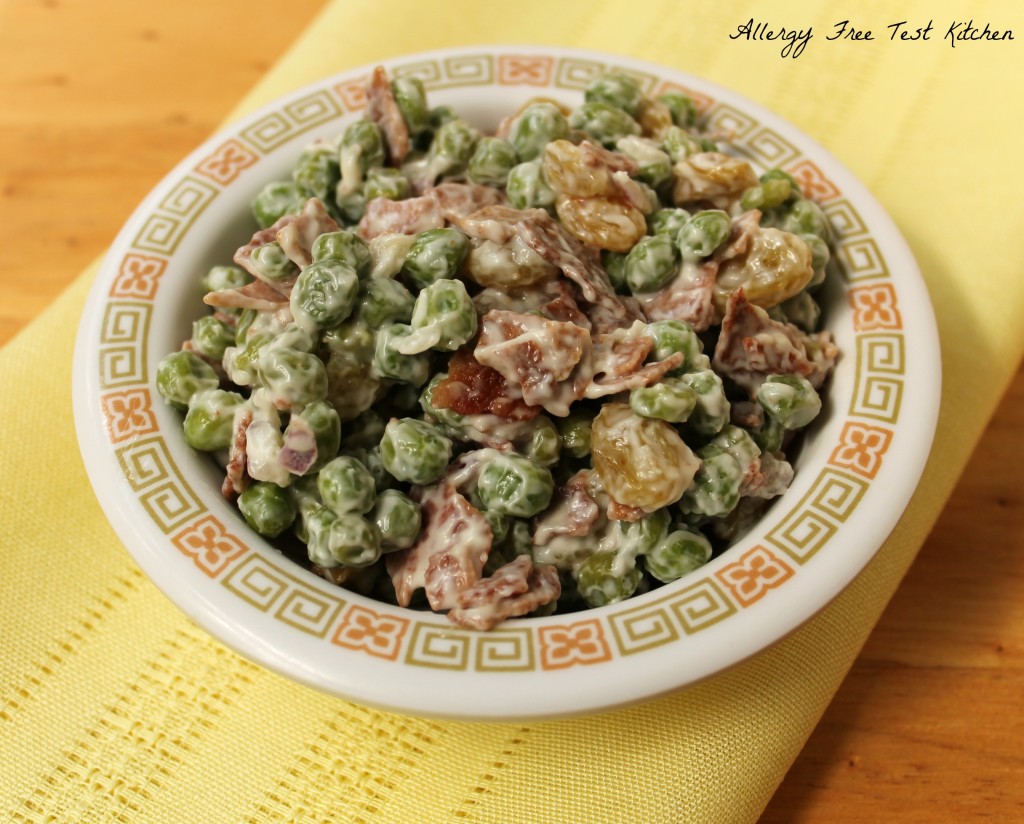 Sounds like a strange combination, doesn't it?  Well, it turns out it is YUMMY and a great way to eat peas.   It's easy too.  This can be made allergy free or "regular."  Either way, it works!
Seriously, this is sweet and doesn't taste like peas at all.  It may just do the trick to getting a kid to eat peas. 
Don't pass this off as a "weird" dish!  Give it a try!  It's super delish!  You'll be glad you did!
Also shared at Slightly Indulgent Tuesday . Allergy Free Wednesday . Gluten Free Friday .

Sweet Pea Salad
Ingredients:
1 1/2 cups peas (thawed if starting out frozen)

7 strips turkey bacon, cooked and crumbled

1/2 cup golden raisins

1/4 cup minced red onion or 1 T. dried minced onion

2/3 cup Earth Balance Mindful Mayo Original (or regular mayo)

1 T. white wine vinegar

1/2 heaping tsp. white sugar
Directions:
Toss peas, bacon pieces, golden raisins, and onion in a bowl.

In a food processor combine "mayo", wine vinegar and sugar. Process until smooth.

Coat the salad with the dressing and cover.

Refrigerate for two hours before eating.