We always have a couple containers of vanilla flavored coconut milk in the house.  I usually buy So Delicious Vanilla Coconut Milk, but lately have purchased a few containers of Silk Pure Coconut Vanilla Coconut Milk.  I thought it would be fun to do a comparison.  The information is taken from the containers.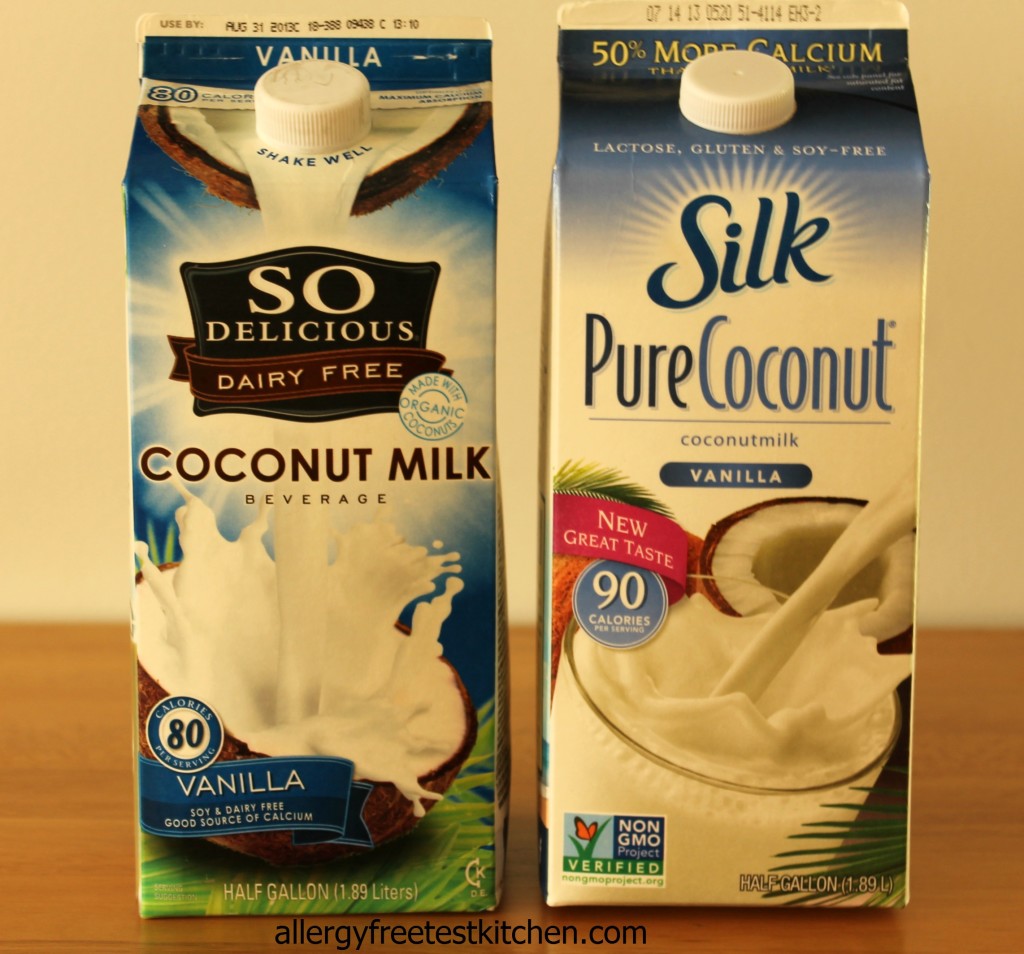 How they are the same:  Both state a serving size is 1 cup, have zero cholesterol, zero grams of protein, 10% of Vitamin A, 0% Vitamin C, 4% iron, and both are non GMO verified.  Both are gluten free, milk protein free and soy free.
How they differ:  So Delicious has 80 calories and 4.5g of fat per serving, while Silk has 90 calories and 5g of fat per serving.  So Delicious has 90mg of potassium and 1g of fiber per serving, while Silk has 45mg of potassium and 0g of fiber.  So Delicious has 30% Vitamin D and Silk has 25%.  So Delicious has 4% zinc, 10% magnesium and 8% selenium while Silk has none of these minerals.  So Delicious has 6% Folate, while Silk claims to have 50% of Vitamin B12.  So Delicious uses organic coconuts, while Silk does not mention whether they are organic or not.    So Delicious claims 60% medium chain fatty acids, while Silk writes they have 3g of medium chain fatty acids. 
Calcium:  Here seems to be a big difference.  So Delicious has 10% of calcium per serving, while Silk boasts 45% calcium per serving.  However, So Delicious claims to be optimized for calcium absorption, while Silk has no mention along those lines.
So what are our thoughts between the two?  Despite Silk having quite a bit more calcium, we prefer So Delicious.  It has a milder flavor and is not quite as thick.  Silk is thicker, has a distinct coconut flavor and is more filling.  In my experience, recipes have always turned out with So Delicious, but Silk is a bit overpowering in some recipes.  So Delicious is also less expensive than Silk.
My opinions are my own and I purchased these myself.  Hope this is helpful!