I love cooking summer food!  AKA…the grill!  What is better and easier than firing up the grill for a simple meal of protein and vegetables!?   So simple and fast…great for a hot day when you do not want to heat up the kitchen or for a day at the pool and not much time in the evening!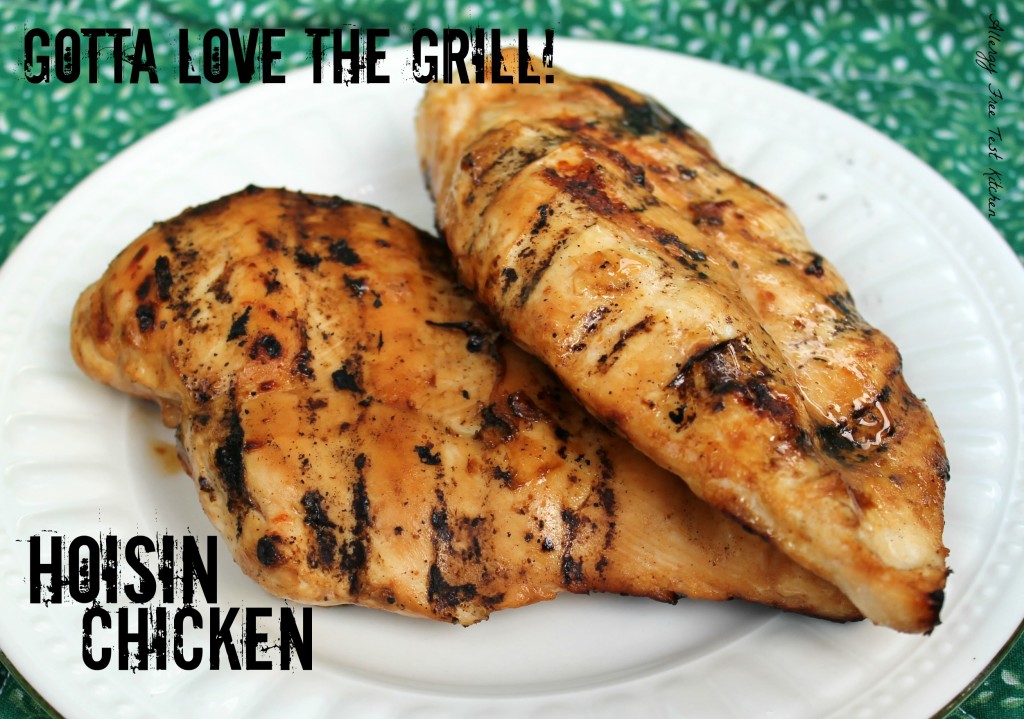 Grilling chicken is not hard.  It only takes a little forethought in making a marinade.  Granted, you don't have to marinate chicken, but it is oh…so….good….if you do!
This recipe is one of my family's favorite!  I've adapted it from What Else Is To Eat by Linda Marienhoff Coss.
Also shared at Allergy Free Wednesday. Real Food Wednesday.

Grilled Hoisin Chicken
Ingredients:
4 boneless, skinless chicken breasts

1/4 cup Hoisin sauce (gluten free if necessary)

1 T. coconut sugar or brown sugar

1/2 T. ketchup

1/2 tsp. minced garlic

1/4 tsp. powdered ginger
Directions:
Place chicken breasts in glass dish that has a cover.

Mix the Hoisin sauce with the sugar, ketchup and spices.

Spread the sauce mixture on each chicken breast.  Reserve some of the mixture.

Refrigerate for 2 hours. 

Turn chicken breasts over and spoon the rest of the mixture over the chicken breasts.

Refrigerate for 2 or more hours.

When ready to eat, grill chicken over medium high heat, turning ocassionally,  for 20-25 minutes until juices run clear or internal temp. reaches 180 degrees.