If you have been gluten free for a while now, I'm sure you know all about quinoa (pronounced keen-wah).  If you are new to gluten free or not gluten free, you may have heard about it as it has been in the news the last few years as a power food.  There is no need to be gluten free to enjoy this grain. (It's not technically a grain, but it is often referred to it as that.  We'll get into this in a minute).  In fact, I challenge you non-gluten free foodies out there to try it.  It has so many benefits.  It is high in fiber and a complete protein.  It cooks up easily and quickly; as quickly as white rice. 
So, let's learn a bit more about quinoa.  As I just mentioned, even though it is referred to as a grain, it is really the seed of a leafy plant.  It contains lysine, an amino acid, which makes the protein more complete.  It has more iron than grains, contains potassium and a bunch of B vitamins.  It is often called "ancient" as it is native to the Andes and has been cultivated for more than 5000 years, starting with the Incas.
So, if you are new to quinoa, this breakfast version is a great way to introduce yourself to this powerhouse food.  Using the non-refined sweeteners makes it even better for you.  Please folks, ditch the pancake syrup and go for the 100% maple syrup instead!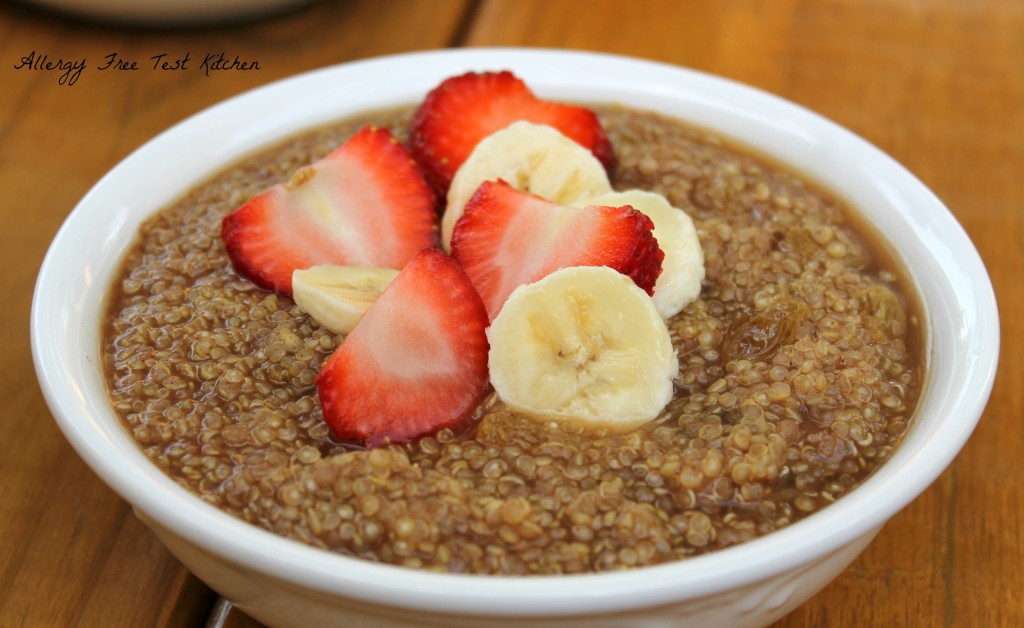 Seriously, this breakfast will hit your sweet tooth while filling you up for the morning.  There is nothing "weird" about it!
Make my day!  Leave a comment below, like my Facebook page, follow on Pinterest or subscribe to the blog.
Also shared at Wellness Weekend . Gluten Free Friday . Whole Foods Friday . Real Food Wednesday . Allergy Free Wednesday .

Quinoa For Breakfast
Ingredients:
1/2 cup quinoa

1 cup water

1 T. coconut sugar (or brown sugar)

2 tsp. 100% pure maple syrup

1/2 tsp. cinnamon

1/4 cup golden raisins (or dark raisins)

Slices of strawberries and bananas
Directions:
Thoroughly rinse the quinoa in a strainer.

In a pan, combine the rinsed quinoa, water, coconut sugar, syrup and cinnamon.

Bring to boil, cover, reduce heat to low, and simmer for 10 minutes.

Add raisins and simmer an additional 5 minutes,

Place quinoa in bowls and top with strawberries and bananas.