Need a quick weeknight meal?   Something everyone likes?  Try this Fast N' Easy Salisbury Steak!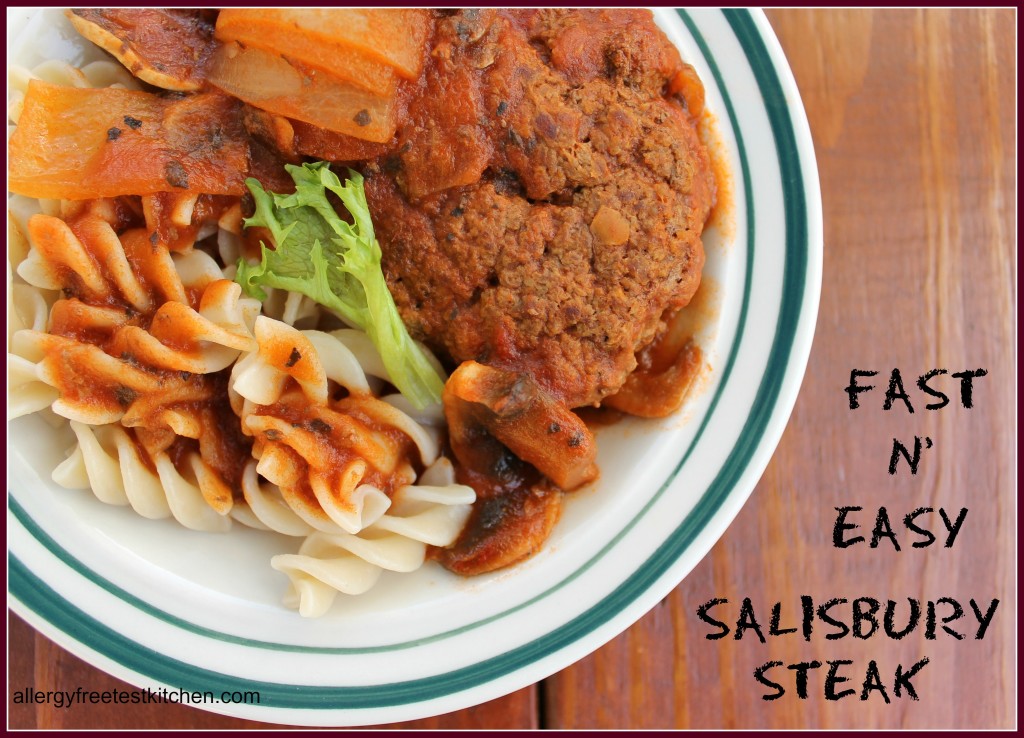 Similar in taste to traditional spaghetti and meatballs, this dish is just a little different.  Use a higher quality ground meat such as ground round or ground sirloin.  Cook regular or gluten free pasta to go with it, add a green salad and there you have it.  A fast, easy, delicious weeknight meal in just about 30 minutes!  And by the way, the mushrooms and onions are delectable in this dish!
I like to hear from readers!  Feel free to leave a comment below.  And as always, why not pin the recipe?  Or Like the Facebook page!
Also share at Real Food Wednesday . Allergy Free Wednesday .

Fast N' Easy Salisbury Steak
Ingredients:
1 lb. ground round or sirloin

1 medium onion, cut into wedges

1  8 oz. box  whole mushrooms, sliced

2 (16 oz) cups tomato sauce

1 tsp. marjoram flakes

Pasta of choice
Directions:
Form the meat into 4 ovals, similar to hamburger patties

Brown both sides of oval beef patties in a skillet sprayed with cooking spray.

Drain any fat off.

Add onions and mushrooms and cook for 3-4 minutes.

Pour tomato sauce over all and add marjoram flakes.

Bring to boil, cover, reduce heat, and simmer until meat is done, about 15-20 minutes.  (Don't overcook or meat will get dry).

Cook your pasta of choice.

When ready to serve, place meat, sauce, onions and mushrooms overs the bed of pasta.