I like to check out cookbooks from the library occasionally.  I found Cooking Free by Carol Fenster, PhD.  To me, it appears to be one of the "first" allergy friendly cookbooks having been published 8 years ago.  I'm actually surprised that I had not heard of or seen her cookbook before now.  While flipping through the book I came across a recipe for Thousand Island Dressing.  I was never one to eat this dressing, but I thought my husband would enjoy it and in an effort to make our salads varied I thought I would make it.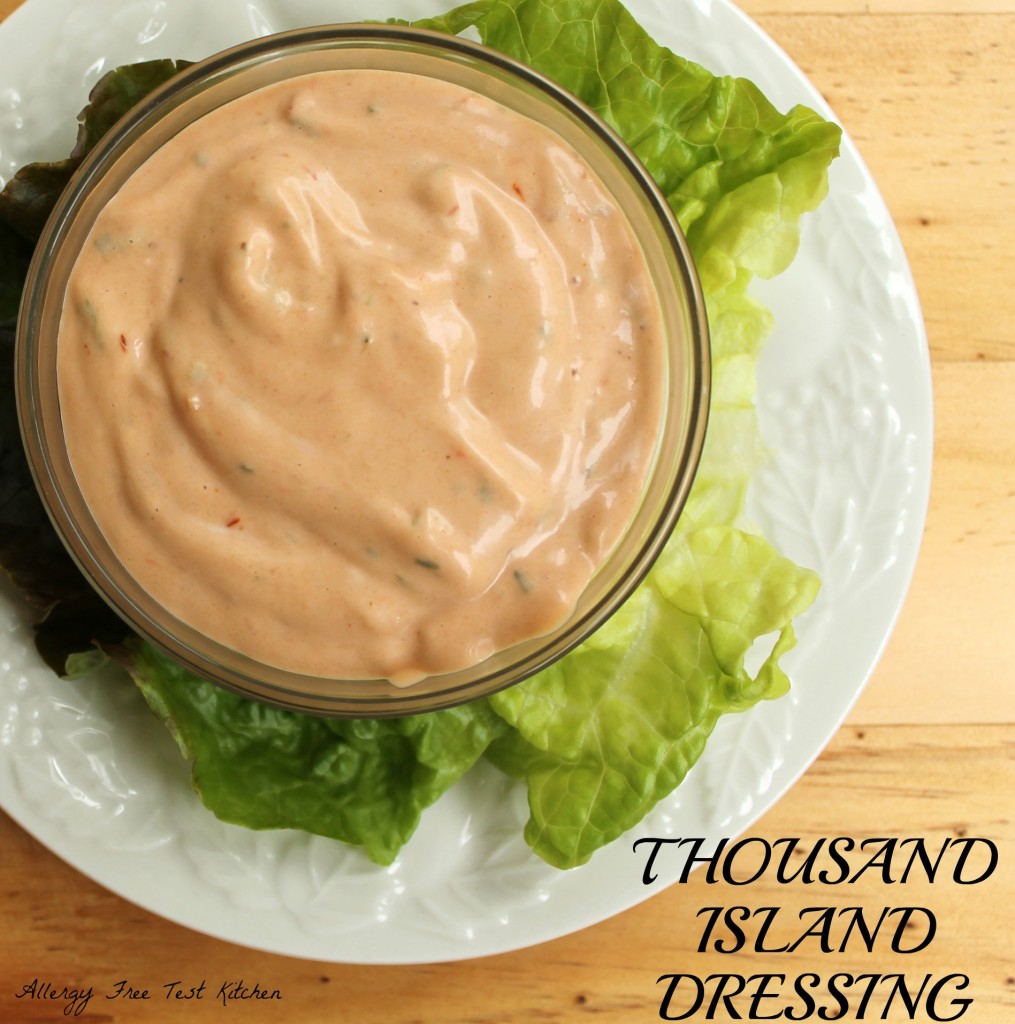 I adapted it to fit our needs. It is super easy to make and very good.  I liked it even though I never liked the bottled kind, and it got rave reviews from other eaters!  It was even used a few days later as a sandwich spread with great results. 
I have always wondered how a salad dressing got a name like Thousand Island.  So I did a little internet research and found out why.  Generally speaking, it turns out there are a bunch of islands between Ontario, Canada and New York State, United States called Thousand Islands.  It was a popular vacation destination in the early 20th Century.  A certain woman made the dressing for her fishing guide husband. Somewhere along the line actress May Irwin tasted the dressing and liked it so much she requested the recipe and named it after the Thousand Islands.  She gave it to another vacationer, none other than George Boldt, who was the owner of the Waldorf Astoria in NYC.  He then told his world famous maître d' to put the dressing on the menu immediately.
So, there you have it…some fun food trivia and a good recipe to boot.  If you enjoy this post, why not like my Facebook page or follow me on Pinterest!
Also shared at Make Your Own Monday . Slightly Indulgent Tuesday . Allergy Free Wednesday . 5-Ingredient Monday

Thousand Island Dressing
Ingredients:
1/2 cup Earth Balance Mindful Mayo-Original (or regular mayo)

1 1/2 T. chili sauce

1/2 T. chopped green pepper

1/2 tsp. diced pimento, drained

1/2 tsp. dried chives
Directions:
Put all ingredients in a small food processor and blend.

Store in refrigerator.