Today's recipe was originally posted by me as a guest post at Mom's Test Kitchen.  For that post I was looking for something that could be made "regular" or "allergy free."  I settled on Oreo Ice Cream Dessert.
It was a good choice, because it simply requires assembling store bought products.  As a lot of you know, that is not often a possibility with food allergies.  Nor is it something I do much of.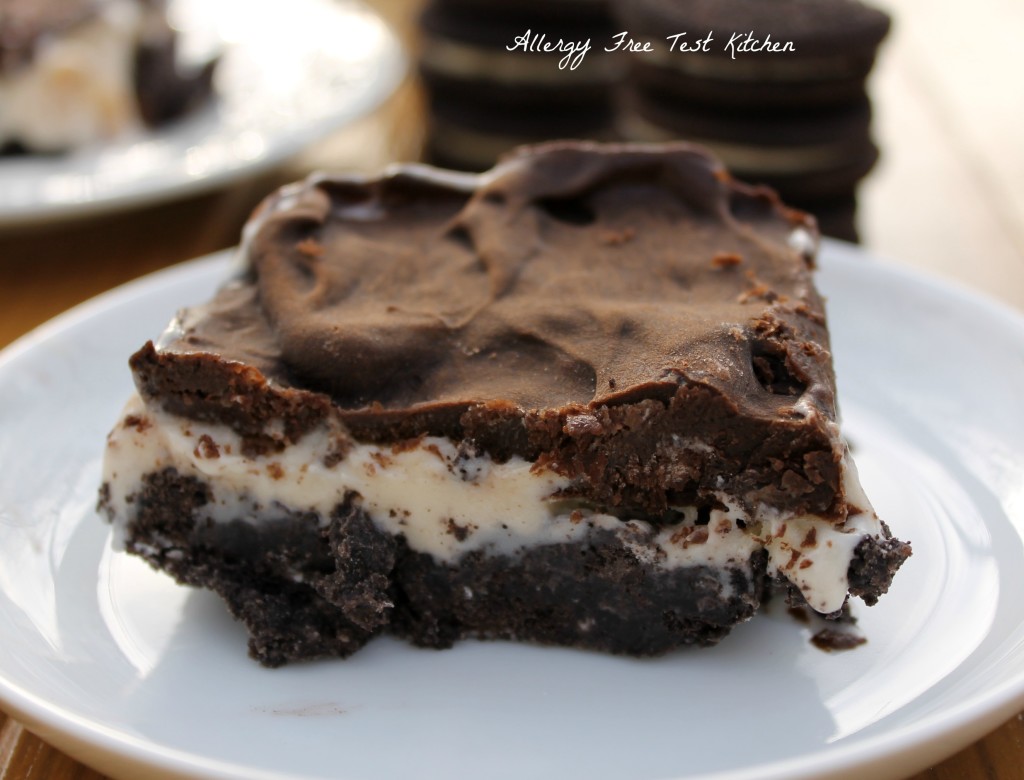 This recipe really can be "made to order."  You can use regular or gluten free Oreos.  I made the dessert twice, once with gluten free 'oreos' and once with regular and I honestly prefer the gluten free ones. (Be careful which brand you buy; some have eggs in them).   As for the ice cream…you can use dairy free ice cream if needed and if not, well, than use the regular stuff.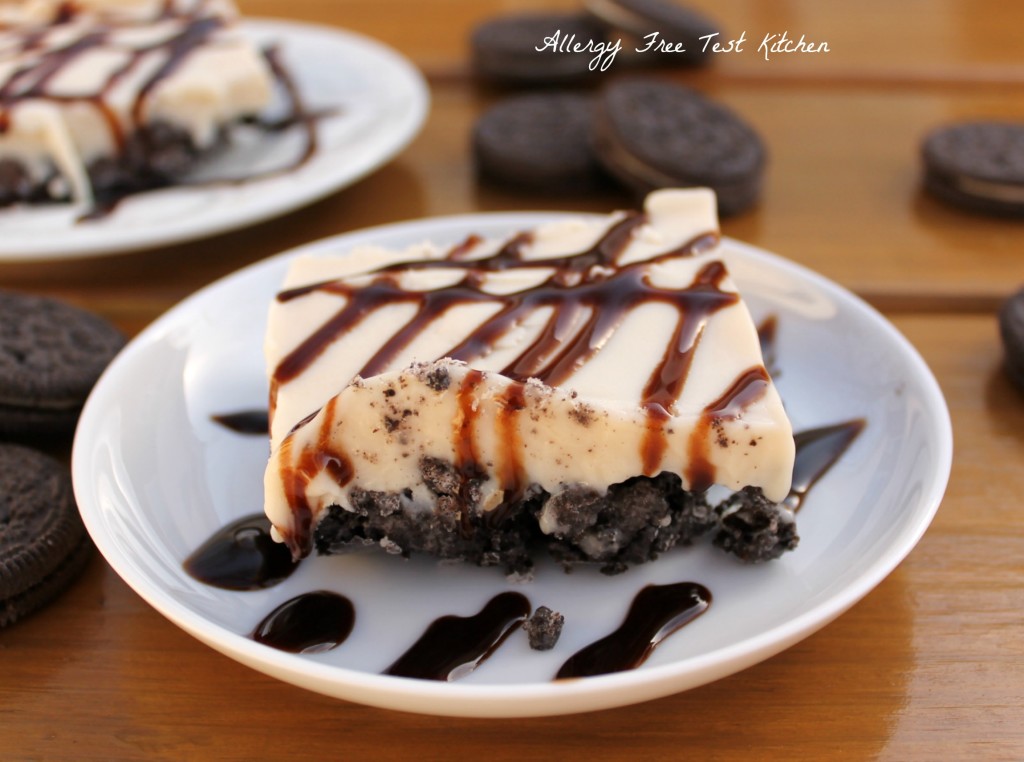 The topping gets a little more difficult.  If you are not milk free, you can use any fudge topping you like.  For the top picture I did use a store bought milk free chocolate dipping 'sauce.'  However, I did not really like it.  In fact, none of us did and we ended up taking that part off before eating it.  So I'm not going to recommend that brand.  You could make your own milk free chocolate fudge sauce, but I found that too labor intensive for a recipe that was meant to be fast and easy. 
So, I opted for no topping on my second go around of the recipe.  Instead of a topping, I just drizzled chocolate syrup (like Hershey's) over the ice cream right before serving.  This was good for several reasons.  One, it is easier.  Second, it saves calories!  Third, it is naturally milk free (the topping that is).  Fourth, I found it easier to eat.  And lastly, I found you could taste more of the flavors rather than just topping.
So, like I said earlier…this really is a dessert anyone can make to suit their needs and desires.  It goes well in winter and summer months.  And it's something that everyone likes.  After all, who does not love Oreos and ice cream?
What do you think?  How will you make it?  If you love this recipe, don't forget to pin it!  And if you haven't done so yet, why not follow my Pinterest boards, on Twitter or like my Facebook page!
Also shared at Allergy Free Wednesday and Gluten Free Friday , 5-Ingredient Monday and Full Plate Thursday.

Oreo Ice Cream Dessert
Ingredients:
15 gluten free 'oreos' or regular Oreos

1/2 cup allowable butter, margarine or shortening

1 pint vanilla dairy and soy free ice cream or regular ice cream

Fudge topping or chocolate syrup
Directions:
Crush 'oreos' (with their creme).

Melt your margarine of choice in the microwave.

Mix crushed 'oreos' and melted margarine.

Place in bottom of 6 cup (or 8x6x2) Pryex pan.

Freeze until hard.

Soften ice cream of choice.

Spread over 'oreo' crust.

Freeze until hard.

If using a fudge topping, spread over hardened ice cream and freeze until hard. Then cut in squares and serve.

If not using a fudge topping, cut your dessert into squares after frozen hard and then drizzle your pieces of dessert with chocolate syrup right before serving.