I guess I'm dubbing myself the allergy friendly, holiday/seasonal donut gal. 😀
I brought you the allergy free pumpkin donut in the fall.  For Christmas I brought you the gingerbread donuts with cinnamon buttercream frosting.  And now, just in time for Valentine's Day, I bring you a chocolate donut with strawberry frosting…allergy free of course!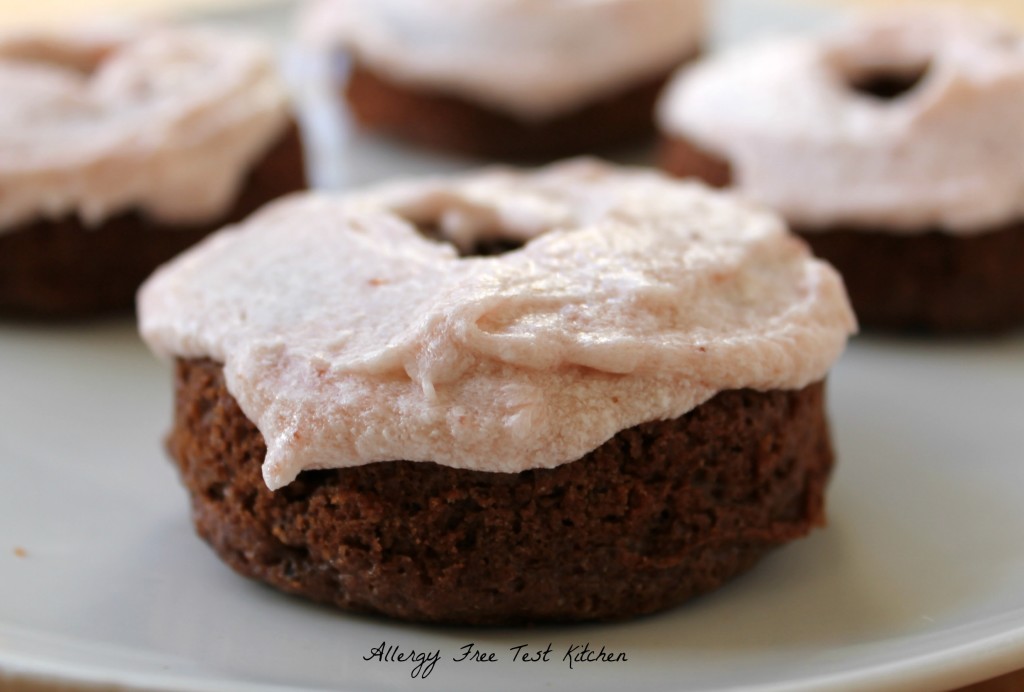 Now, this chocolate donut is not very sweet.  If you just love, love, love super sweet stuff this donut may not be for you.  It is more reminiscent of dark chocolate.  I love dark chocolate, but it's not for everybody I guess.  Besides the chocolate factor, this donut is low in sugar.  Now I like that because than I feel a little better about using a lot of powdered sugar in a frosting. 
For the frosting I chose to make a strawberry frosting without using food coloring or strawberry flavoring.  A "more natural" frosting on a low sugar donut equals a less guilt donut for me!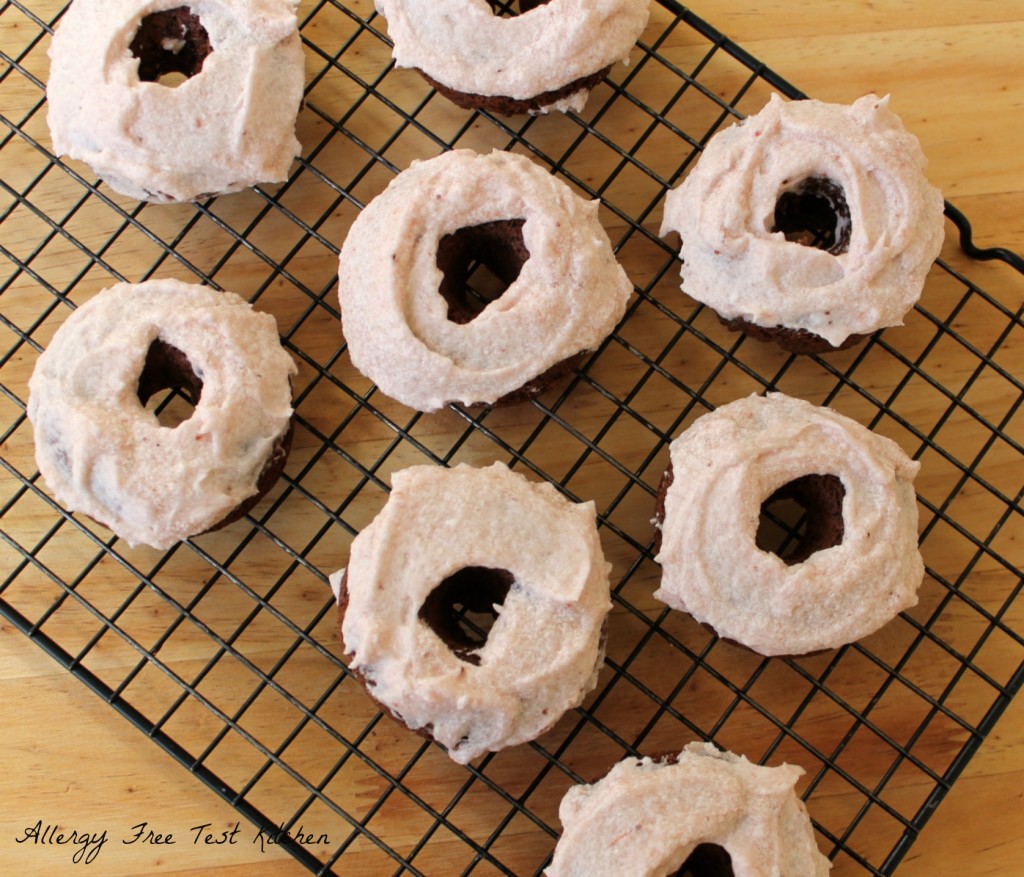 I thought I would also take a minute to discuss my choice of flour.  For probably 80% of my baking projects I use Bob's Red Mill All Purpose Gluten Free Flour.  I like this because it is readily available in most stores and online for anyone.  Of all the flour mixes out there this seems to be the most affordable choice with ingredients I prefer.  It is also free of xanthan gum or guar gum.  I prefer flours without the added gums, simply because I have not had good luck baking with flour blends that already contain a gum.  I also find that Bob's Red Mill All Purpose Gluten Free Flour is the closest in weight to regular wheat flour.  It's becoming increasingly common in gluten free baking to weigh flours rather than measure; so to have my baked goods reach their best potential I thought I should get on that bandwagon.
Honestly, I'm rather tired of chocolate donuts.  I do not put baked goods on the blog unless I have tried the recipe several times.  This time around it took many takes to get it right.  One of the reasons is probably because I decided to take it upon myself and experiment with psyllium husks as a binder rather than xanthan gum.  Why?  Because xanthan gum is derived from corn so corn allergic people cannot enjoy baked goods with xanthan gum.  But another reason I tried psyllium husks is because I bought them for another recipe that, as it turns out, I do not like.  And what am I going to do with a 12 oz. container of colon cleanser?  Well, try and use it as a binder of course! (Yes, psyllium husks are basically Metamucil.  Don't let that scare you.  Eating these donuts will not have you running to the bathroom).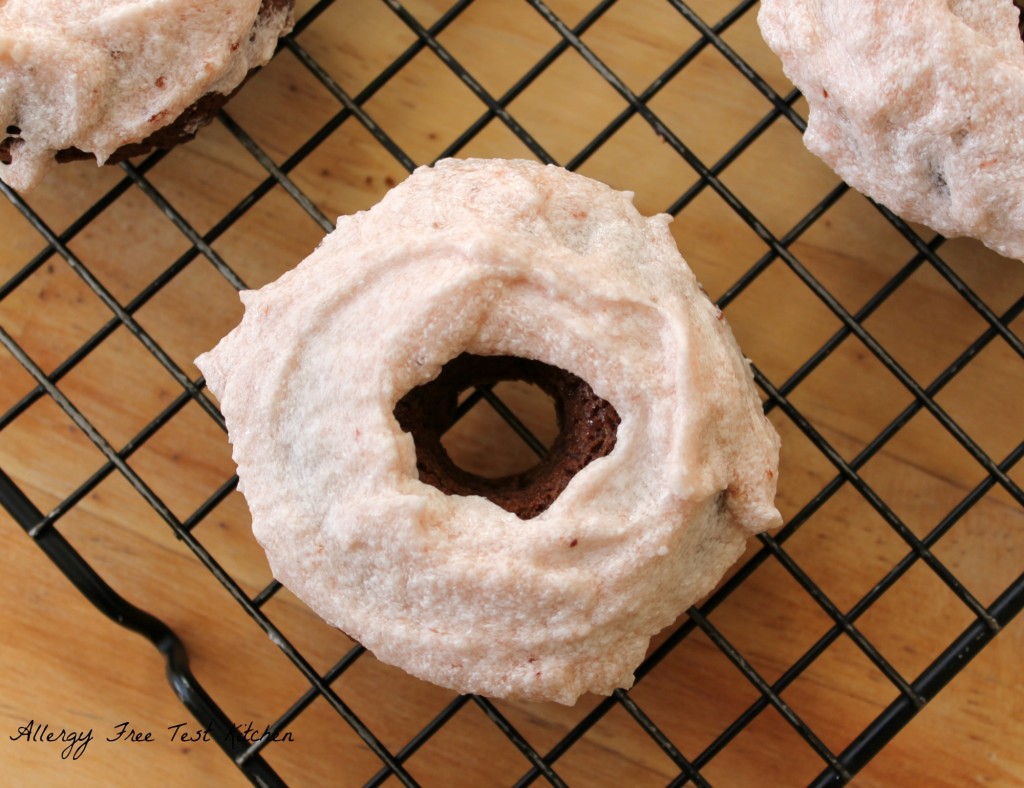 I searched the internet far and wide to find guidelines for using psyllium husks in baked goods. I found some information that basically stated, "Yes, it is a good binder."  But I did not find any comparison ratios to use it replacing xanthan gum.  So I had to experiment.   But for those of you who want to stick with xanthan gum for this recipe I made the donuts that way too. 
However, what I found though was interesting.  I didn't change any of the other ingredients or method, yet, the donuts with psyllium husks were lighter and fluffier.  In fact, when making the donuts with the husks I consistently had enough batter for 9 donuts.  When using gum, I only had enough batter for 8 much smaller donuts than the 9 fuller donuts.  I am not sure why this happened.  I am not a psyllium husk or xanthan gum expert by any means.  This is just my observation.  As you can see in the picture below there is a difference between the two.
Now, after all that, why not drool over this picture once again?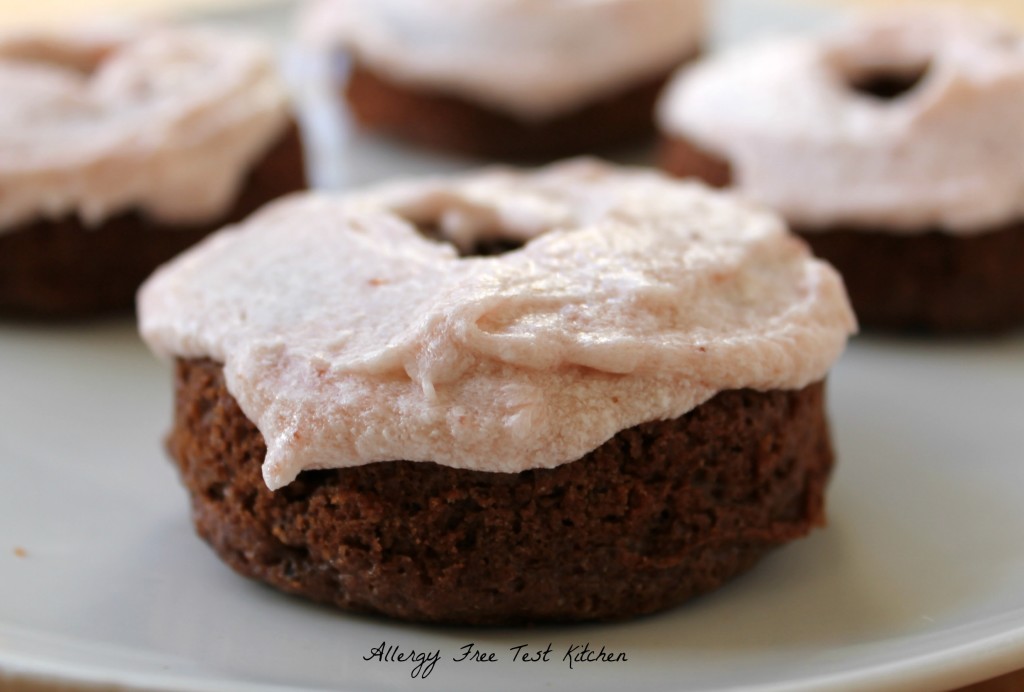 In fact, why not pin it?  Or better yet, follow me on Pinterest, Twitter or Facebook.   And if you try these donuts, make sure you come back and let me know what you thought of it!
Also shared at Slightly Indulgent Tuesday , Allergy Free Wednesday, Wheat Free Wednesday and Gluten Free Wednesdays. Gluten Free Tuesday.

Chocolate Donuts With Strawberry Frosting
Ingredients:
Chocolate Donuts:

3/4 loosely filled cup (or 90g) of Bob's Red Mill All Purpose Gluten Free Flour Blend

1/4 cup cocoa powder

1/4 tsp+1/8 tsp. psyllium husks (or 1/4 tsp. xanthan gum)

1/3 cup granulated white sugar

2 tsp. baking powder

1/4 tsp. salt

2 T. Earth Balance Mindful Mayo (or regular mayo)

1/4 cup rice milk (or regular milk)

1 1/2 tsp. Ener G Egg Replacer mixed with 2 T. warm water (or one egg)

3 T. canola oil

1/4 tsp. vanilla

=

Strawberry Frosting:

1/2 cup dairy and soy free shortening (or regular shortening)

1 3/4 cup powdered sugar

1/4 cup + 1 heaping T. of strawberry preserves

1/4 tsp. vanilla

2 T. rice milk (or regular milk)
Directions:
For Donuts:

Preheat oven to 325 degrees.

In a large bowl, place the flour, husks or gum, sugar, baking powder, and salt. Whisk well.

In a liquid measure, whisk the remaining 5 donut ingredients.

Pour liquid into dry mixture and blend well, making sure to incorporate any flour at the bottom of the bowl.

Spray donut cavities with cooking spray and fill the cavities with about 2 – 2 1/2 T. of batter.

Bake for 15 minutes.

Cool in pan for 15 minutes before removing to cooling rack.

Cool completely before frosting.
For Frosting:

In a stand mixer, cream shortening.

Add powdered sugar and mix.

Add strawberry preserves and mix well.

Add vanilla and rice milk and mix until well blended.