In an effort to make salads a bit more exciting at my house I decided to take the Waldorf salad recipe of my youth and make it healthier and allergy friendly.
When I was a kid I thought that the name "Waldorf salad" was such goofy name.  So I did a little looking around and found that it is thought to be named after the Waldorf Astoria Hotel in NYC when a salad consisting of red apples, walnuts and mayo was created in 1893.
Now taking pictures of salads is no easy feat.  The salad may taste great, but the picture doesn't quite capture the deliciousness.  So I decided to photograph the parts of the salad before I put it together.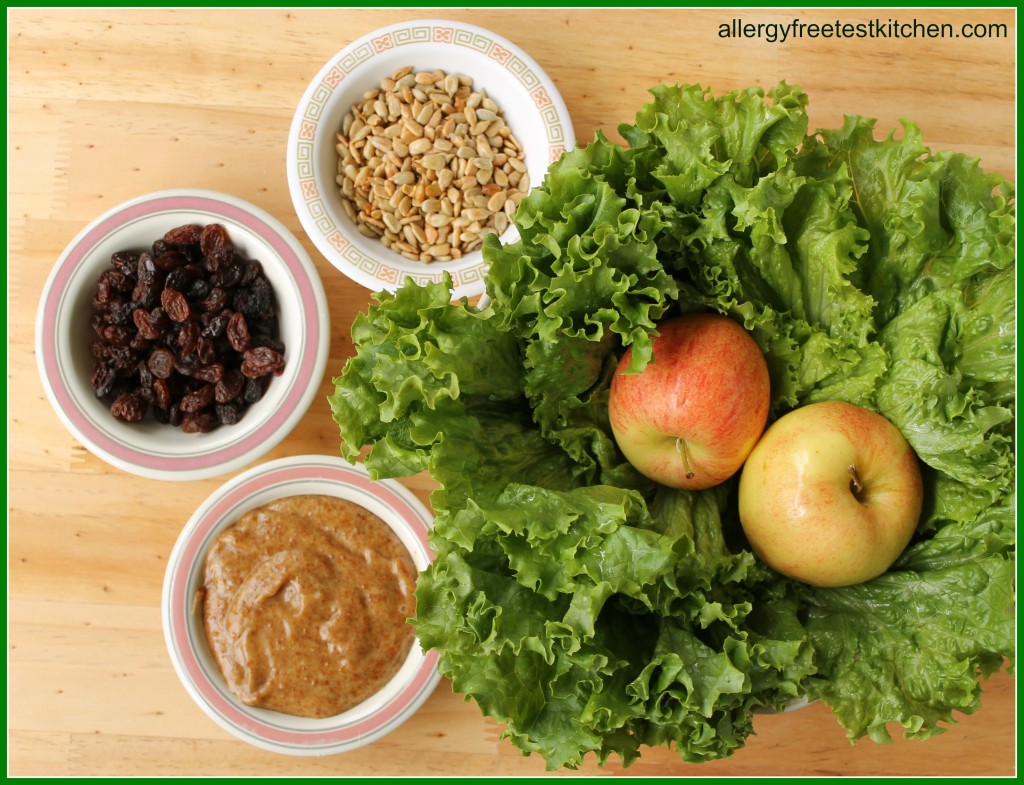 I made the salad healthier by trading the iceberg lettuce for green leaf lettuce.  And instead of using gobs of white sugar I used an unrefined sugar…coconut sugar…a new favorite of mine.  To make it allergy friendly I swapped out the walnuts and used sunflower seeds instead.  And lastly, I traded the egg laden mayo for my go to replacement Mindful Mayo.
When you mix the salad and smear on the dressing (because it is thick and it is more like smearing than pouring) this salad may look limp and drab.  But trust me, this is no drab salad.  It is sweet.  It is crunchy.  It tastes like candy apples.
Give it a try and let me know!  Comment here, on the Allergy Free Test Kitchen Facebook page or on Twitter!  Comments make my day!  And if you want to catch every post, you can subscribe using the last button on the right in the header!
Also shared at Slightly Indulgent Tuesday and Wellness Weekend and Allergy Friendly Friday, Allergy Free Wednesday.

Candy Apple Waldorf Salad
Ingredients:
1 small head green leaf lettuce

1/2 cup raisens

1 apple, chopped

1/3 cup sunflower seeds

1/2 cup Earth Balance Mindful Mayo (or regular mayo)

1/3 cup coconut sugar
Directions:
Wash lettuce, let dry, and tear into bit size pieces.

Chop apple.

Toss lettuce with chopped apple, raisens and sunflower seeds.

Mix Mindful Mayo with coconut sugar and "smear" onto salad.

Serve immediately.