I have a thing for homemade granola.  And it's catching on.  I used to be the only family member to eat it, but now it has become a favorite of everybody.  It is so simple and easy.  Check out this post for 10 reasons to make your own granola.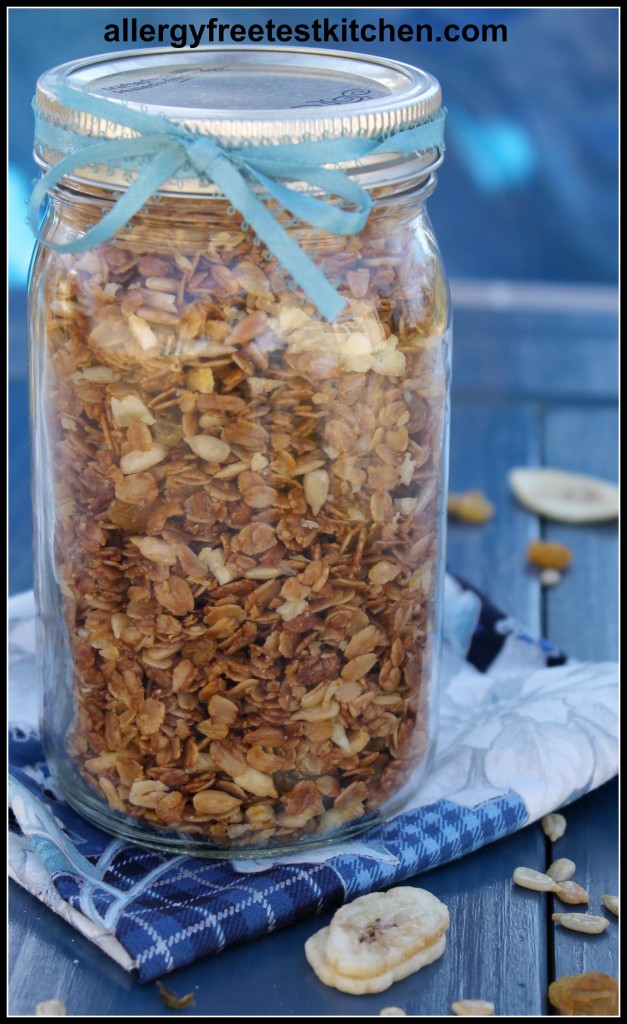 This is a slightly different version of my previous recipe.  But it is still oh so good!  Eat it with cereal, alone, over ice cream, in yogurt…it is good anywhere!
I used a recipe from Cybele Pascal's The Whole Foods Allergy Cookbook as a loose guide.  I really encourage you to use the coconut sugar.  It is an unrefined sweetener and makes this granola just that much better taste wise and a smidge healthier. 
Who is in for making their own granola?  Let me know!
Also shared at Gluten Free Friday and Whole Food Fridays and Make Your Own Monday, Slightly Indulgent Tuesday. And shared at Wheat Free Wednesday.

Banana Granola
Ingredients:
1/4 cup + 2 T. canola oil

1/4 cup + 2 T. coconut sugar (or brown sugar)

1/4 cup + 2 T. pure maple syrup

3 cups gluten free rolled oats (or regular oats)

3/4 cups chopped dried banana chips

1/2 cup golden raisens

1/4 cup sunflower seeds
Directions:
Preheat oven to 300 degrees.

In a large bowl mix the first three ingredients.

Pour in the oats and stir to coat well.

Place on a greased 10×15 pan.

Bake for 15 minutes.

Remove from oven, stir and return to oven to bake another 15 minutes.

Add chopped banana chips, raisens and seeds. Bake another 5 minutes.

Cool before placing in storage container. Store in refrigerator.