Have I got a treat for you! Dairy free fudge!  Yep, that is right, and without soy too!  Not to mention the other allergens.  (It does contain coconut which is not a tree nut, but if that is a problem for you, this may not be for you).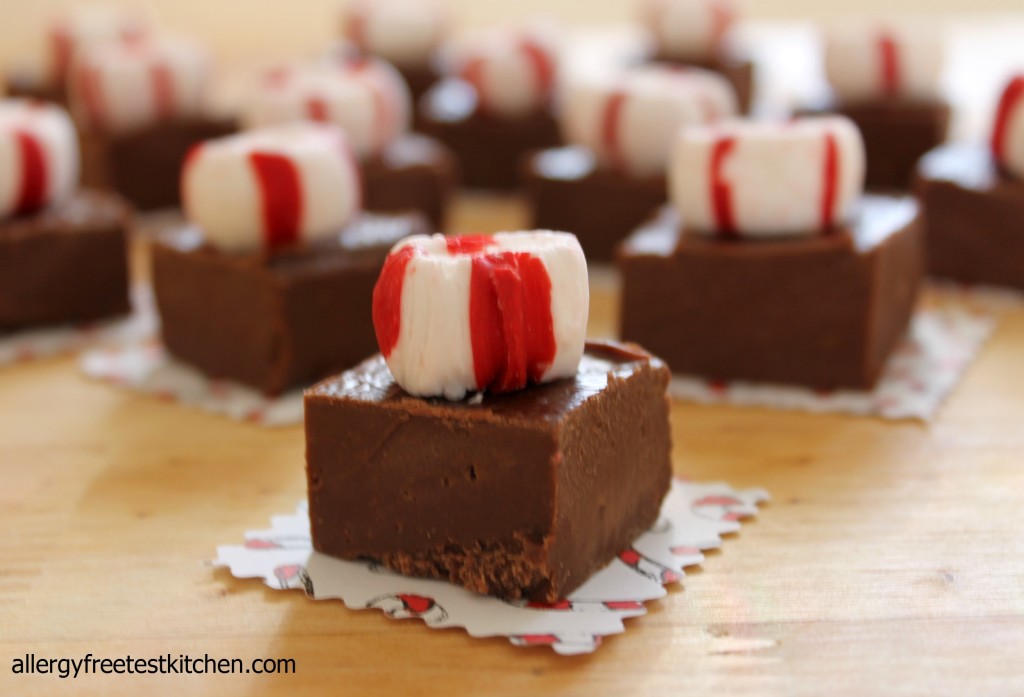 Enjoy Life, the company that sells allergy free chocolate chips and many other snacks and goodies, is having a recipe contest.  I made this fudge to enter into the contest.  It was inspired by an "old" fudge recipe, but that fudge was loaded with bad for you ingredients…well at least a lot of different allergens.  So I sat down, thought about it and switched up a lot of the ingredients, lessened the sugar content, and wah-lah!  Decadent, smooth, creamy, chocolaty fudge that is to die for.
I brought some of this fudge to an event and everyone who tried it was astonished.  It got rave reviews.  From, "I can't believe this is homemade!" to, "This is dairy free?" (Not sarcastically, but enthusiastically surprised).  "This is really good," "Do I taste a bit of mint?" and many other compliments came my way.  I knew it was a winner and I hope Enjoy Life thinks so too!  And to you, my readers, I hope it will help make your holiday season just a little more fun!  (It is fun to indulge sometimes, and with food allergies, that is not always easy).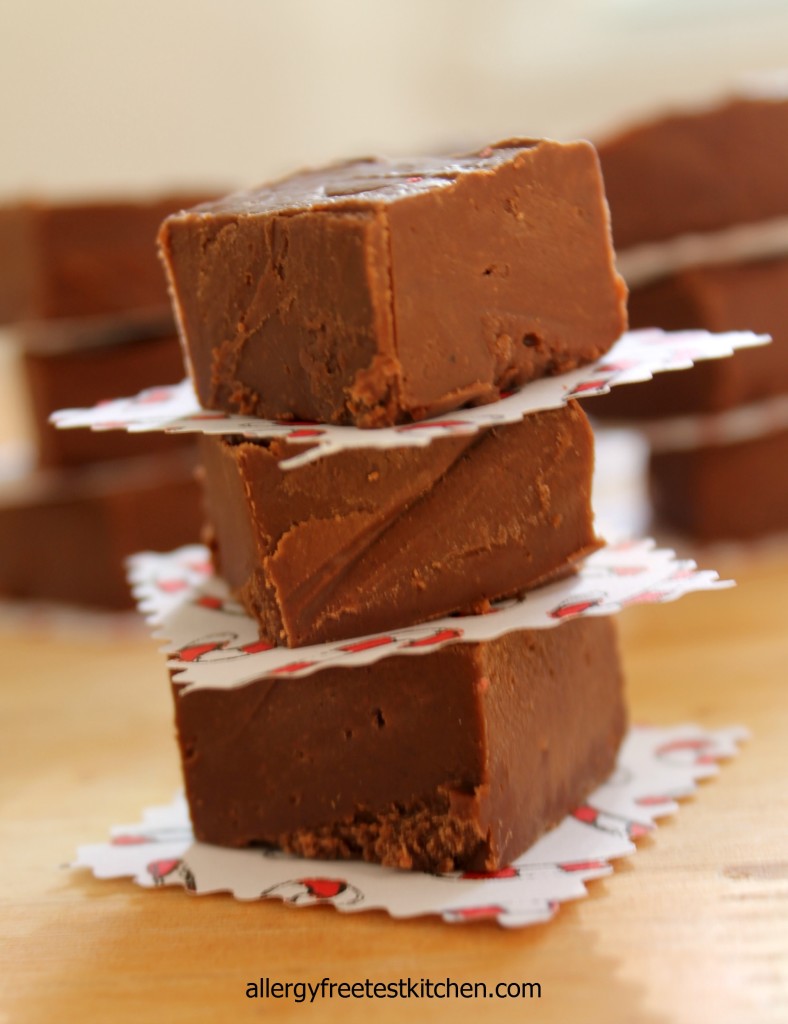 You will need a high powered food processor for this.  And it gets really, really loud while processing the peppermints.  If you do not have one you will have to chop the soft peppermint puffs to smithereens.  (Speaking of soft peppermint puffs, I found mine at Aldi and they are labeled gluten and lactose free). Other than chopping up the peppermints, this is so easy and quick to put together. 
As you are cooking the ingredients on the stove (read recipe) you will need to stir constantly.  It may seem like forever for the marshmallows to melt, but then all of a sudden it will go super-fast; so do not walk away from the stove. (I buy the thick and heavy coconut cream from Trader Joe's).
After putting this together and placing in the refrigerator, it is ready in three hours.  It's that simple!  And that quick!  After cutting the fudge into 49 squares, you can sit back and enjoy this fudge one square inch at a time!
Also shared at Allergy Friendly Winter Holidays Linky Party and Melt In Your Mouth Monday, Make Your Own Monday, Totally Tasty Tuesday , Tasty Tuesdays ,
Allergy Free Wednesday, and Real Food Wednesday.

Awesome Allergy Free Fudge
Ingredients:
Non-stick allergy free cooking spray

2 1/4 cups Enjoy Life Semi Sweet Mega Chunks

26 unwrapped soft peppermint puffs (or one cup)

3/4 cup thick and creamy coconut cream from the top of the can

3 1/2 cups mini marshmallows

5 T. Earth Balance Organic Coconut Spread

1 cup sugar

Soft peppermint puffs for garnish as desired
Directions:
Spray a 9×9 baking pan with cooking spray.

Take two pieces of parchment paper and lay in both directions so that paper overhangs sides of pan. Spray parchment paper with cooking spray.

Press paper down and it should stick to pan.

Place your chocolate in a large mixing bowl. Set aside.

Place peppermints in powerful food processor and process until peppermints are in very small pieces.

Place the chopped peppermints, coconut cream, marshmallows, coconut spread and sugar in a 3 quart pan.

Over medium high heat, stir constantly for about 5 minutes.

Lower heat to low and cook and stir constantly until mixture is smooth and is slightly boiling.

Remove pan from heat and let it rest for about 30 seconds.

Pour the mixture in the pan over the chocolate chunks and stir until well combined and chocolate is melted.

Spread the fudge in prepared pan and even out the top.

Chill in refrigerator for 3 hours.

Remove fudge from refrigerator and pull up on parchment paper. Flip onto a cutting board.

Cut fudge by making six cuts on each side to make 49 fudge squares.

Place an unwrapped peppermint puffs on top of each square if desired.