"These are crazy good!"  Those were the first words out of the mouths of my "recipe tasters" when I made these gingerbread donuts with cinnamon "buttercream" frosting.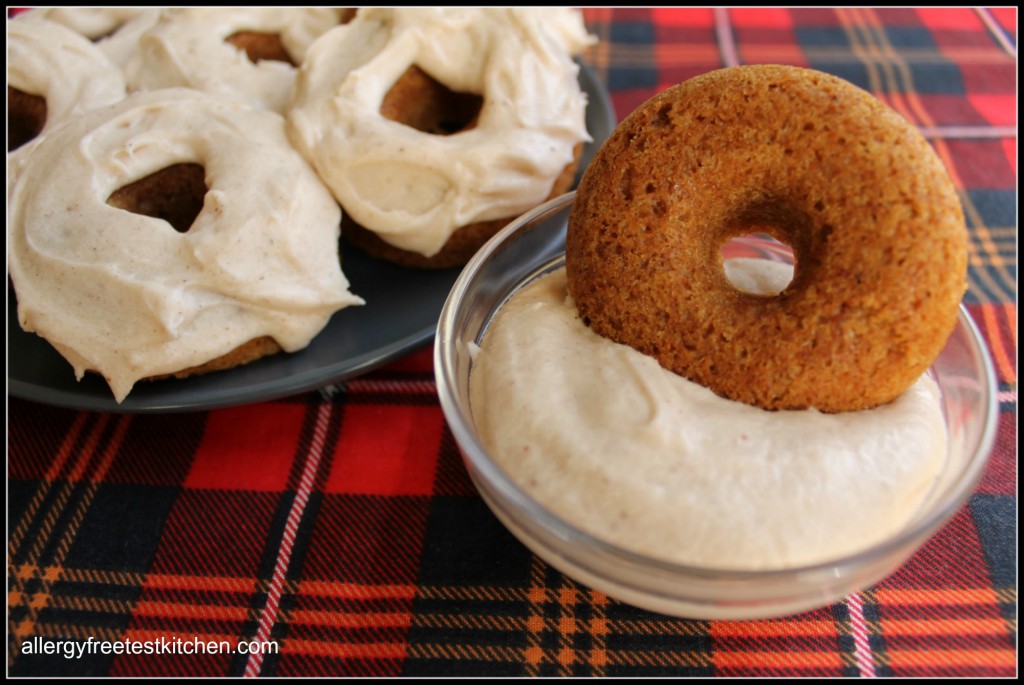 My pumpkin donuts were such a hit this autumn that I thought I would come up with a Christmas flavored donut.  I asked on the Allergy Free Test Kitchen Facebook page what some favorite Christmas flavors were and gingerbread was one of them.   So I set about to come up with a gluten free, egg free, milk free, soy free, peanut and tree nut free gingerbread donut.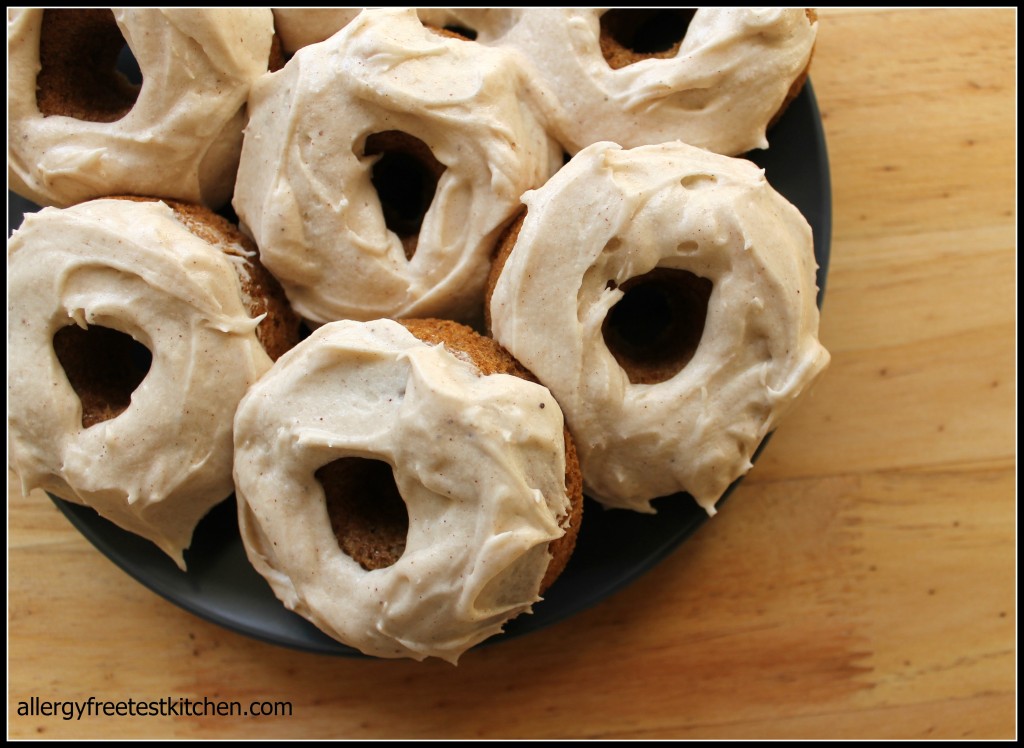 The result was fabulous!  I adapted a recipe to be allergy free found on Bake Your Day and thought on it awhile.  Then I tried the recipe twice to make sure it worked and it does!  These really are something special.  The donuts alone are good, but the frosting is what takes these donuts to a whole different level of deliciousness! I adapted the frosting recipe from Cake Central.  I have a picky frosting eater and this frosting passed with flying colors!  It also makes more than you would need for the donuts so you can slather it on graham crackers (gluten free or not) and enjoy the frosting that way too.
Coming up are some photo tutorial pictures I took.  But before I do, I love comments and Facebook likes.  So if you wouldn't mind I would love to hear from you and have your "like."  (Remember if you like the Facebook page you have to click "add to interests list" after you like it or AFTK will not show up in your news feed.  You can do this by hovering over the like button).  Thanks!   This post is also being shared at Make Your Own Monday,  Gluten Free Monday, Allergy Free Wednesday, Gluten Free Wednesday and Wheat Free Wednesday , Allergy Friendly Winter Holidays Linky Party, Gluten Free Tuesday.
Here are some step by step photos to help you achieve the maximum deliciousness!
Put all your dry ingredients in a bowl.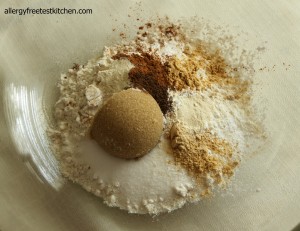 Whisk the dry ingredients well.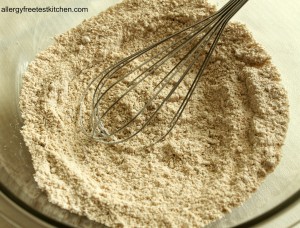 Make sure to chill your shortening.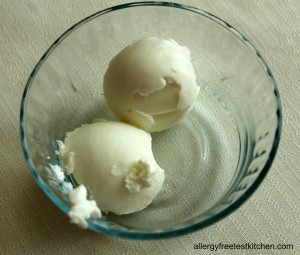 Make your buttermilk by pouring 1/2 T.  lemon juice into liquid measure.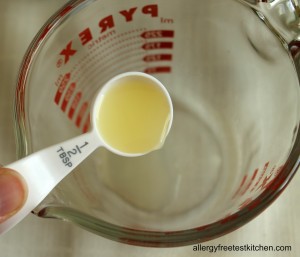 To continue making your buttermilk, add rice milk to the lemon juice to equal 1/2 cup.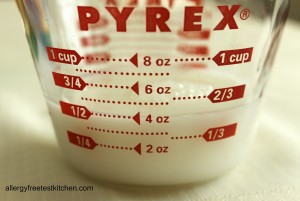 Put your chilled shortening into dry ingredients.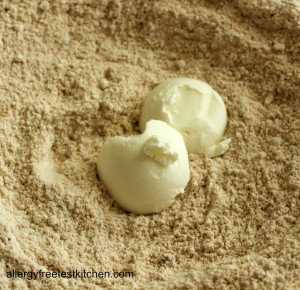 Use a pastry blender to mix shortening in.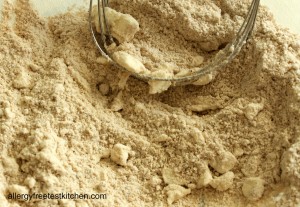 Add the buttermilk, vanilla and egg replacer to dry ingredients to make batter.  You will see lumps of shortening and that is okay.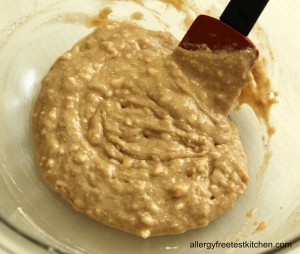 Fill your donut pans about 2/3 – 3/4  full (depending on your pan size…mine are small) so that you have nice rounded donuts and not "muffin top" donuts.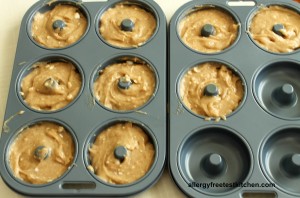 After baking, cool for a few minutes before removing to cooling rack.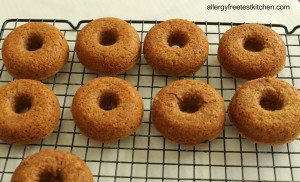 After the donuts are completely cooled, frost them to your heart's content. 
Then sit back and…….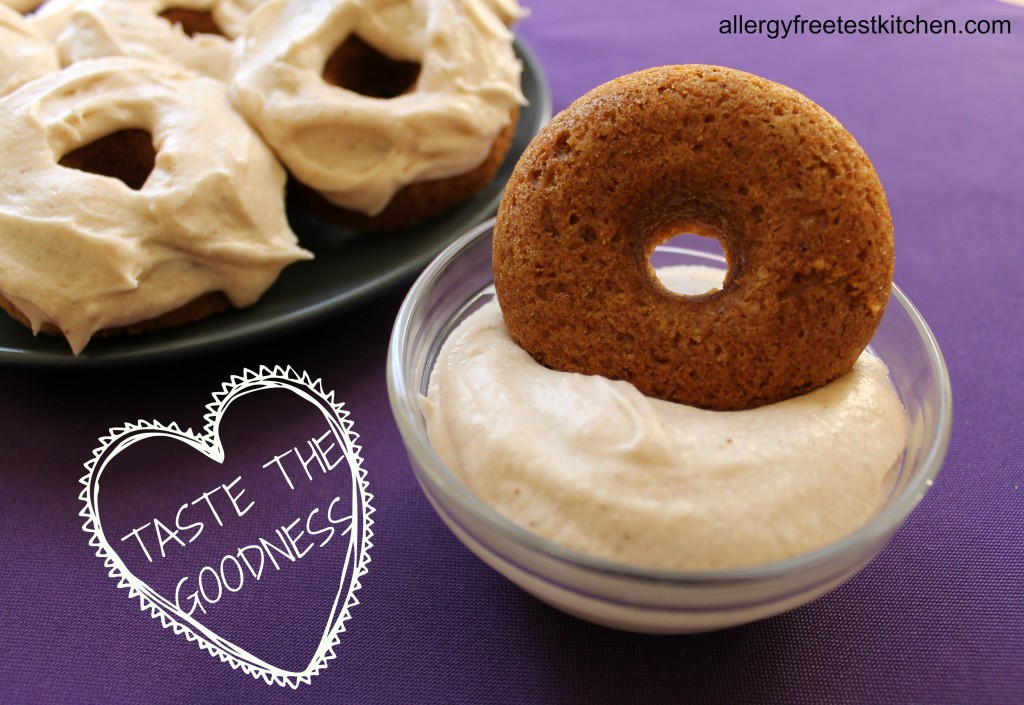 Gingerbread Donuts and Cinnamon Buttercream Frosting
Ingredients:
1 cup gluten free flour blend such as King Arthur Gluten Free All Purpose Flour (or other mix of brown rice flour, tapicoa starch and potato starch)

1/4 cup white sugar

1/4 cup brown sugar

1/2 tsp. baking soda

2 tsp. baking powder

1/2 tsp. xanthan gum

1/2 tsp. salt

1 tsp. ginger

1/2 tsp. cinnamon

1/4 tsp. allspice

2 T. dairy and soy free shortening, chilled

1/2 cup rice milk buttermilk (or 1/2 cup regular buttermilk)

1 tsp. vanilla

1 1/2 tsp. Ener-G Egg Replacer mixed with 2 T. warm water (or 1 egg)
Frosting
4 T. dairy and soy free shortening

1 3/4 cup + 2 T. powdered sugar

3 T. rice milk (or regular milk)

1/2 tsp. vanilla

1/2 tsp. cinnamon
Directions:
Preheat oven to 350 degrees. Spray 9 donut cavities with cooking spray.

Whisk the dry ingredients together very well.

Add chilled shortening to dry ingredients and mix well with pasty cutter.

Add your buttermilk, vanilla and Ener-G Egg Replacer.

Mix well, but you will have some shortening lumps.

Fill donut pans, but not too full or you will get "muffin" top donuts.

Bake for 12 minutes.

Cool in pan a few minutes before removing to cooling rack.

Cool completely before frosting.
To Make Frosting:
Using a stand mixer, beat shortening until fluffy. Add milk, vanilla and cinnamon and mix until until smooth and creamy.