Today I bring you some information about alternatives to butter and regular shortening in baking.  Butter of course, makes things delicious and flaky, but it is made out of milk.  So it's out for people with milk allergies or vegans.  But you can still bake wonderful treats without butter.  There is shortening, like Crisco, or your store's generic brand.  This works very well in most cases.  However, it is made with soybeans and probably genetically modified ones at that.  So people with soy allergies cannot enjoy baked goods with regular shortening.  And some people like to avoid soy for other reasons.  (That's another post for another day).
You may have noticed that my recipes with shortening in them say, "dairy and soy free shortening."  It occurred to me, that some people may not be aware of this product, especially if they are new to the world of food allergies.  I use a dairy and soy free shortening for the sake of the blog and because I like to avoid soy for other reasons (again, another blog post for another day).  I also want to make sure the recipes turn out with a soy free option for all my soy allergic readers.
So the first option in baking is Spectrum Organic All Vegetable Shortening.  It is non-hydrogenated palm oil.  According to the nutrition facts on the container, 1 tablespoon of shortening is 110 calories, with 12g of total fat.  It has zero trans fats, as well as zero cholesterol, sodium, carbohydrates, dietary fiber, sugars and protein.  It is gluten free as well as dairy free, soy free, and egg free.  And of course, there are no peanuts or tree nuts.  This shortening is good for vegans, the food allergic, or anyone who wants to avoid soy and is Kosher.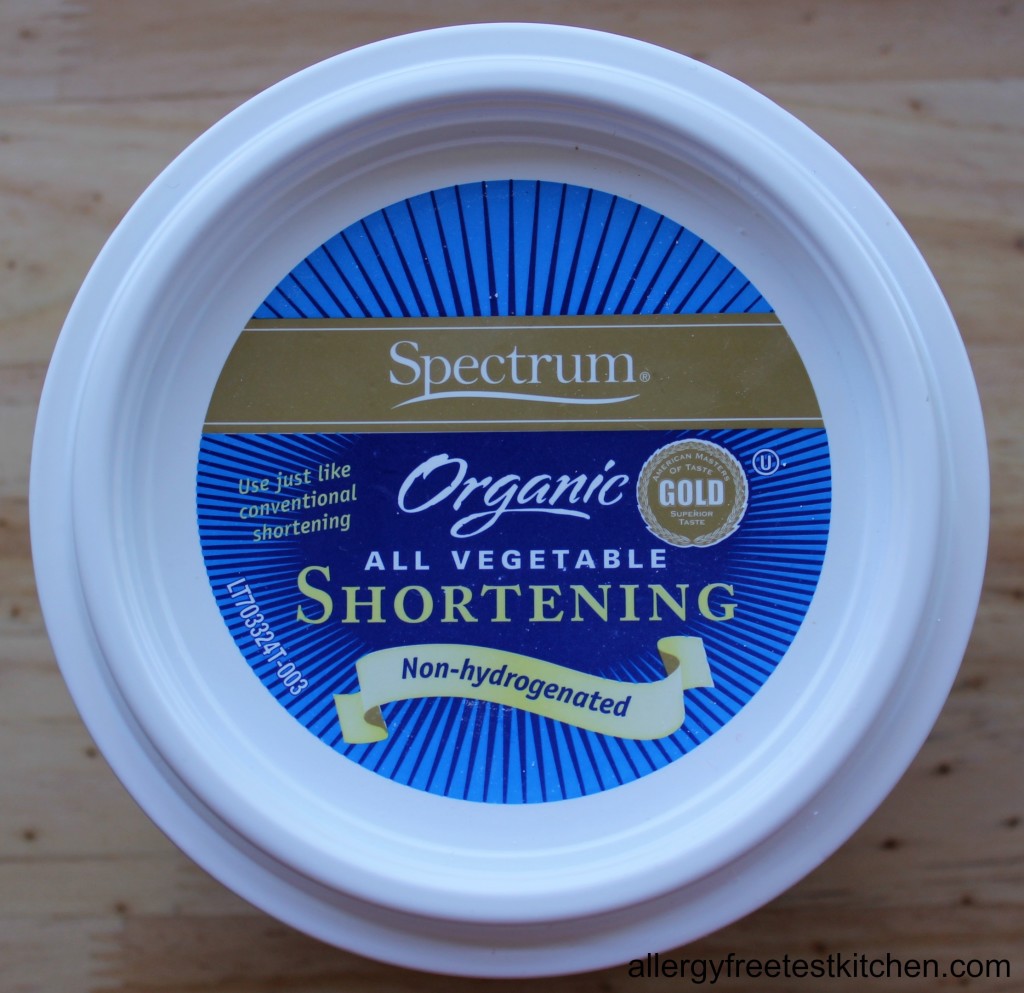 I love using this shortening.  It functions just the same as shortening made with soybeans.  I also feel like it's a bit "healthier" because it is non-hydrogenated, organic, and not made with soy.  It is more expensive, but since I do not bake every day and sometimes not even every week, I do not mind.  I have made pie crusts, cookies, muffins, and frosting with this shortening and they all turned out wonderfully. 
Another option to butter and soy laden shortening is Earth Balance Organic Coconut Spread.  I think it is relatively new to the market; new in the last year to year and a half.  This is not coconut oil.  It is a very hard spread in a small plastic container in the refrigerator section of Whole Foods.  If you do not live near a Whole Foods, I would ask your local grocer to carry it for you if you are interested.  While the Spectrum shortening discussed above is strictly palm oil, this spread is a combination of extra virgin coconut, palm fruit and coconut oils, as well as canola oil, filtered water and less than 2% of salt, natural flavor, sunflower lecithin and non-dairy lactic acid.  According to the package 1 tablespoon of spread has 100 calories and 11g of total fat.  It has zero trans fats, cholesterol, carbs, sugar and protein.  But is does have 70mg of sodium per 1 tablespoon.   The container states that it is "lactose and soy free" as well as "vegan, expeller-pressed oil, non-GMO and gluten free."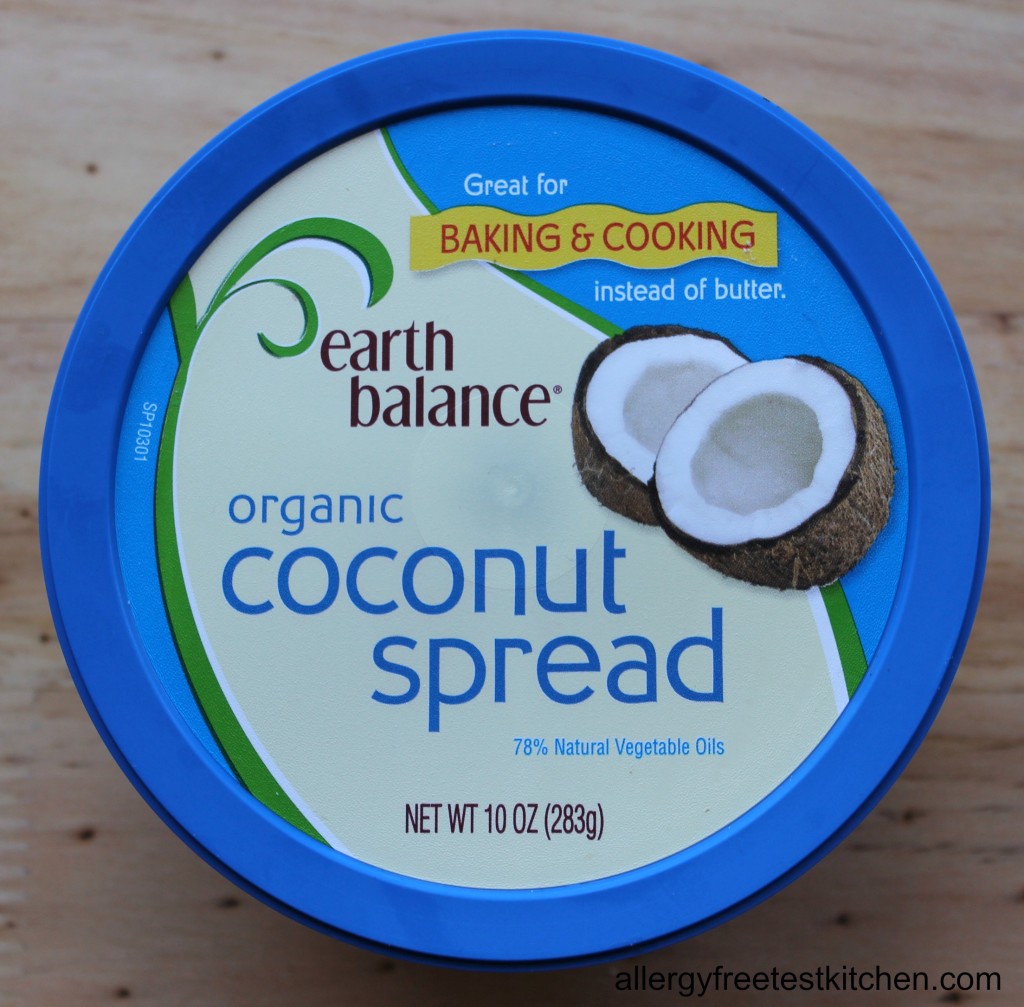 I have used this, but not frequently.  I usually tend to go for the Spectrum shortening, although I do not know why.  When I have used this Earth Balance Organic Coconut Spread, I have had wonderful results.  I make corn muffins with it that call for melted shortening and this melts nicely and took my corn muffins from ordinary to extra-ordinary.  It lends a sweetness to your baked goods.  It does have a bit of coconut flavor to it, although it is mild.  As with most allergy friendly foods, the cost is a bit high, but I have often found coupons online or from Whole Foods.  I tend to use this in small amounts.  For example, if a recipe calls for 4 tablespoons butter, I would choose this over shortening.  I do this for two reasons.  One, because the recipe is asking for a small amount and I only like to use this spread in small amounts so I do not turn my food into overly coconut tasting.  And two, because butter is hard and so is this spread.  I figure it is better and more likely to turn out if I trade a "hard" ingredient for another "hard" ingredient rather than a "soft" shortening. 
Please be careful if you choose to use Earth Balance Organic Coconut Spread.  The word is still out if coconuts are a "safe" food.  While they are not a tree nut, some people consider it a tree nut.  So if you have tree nut allergies, please check with your allergist or doctor to see if you can consume coconuts or products made with coconuts before using this product.
If you would like to share your experiences with either of these products, feel free to leave a comment below!