I have a new favorite mid-day meal.  I never tried quesadillas before, and I am not sure why, but with a creamy inside and crunchy outside, these make for a good, quick lunch.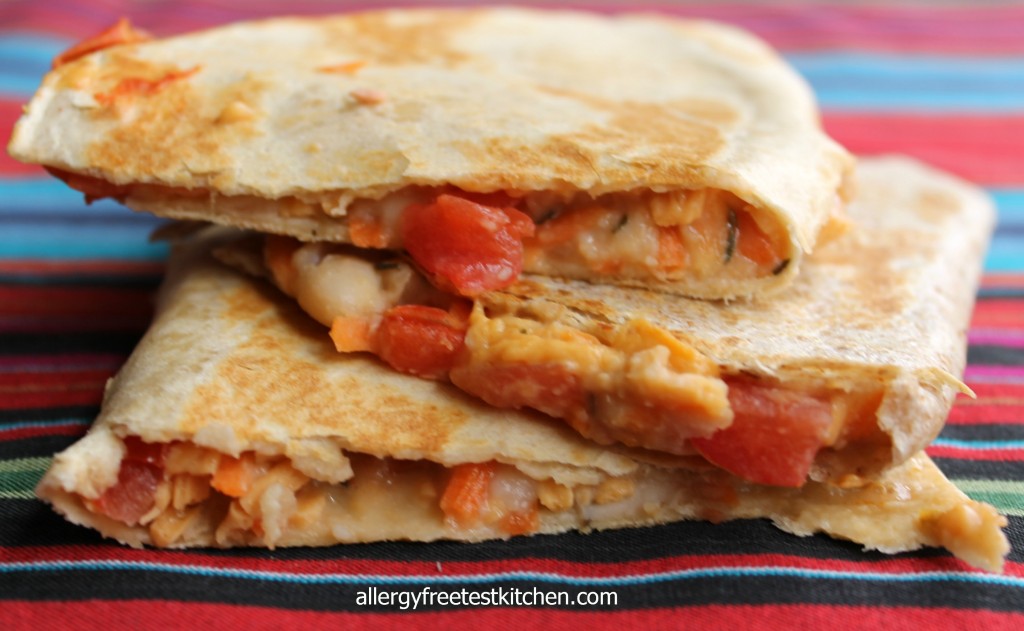 I was flipping through a vegan cookbook of mine and found a recipe for white bean quesadillas.  The problem was the only ingredient I had on hand was the white beans.  So I had to come up with my own version and I think I stumbled upon something delicious the first time out the gate.
This is easy to put together and if you do not use all the filling at one time, it saves well in the refrigerator.   Also, this may be a good time to experiment with beans if you are not a fan of beans or want to introduce them to kids.  White beans are creamy when mashed and when "cheese" and tomatoes are added, you hardly can taste the beans.   Well, at least I think so.
I am tagging this recipe gluten free because I am showcasing the filling and that is gluten free.  In the picture above I used wheat tortilla wraps, but to make a completely gluten free quesadilla make sure to use brown rice or corn tortillas.
Also shared at My Meatless Monday and Frugal Food Thursday.

White Bean Quesadillas
Ingredients:
1 can Great Northern Beans (or other white bean)

1 large roma tomato, chopped

1/3 cup shredded carrots

3/4 cup Daiya Cheddar Style Shreds (or regular cheese)

1/2 tsp. garlic powder

1/2 tsp. oregano

Allowable tortilla wraps
Directions:
Open can of beans, drain, soak, rinse and drain again.

Mash beans lightly, until there are not a lot of visible beans, but not straight "mush" either.

Gently mix in chopped tomato, shredded carrots, "cheese", garlic powder and oregano.

Heat a non-stick skillet on medium heat.

Warm tortilla in the microwave for a few seconds.

Spread bean mixture on half of the tortilla and fold over the other side of tortilla.

Spray pan with cooking spray.

Cook tortilla until brown and crispy on one side.

Flip and cook until the second side is brown.

Eat immediately.