I love making homemade soups; for so many reasons.  First, they are a great one pot meal.  Second, they are healthy.  Third, it is a good way to get vegetables into children.  Fourth, they taste so much better than a soup from a can, not to mention much lower in sodium. Fifth, they are fun and easy to put together.  Sixth, canned soups may contain food allergens.  Seventh, many homemade soups are naturally allergy friendly.  And lastly, they fill the house with a great aroma.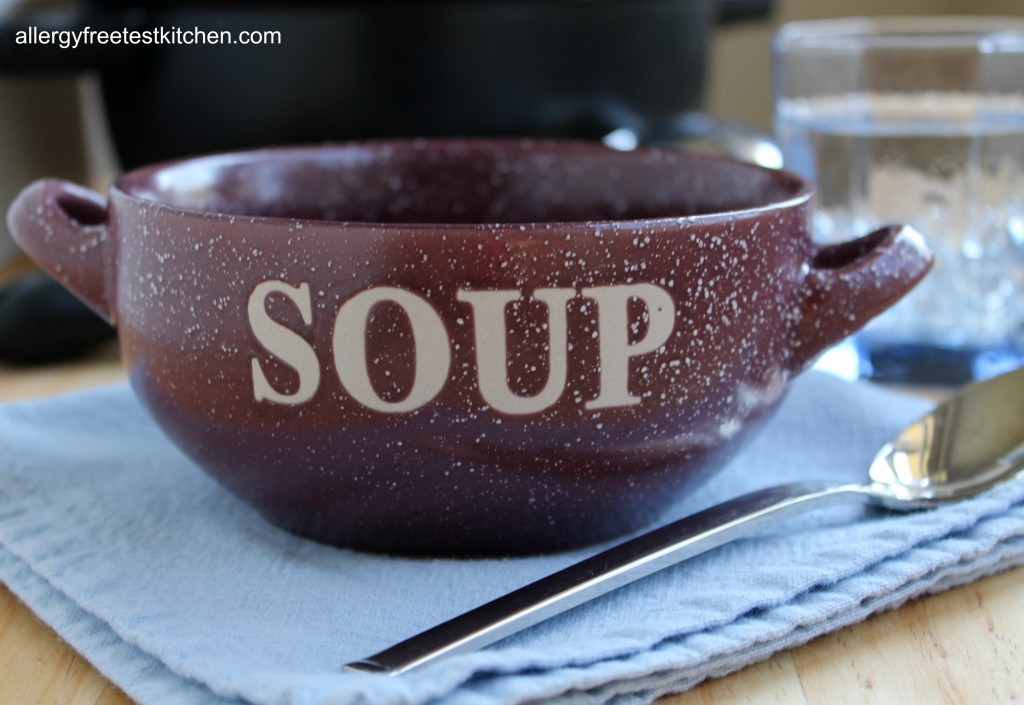 Since I make so many soups in the autumn and winter months I wrote a list of twelve tips to making a really good homemade soup.
If you need to brown meat do so with the onion or celery if the recipe calls for that.
When browning meat, use a skillet and not the pan you will cook the soup in.  This will make sure that no extra fat or grease is in your soup.
Drain fat off of meat very well and also dab meat with a paper towel.  Again this is important so that you do not have greasy soup.
If a recipe calls for cooking chicken ahead of time, do so. Some people think the chicken will cook while the soup is cooking and avoid this step.  This may be true, but then you get a weird filmy (for lack of better description) substance in your soup.
Drain any juices from cooking the chicken as well.
Use a different utensil for browning meat then for stirring the soup. I do this because I do not like the idea of using the same utensil that touched raw meat in my pot of soup.
Use fresh vegetables; frozen is okay in the case of peas or corn and canned is fine for tomatoes, but otherwise stick to fresh vegetables.  You will have a heartier soup and not a mushy soup.
Do not use broth from a can.  It is more cost effective to make your own broth and you can control the sodium.  Not to mention it could easily contain food allergens.
While it is probably delicious, to me it is too much work to make stock from bones.  So to make your own broth, check the ingredients of your bullion carefully.  Some contain milk and/or wheat.
Spend a little extra for a really good broth base that is labeled lo-sodium.  I like Better Than Bouillon.  It is not a powder or a hard square, but almost a paste.   Using a good broth base will give your soup a much richer taste.  People will notice a difference.  Once I have started using that, I started receiving many more compliments on the taste of my soup.
If using legumes/beans, drain them, rinse them, soak them, and drain again to nearly eliminate the unpleasant side effects.
Do not undercook soup.  It takes time to have the flavors meld.  One can never really overcook a soup.  Simmering a long time enhances flavor.  This is not the case if noodles are involved.  They could get mushy if cooked too long.  In that case you may want to add them near the end of the cooking time.
So, there you have it as I see it.  Do you have any good tips for making homemade soups?
Also shared at Real Food Wednesday.