Do you want a gluten free chocolate chip cookie?  How about one without eggs and milk?  Is soy on your no-no list?  No problem!  Do you want all of the above in a cookie that is also free of refined sugar and is soft and chewy?  Sounds impossible right?  Wrong!  You can have it all!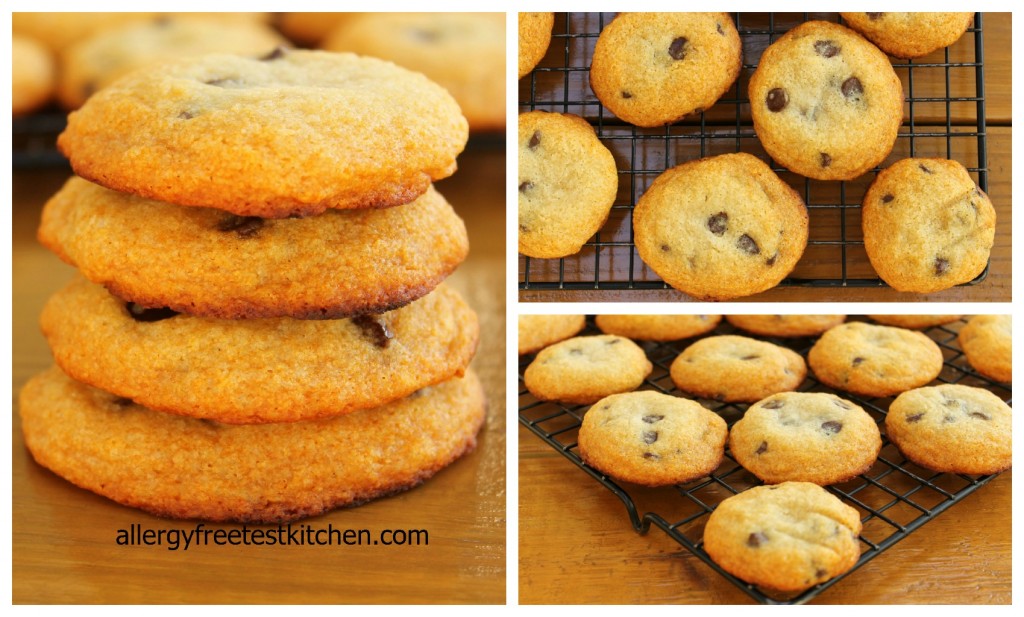 This cookie recipe came to me on an index card.  I have no idea where it originates, but I switched up many factors to make it allergy free!  The source of sweetness comes from honey.  It really works best that way.  But if you want to make this a vegan cookie you can use agave nectar.  Personally, I do not like agave nectar in this cookie.  The taste was off for me and I did not achieve the same soft, chewy texture, nor did it quite "fluff" up like the cookies made with honey. 
These cookies must be placed on a cookie sheet lined with parchment paper.  Please watch the cookies carefully as the bottoms can burn easily.  If you can use eggs I wrote the equivalent in the recipe.  And feel free to use regular chocolate chips if you do not need to be dairy free.
So, if you like this post will you like my Facebook page?  Remember, you need to click "add to interests list" after you "like" to receive updates in your news feed.  You can find where to do this by hovering over the like button after you click "like."  You can also find me on Pinterest!
So bake up a batch and let me know what you think of these cookies!
Also shared at Wellness Weekends, Make Your Own Mondays,
Allergy Free Wednesday, Whole Food Fridays, Allergy Friendly Friday and

Soft Allergy Free Chocolate Chip Cookies
Ingredients:
1 cup + 1 T. King Arthur Gluten Free Multi-Purpose Flour (or other gluten free flour that is mixture of rice flour and potato and tapioca starch)

1/4 tsp. xanthan gum

1/2 tsp. baking soda

2 tsp. baking powder

1/2 tsp. salt

1/2 tsp. vanilla

1/2 cup soy free shortening (or regular shortening)

1/2 cup honey (or agave nectar)

1 1/2 tsp. Ener-G Egg Replacer mixed well with 2 T. warm water (or one egg)

3/4 cup dairy and soy free chocolate chips (or allowable chocolate chips)
Directions:
Preheat oven to 375 degrees.

Whisk together the first five ingredients.

In a seperate bowl mix vanilla, shortening and honey until well combined.

Add the Ener-G Egg Replacer to the wet ingredients.

Add the dry ingredients to the wet ingredients and mix until all flour is incorporated.

Gently stir in chocolate chips.

Place by teaspoonfuls on cookie sheets lined with parchment paper.

Bake 6 minutes, watching carefully as the bottoms easily burn.

Remove to cooling rack.