Mashed potato bake is an easy way to serve potatoes during the holidays.  Why?  Because you can prepare it a couple of days in advance and then just warm them up before serving.  This came in very handy for me at Thanksgiving.  I made the potatoes two days in advance and then they warmed in the oven while I carved the turkey.  It was way less hectic in the kitchen and I didn't have to peel, cook and mash the potatoes all while doing the other last minute things like vegetables and so on.  This would also be a wonderful dish to bring to a holiday dinner if you are not hosting.  Simply put it in the host's oven for an hour or heat it up at home and carry it in one of those insulated carriers that keep food warm.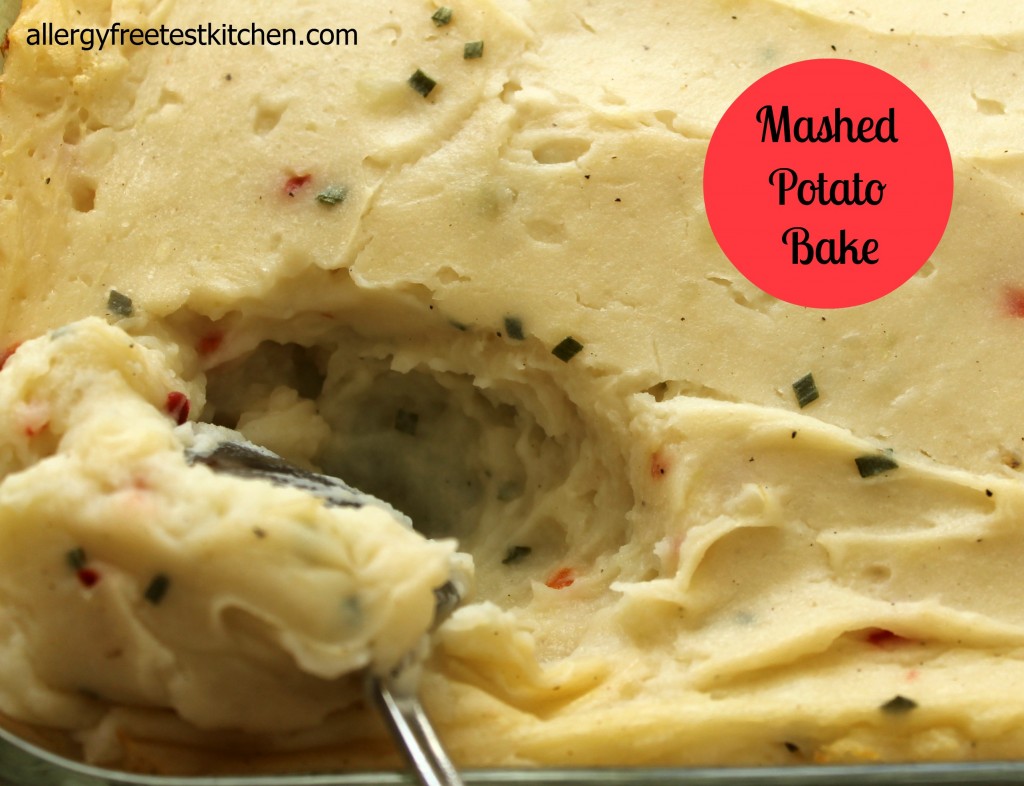 The thing about mashed potato bake casseroles is that they are usually loaded with dairy and soy products.  Well, I fixed that for you.  Here is a mashed potato bake that is still loaded, but with allergy friendly foods so anyone in your crowd can enjoy it.  Seriously…no one will know it is allergy free.  It just tastes simply like a good, basic, mashed potato bake.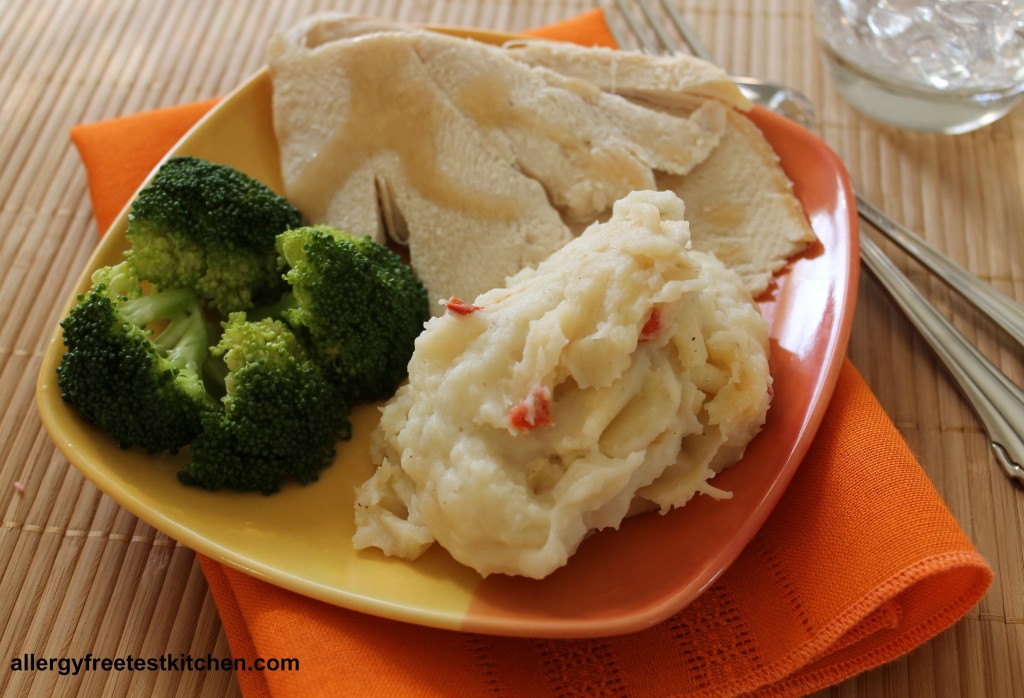 I used WayFare "sour cream" to make it dairy and soy free, but you can use Tofutti (dairy free, but not soy free) or cow's milk sour cream.  I like hemp milk for potatoes.  It is thicker and makes for creamier potatoes.  I adapted this recipe from a local supermarket recipe card.
So, do you think you will cook this up for Christmas dinner this year?
Also shared at Gluten Free Fridays and Real Food Wednesday. Slightly Indulgent Tuesday. Allergy Free Wednesday .

Mashed Potato Bake
Ingredients:
5 pounds russet potatoes, peeled and cooked

1 T. olive oil

1 cup dairy and soy free sour cream (or sour cream of choice)

1 cup hemp milk (or cow's milk)

1 tsp. minced garlic

2 tsp. dried chives

2 T. pimentos

1/2 tsp. salt

1/4 tsp. pepper
Directions:
In stand mixer, combine cooked potatoes, olive oil, sour cream, and hemp milk.

Mash until your desired consistancy.

Remove from stand mixer.

By hand, mix in garlic, chives, pimentos, salt and pepper. Mix thoroughly.

Spoon into a greased 9 x 13 glass pan. Smooth over top.

Cover and refrigerate.

When ready to bake, cover with aluminum foil and bake for 45 minutes in a 350 degree oven. Then remove foil and bake uncovered for another 15 minutes.