I love cranberries.  I could eat them year around.  Growing up, the grade school I attended always had a turkey supper fundraiser.  Each table would be set with about 2 ounces of cranberry sauce for a table of six or eight.  Even as a child, I thought that was ridiculous.  I could eat more than 2 ounces myself!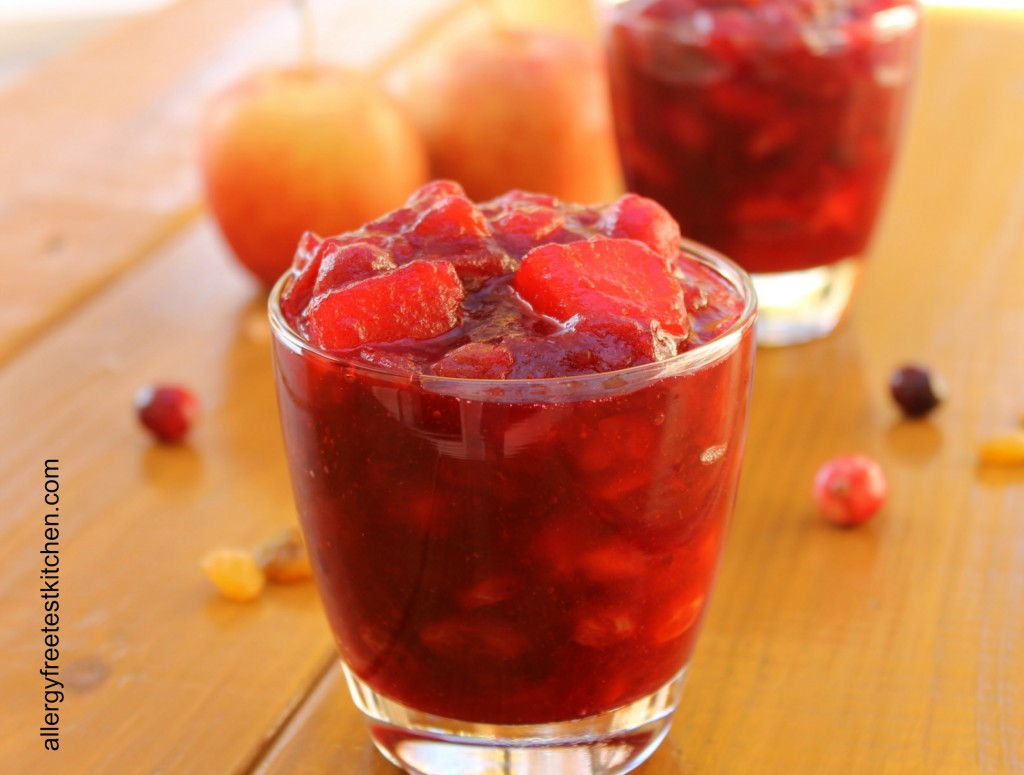 Cranberries are good for your urinary tract system, can help prevent plaque buildup in your blood vessels, have a lot of vitamins, prevent plaque buildup on your teeth, and potentially fight numerous illnesses and conditions. (Source)
Making your own cranberry sauce or chutney is so simple!  Unfortunately, cranberries do need a lot of sugar, but at least you can use sugar rather than the high fructose corn syrup found in the canned goods.   The sugar may negate some of the health benefits, but they are really too tart without it.
I adapted this recipe from a local magazine.  What makes it extra neat is that it also uses golden raisins and apples. I recently made it for a pot luck and it got rave reviews.  This can be made up to four days in advance, so why not adorn your Thanksgiving table with a simple, homemade, cranberry chutney?
So do you think you will make your own cranberry dish this year?
Also shared at Allergy Friendly Thanksgiving, Make Your Own Monday, and 
Slightly Indulgent Tuesday. Allergy Free Wednesday .

Fruity Cranberry Chutney
Ingredients:
1/2 tsp. cinnamon

1/8 tsp. ginger

2 cups sugar

1 1/2 cups apple cider

1/4 cup apple cider vinegar

2 bags (12 oz. each) fresh cranberries

1 cup golden raisins

2 Granny Smith apples, peeled and chopped into half inch pieces
Directions:
In large 5 quart stockpot, combine spices, sugar, cider and vinegar.

Over medium high heat, bring to boiling, stirring occassionally.

Add cranberries and raisins.

Heat to boiling, stirring often.

Reduce heat to medium low and add apples.

Cook and stir 15-20 minutes until most cranberries pop and mixture slightly thickens.

Do not overcook or apples will become sauce.