I miss brownies.  When I first had to say goodbye to eggs and milk, I searched high and low for an egg free brownie.  I tried several recipes and none of them fit the bill.  Brownies seem to be the one thing that must have eggs.  Then a year later, when adding in the gluten free factor I tried a few more recipes from good cookbook authors.  But for me, the brownies just did not do it.  So I set out to make my own recipe.  The first time I tried something it worked.  But it must have been a fluke because follow up tries turned out dismal results.
Well, not wanting to waste even the "bad" brownies, I decided to make a little fun treat with the crumbles of brownies I had on hand.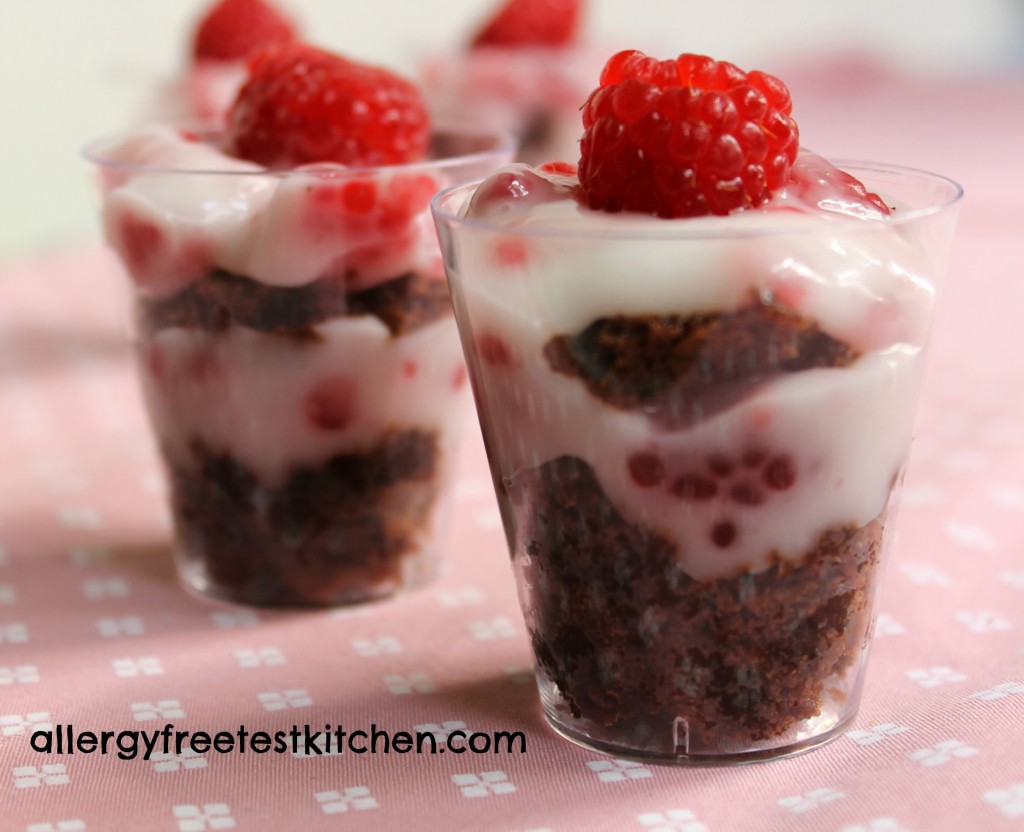 Now you can use any brownie you can eat in this fun little treat.  Just crumble up your brownies to make this little shooter!  Yep, that is right, go ahead the buy the plastic little shot glasses in the wine section of your grocery store and fill them up.  This makes a great little treat to bring to a Christmas potluck or party.
All you need is some brownies, dairy free or regular vanilla yogurt, and some fresh raspberries.
So what do you think?  Are these cute or what?  Let me know in the comments section below!
Oh, and by the way, I'm still working on a good brownie recipe!
Also shared at Slightly Indulgent Tuesday, Real Food Wednesday and Gluten Free Friday. Gluten Free Wednesday.

Brownie Dessert Shooters
Ingredients:
Allowable brownies, crumbled

Dairy and soy free vanilla flavored coconut milk yogurt, or vanilla flavored milk yogurt

Fresh raspberries

Plastic shot glasses
Directions:
Determine how many shooters you want to make.

Crumble brownie bits into bottom of shot glasses.

Mix some yogurt and fresh raspberries together, reserving enough raspberries for how many shooters you want to make.

Place some of the mixed yogurt on top of brownie bits.

Place more brownie chunks on top of yogurt.

Place a little more yogurt on top of brownies.

Place one of the reserved raspberries on top of each shooter.

Refrigerate until ready to serve.