Green bean casserole is a popular Thanksgiving dish.  But with the cream soup and French fried onions it is not allergy friendly.  While I love green beans plain, that does not seem festive enough for Thanksgiving.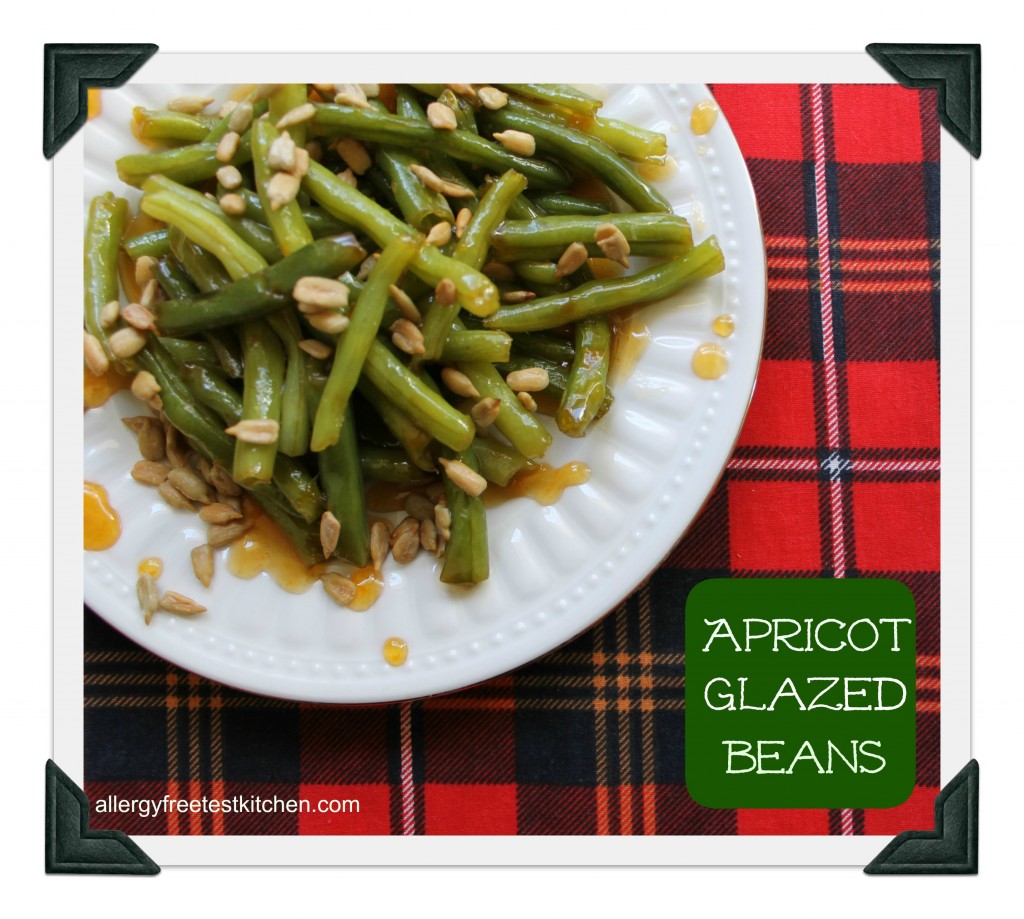 So I came up with a special way to fix green beans.  To me, it seems like a good holiday side dish.  However, this does not need to be limited to holiday dinners.  It could easily be made any time of year to accompany a meal of chicken or pork.  It is quite simple and requires only a few ingredients.  Honey, apricot preserves, and sunflower seeds will take your beans from ordinary to extraordinary.
Also shared at Allergy Free Wednesday, Real Food Wednesday  and
Allergy Friendly Thanksgiving.

Apricot Glazed Green Beans
Ingredients:
4 cups (roughly 1 lb.) fresh green beans

1/4 cup honey

1/3 cup apricot preserves

1/4 tsp. salt

sunflower seeds
Directions:
Clean beans, snap ends off, and snap in half, if beans are really long.

Put beans in pan and fill with water.

Bring to boil and boil about 4-5 minutes or until crisp tender.

Drain beans and dry out pan with paper towel.

Measure honey, preserves and salt into pan. Mix well.

Add beans to pan and bring to simmer.

Simmer and stir occassionally until beans are glazed and desired tenderness.

Place beans on serving platter or in bowl.

Drizzle with remaining glaze.

Sprinkle with sunflower seeds.

Serve immediately.