Pumpkin seems to be a fall favorite for many.  If you made these pumpkin donuts, you will have some pumpkin puree left.  What to do but make some pancakes?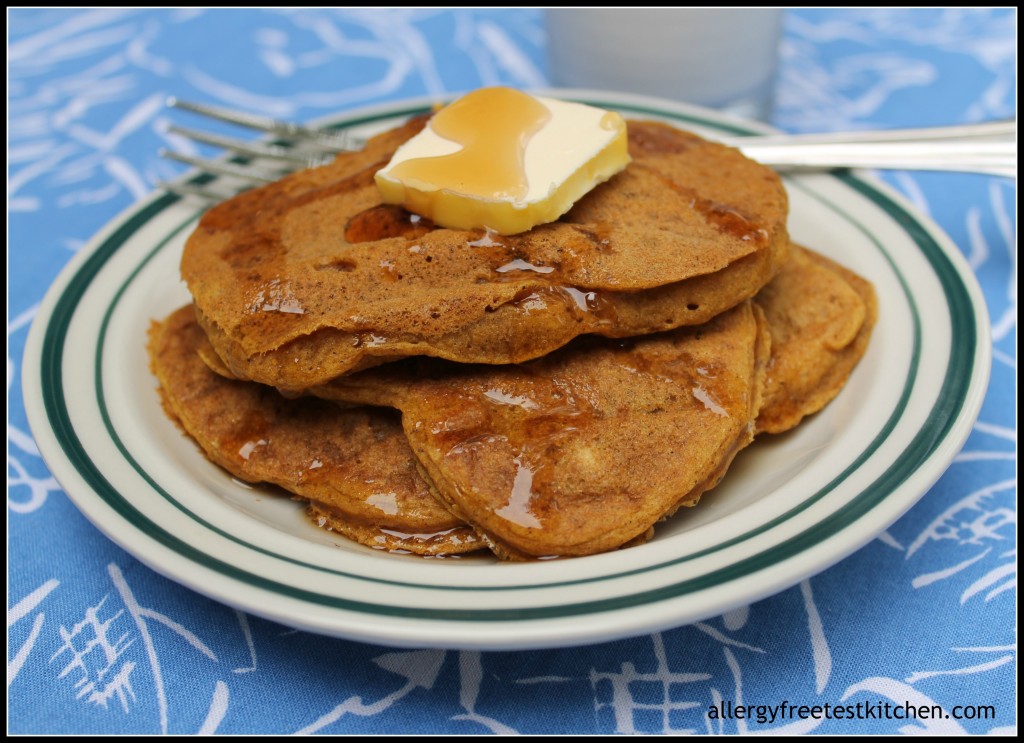 These pancakes are sure to be a hit.  And what is better?  They are free of the top eight food allergens!  But this recipe is adaptable.  Are you gluten free, but not on a milk free diet?  You can substitute the milk cup for cup.  Eat eggs?  Well, that might be a little trickier as I use Ener-G Egg Replacer's equivalent of 1 ½ eggs.  But maybe one large/jumbo egg might do?  (Can't say for sure since I do not use eggs and haven't for years now).  Play around and see what works for you.
I adapted this recipe from About.com (I believe written by a Teri Gruss) for these delicious pumpkin pancakes.  What is neat about these pancakes is that they actually fluff up on the griddle and one can see bubbles.  I have not had that experience with other gluten free pancakes.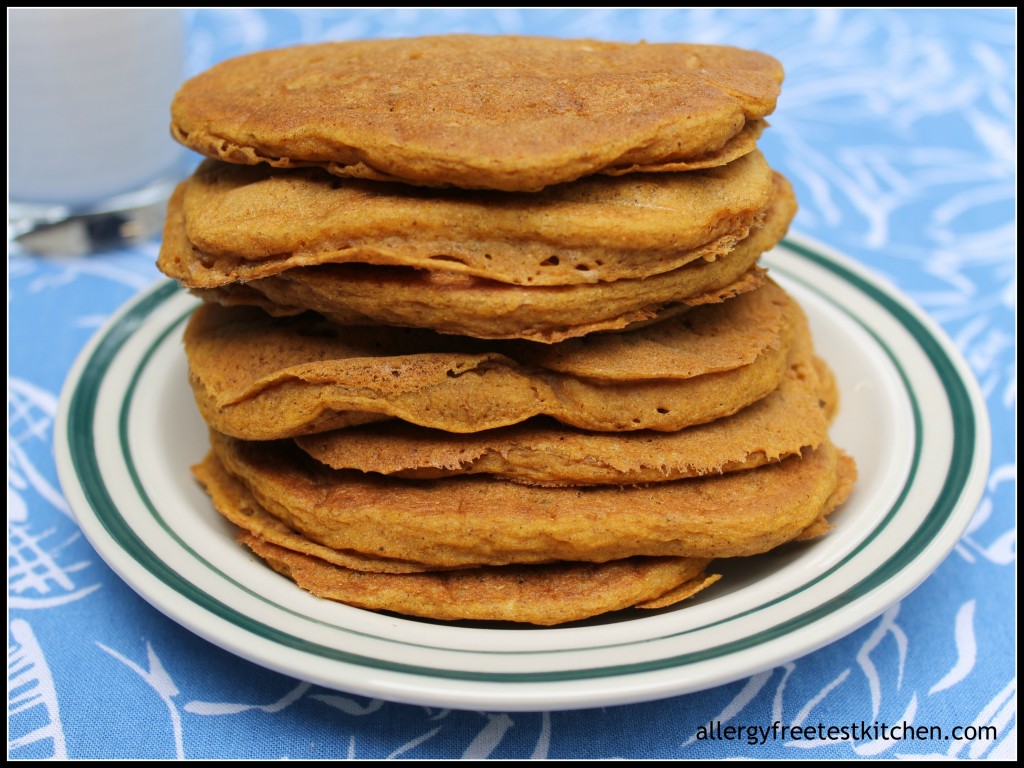 Give them and try and let me know.  And do not forget to like my Facebook page!  To get updates in your news feed you need to click "add to interests list" after liking the page.  You can find this by hovering over the like button.
My comments section is not working at this time.  I would still love to hear from you.  Feel free to email me at peggy@allergyfreetestkitchen.com or comment on twitter or facebook.
Also shared at Wellness Weekends, Gluten Free Friday and Slightly Indulgent Tuesday. Allergy Free Wednesday.

Allergy Friendly Pumpkin Pancakes
Ingredients:
1 cup loosely filled Bob's Red Mill Gluten Free All Purpose Flour

2 T. coconut sugar (or brown sugar)

1/4 tsp. salt

1 tsp. baking powder

1/2 tsp. baking soda

3/4 tsp. cinnamon

1/2 tsp. allspice

1/4 tsp. xanthan gum

3/4 cup vanilla flavored coconut milk (or any other dairy free milk or cow's milk)

1/2 tsp. vanilla

1/2 cup pumpkin puree

2 1/4 tsp. Ener-G Egg replacer mixed with 3 T. warm water (equivalent to 1 1/2 eggs)

1 T. canola oil

1 T. apple cider vinegar
Directions:
Whisk all dry ingredients together in a large bowl.

In a seperate bowl, mix the wet ingredients until smooth, getting all lumps out of the pumpkin.

Add the wet ingredients to the dry and mix so that no dry ingredients are on the bottom of the bowl.

Pour onto griddle and cook until they fluff up and you see some bubbles.

Flip and cook until second side is done.