Finding a milk free hot chocolate mix is nearly impossible!  I have been looking for two plus years. I stumbled upon this quite by accident and thought I would share it with you so you do not have to visit store upon store only to get disappointed when you cannot find a milk free hot cocoa mix.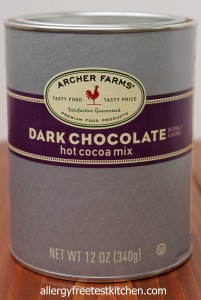 I found this Dark Chocolate Hot Cocoa Mix by Archer Farms at Target.  I am not trying to endorse Target or this brand, and I am not getting compensated for it either.  It is simply the only mix I have found to be milk free.  However, this was only the case with the Dark Chocolate variety.  The other varieties by Archer Farms did contain milk, so read the labels carefully; even on the Dark Chocolate variety in case they do one of those sneaky ingredient changes.
This hot chocolate mix tastes pretty good; not much different from the milk based mixes of the past.  However, this mix is loaded with sugar!  It is the first listed ingredient.  And the mix actually does look a little sparkly from all the sugar.  According to the can, you will be consuming 21g of sugar per serving. Another downfall is that it does contain soy lecithin if that causes issues for you.
Do you know of any dairy free/milk free hot cocoa mixes?