It is pumpkin time!  They are popping up in stores and in the décor of many homes and landscaping.  For many that means time for homemade pumpkin treats.  Now, I am not a big fan of pumpkin as far as taste is concerned, but that doesn't mean everyone feels like I do.  In fact, I think I may be in the minority…even in my own family.
So, here's what happened.  A local grocery store puts out a cooking magazine a couple of times a year.  On the back of the most recent magazine was a picture of some delicious looking donuts.  As I read the recipe, I realized it would be quite easy to adapt.  So in a spirit of wanting to challenge myself I decided to rewrite the recipe in an allergy friendly way and see what happened.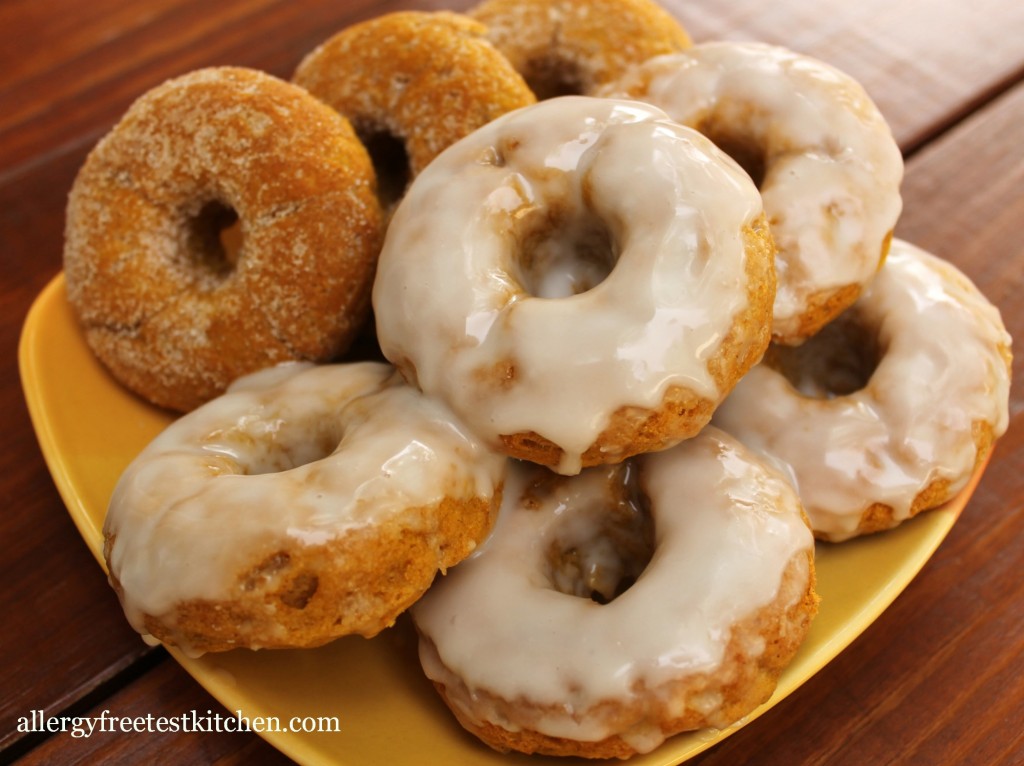 The first batch out the oven turned out great.  They were fluffy (despite no egg), they were pumpkin, but not heavy with pumpkin.  They tasted as "regular" as I thought they would  if I had tasted the original way which was chuck full of wheat, egg, milk and butter.
So, not only did I make these donuts gluten free, milk free and egg free, I made them even healthier by baking them rather than deep fat frying them.  I made a second batch just to make sure the recipe worked.  Since I had so many donuts on hand I froze some.  I am happy to report that these freeze well, and still taste great!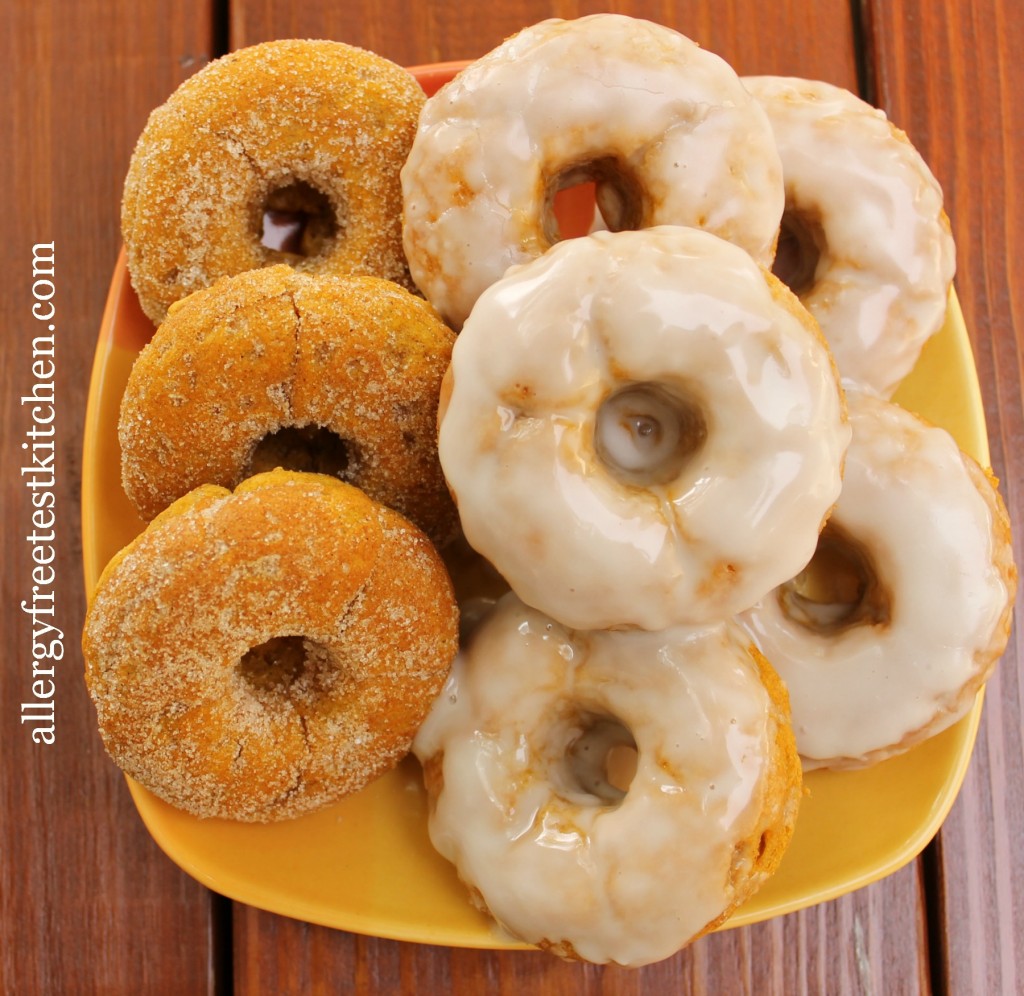 When measuring the flour, it is best to spoon the flour into the measuring cup and then level off.  When you dump the flour into your mixing bowl and notice that the measuring cup may not have been "full" that is fine.  That makes the recipe work better actually.  After baking the donuts either dip in a cinnamon sugar mixture or a vanilla glaze.
So, you can have food allergies and still eat your pumpkin donut too!
Also shared at Gluten Free Fridays, Wellness Weekends , Slightly Indulgent Tuesday and Allergy Friendly Friday and Melt In Your Mouth Mondays. Allergy Free Wednesday . Gluten Free Wednesday.

Pumpkin Donuts Made Allergy Friendly
Ingredients:
1 1/2 cups loosely packed Bob's Red Mill Gluten Free All Purpose Flour

1/4 cup sugar

1 T. baking powder

1/4 tsp. nutmeg

1/2 tsp. cinnamon

1/8 tsp. allspice

1/8 tsp. ginger

1/4 tsp. salt

3/4 tsp. xanthan gum

1 1/2 tsp. Ener-G Egg Replacer mixed with 2 T. warm water

3/4 cup rice milk

6 T. canned pumpkin

2 T. dairy and soy free shortening, melted

1 tsp. vanilla
Directions:
Preheat oven to 325 by Discount Buddy">degrees.

Thoroughly mix the dry ingredients.

In a seperate bowl, mix the egg replacer, rice milk, pumpkin puree, melted shortening and vanilla.

Slowly stir the wet ingredients into the dry ingredients.

Mix until smooth.

Place about 3-4 tsp. batter in each donut spot in donut baking pan.

Bake for 15-16 minutes.

If dipping in sugar cool donuts in pan for 5 minutes before trasferring to cooling rack. If glazing donuts, cool donuts in pan for 15 minutes before transferring to cooling rack. (This tip I learned from Erin McKenna of Babycakes NYC).