I'm always on the lookout for a pre-made allergy friendly snack that can be tossed in the purse for on the go or for those really busy days where there is simply no time to make your own food and you don't want just an apple or banana.
When were set to fly to vacation in August I took some time to look at the pre-made snack bars at Trader Joes to have handy in the plane.  That is when I found Larabars.  I want to be a resource for you so I'm writing this review of my own accord without Larabar's knowledge.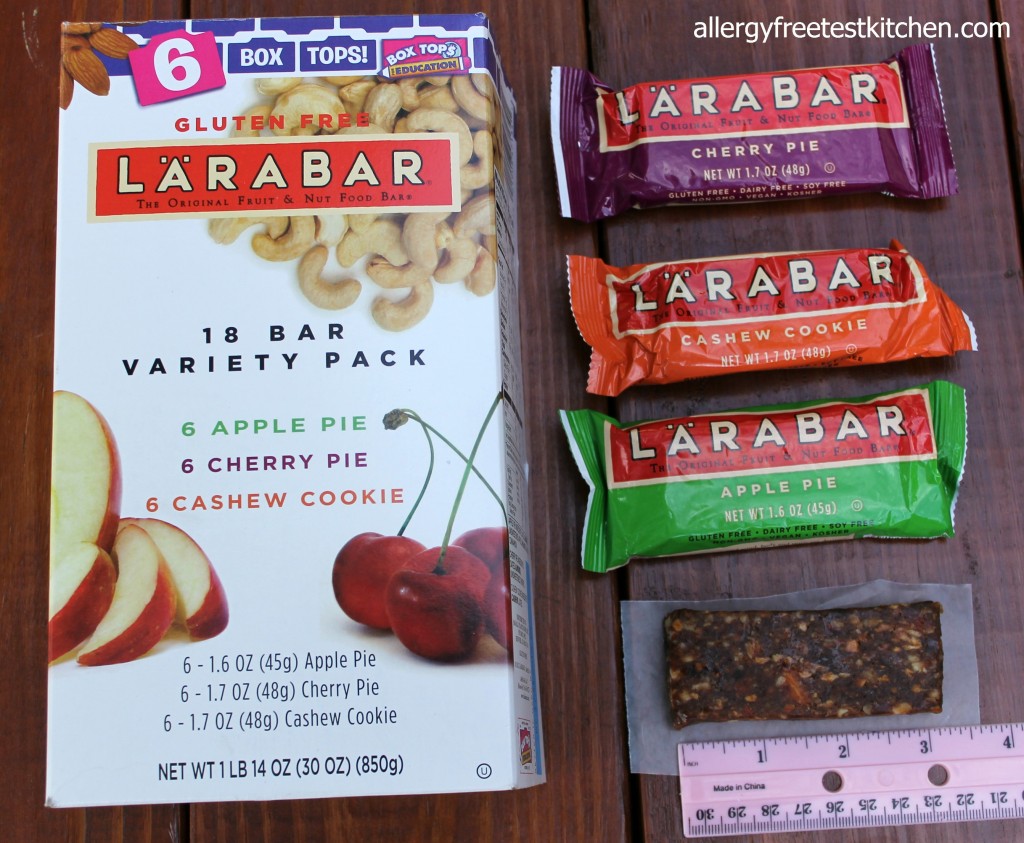 Larabars are gluten free.   We tried three varieties; the apple pie, cherry pie and cashew cookie and they are all also free of milk, egg, soy and peanuts.  I am not sure about their other varieties as we didn't try them. 
Larabars have no artificial ingredients or added sugar (in the ones we tried).   The following information comes from the Larabar box.  Apple Pie consists of dates, almonds, unsweetened apples, walnuts, raisins and cinnamon.  Cherry pie is made up of dates, almonds and unsweetened cherries, while the cashew cookie is simply cashews and dates.  These are a healthy choice for anyone even if you are not gluten free.  Anything with just a few ingredients, no added sugar and no preservatives is healthy in my book. 
Calorie count for these three varieties ranges from 190-230 per bar.  Fat ranges from 8g to13g/bar.  They have no cholesterol, little to no sodium, and potassium ranges from 290mg-400mg/bar.  They all contain some calcium, iron and magnesium.  They are a good source of fiber ranging from 3g-5g/bar.  But they are high in sugar ranging from 23g-30g/bar.  Remember though that this sugar comes from the fruit naturally as there is no added sugar.
These Larabars contain tree nuts.  Therefore I was only able to try the cashew cookie since I can have cashews, but not almonds or walnuts.  It was sweet, delicious, chewy, and really satisfying.  The cherry pie and apple pie contain the tree nuts I cannot consume, but they got scarfed up pretty fast so I'm thinking they are pretty good.  There were no complaints.  I am told that the cherry pie was a favorite.
Unfortunately, Larabars are pricey.  At Trader Joes they are $1.29 per bar.  I did some checking for you and at Amazon they range from $1.10/bar to 2.49/bar on the ones I checked.  It appears to differ depending on the variety.  At Sam's Club we bought a box of 18 bars, a variety pack, for $12.98.  That works out to $.72/bar.  That is by far the best price.  That is not much more than a candy bar from a vending machine and you are actually getting something much healthier than a candy bar.
So, those are the facts as I see it on the Larabar box and the little looking around I did.  I hope you find this helpful.