Nutella is super yummy, but it is also full of milk and very high in sugar.  Have you heard about the California woman who sued Nutella for misleading marketing?  She thought it was a health food based on the advertisement.  Personally, I think she could have easily read the jar label and realize that it was not a health food.  Nevertheless, I have seen the advertisement and it did sound like a healthy breakfast option.  Apparently she won $3.05 million in the lawsuit.  But I think this serves a good lesson.  Everyone should be reading their food labels regardless of food allergies or not.  It is always best to know what you are really eating, what the calorie count and the sugar levels are etc.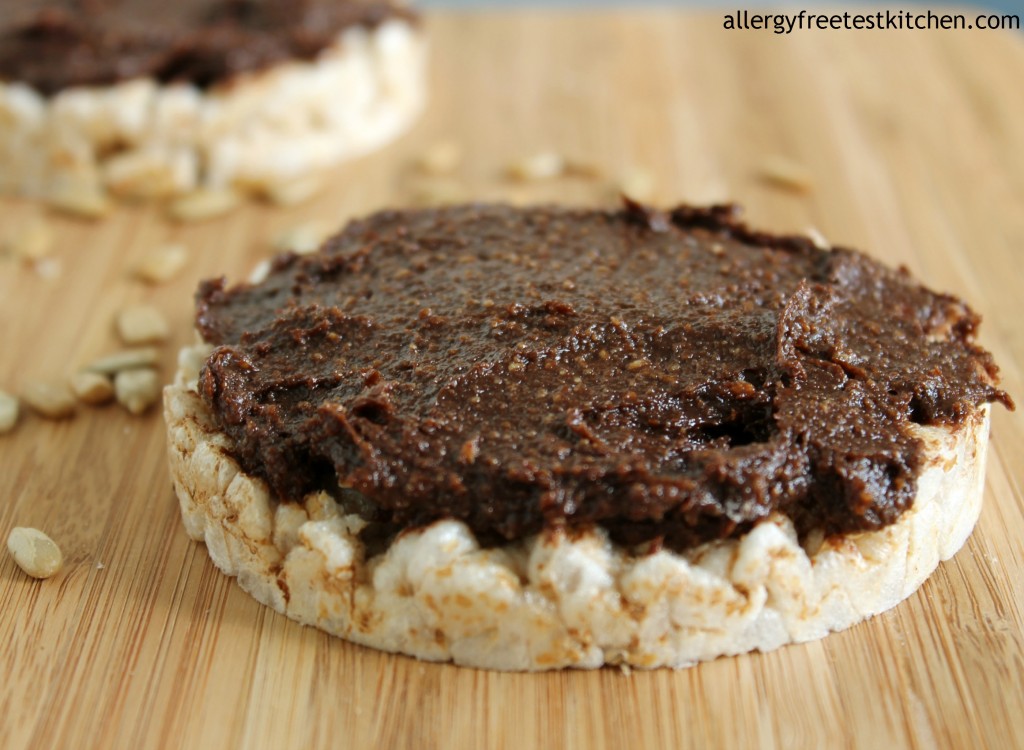 Now, I have only had Nutella one time before my milk allergy diagnosis.  But I did want a milk free chocolate spread for once in a while.  I found a recipe in Reader's Digest using peanuts and a lot of powdered sugar.  Peanuts were out and I didn't want to use powdered sugar.  So I used sunflower seeds and agave nectar.  Trying to keep it a tiny bit healthier I didn't use much oil, therefore it is not real creamy or smooth.  It is thick and hardens up in the refrigerator a bit making it difficult to spread a day later.  If I find the time, I am going to keep working on this recipe to fine tune it.  The good thing is that this will help you with a needed chocolate fix, and I wanted to share it with you.
Shared at Tasty Tuesdays and Totally Tasty Tuesdays.

Chocolate Spread Dairy and Tree Nut Free
Ingredients:
1 cup sunflower seeds

1/4 cup powdered cocoa

1/4 cup agave nectar

2 T. rice milk

1 T. canola oil
Directions:
In a food processor pulse the seeds until they become small particles.

Add the rest of the ingredients and blend until well mixed and the consistancy you like.