With the wind blowing, leaves turning color (although drably), the endless drop of acorns, and the cool temps, nothing beats chili for supper on a night like today.  There are endless versions of chili…ones with ground beef, with beans or without, with pasta or not, white chilis (think chicken), vegetarian and probably many more.  Today I bring you a chili with a different twist yet.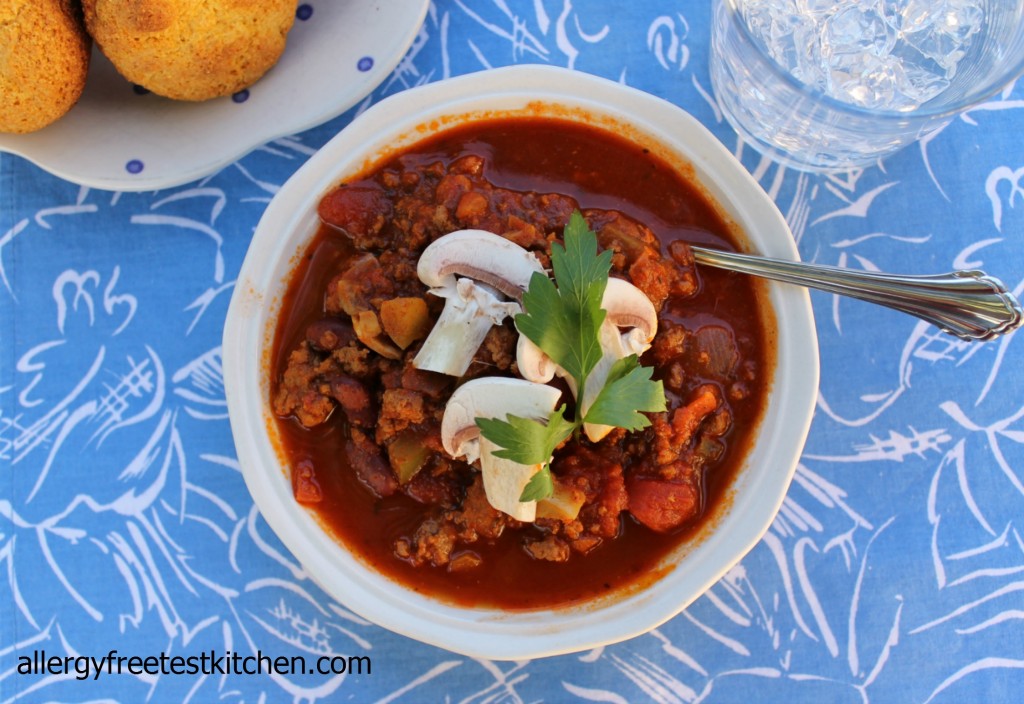 Adapted from my Taste of Home's 2007 Contest Winning cookbook, this chili is reminiscent of Italian foods using Italian sausage, spaghetti sauce, and pepperoni to name just a few ingredients.  This will warm you up from the inside out and will be a hit with kid and adult alike.
Also shared at Gluten Free Fridays and Make Your Own Monday. Allergy Free Wednesday.

Chili-Italian Style And Allergy Friendly
Ingredients:
1 lb. ground turkey

1/2 lb. Italian sausage

1 medium onion, chopped

1/2 cup chopped green pepper

1 (26oz) jar spaghetti sauce

1 cup water

1 can kidney beans, rinsed, soaked and drained

1 (14.5oz) can diced tomatoes, undrained

1/2 cup fresh mushrooms sliced

1/2 cup (or 1 pouch of a 3.5 oz. package) of sliced gluten free pepperoni, halved

5 tsp. chili powder

1/2 tsp. salt
Directions:
Brown ground turkey, sausage, onion and pepper until meat is no longer pink. Drain the fat off.

In large soup pot, combine the ground meat mixture and remaining ingredients.

Bring to a boil. Reduce heat and simmer uncovered for at least 30 minutes.